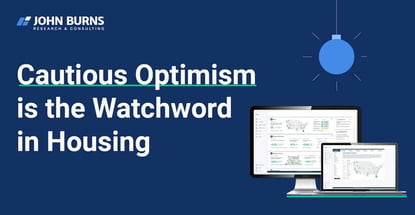 Our experts and industry insiders blog the latest news, studies and current events from inside the credit card industry. Our articles follow strict editorial guidelines.
In a Nutshell: The Federal Reserve's post-COVID rate hike cycle has the housing market in a place it hasn't been before, says Alex Thomas, Senior Research Analyst at John Burns Research and Consulting. Current homeowners are in a holding pattern, with inventory so low in many markets that scarcity supports prices. Those conditions don't hold everywhere, with downturns underway in some pandemic boom markets. How this all shakes out economically is uncertain, but Thomas and the team at JBREC think a mild recession in 2024 and gradual Fed rate normalization is most likely.
In most parts of the US, residential housing is decidedly not a buyer's market. Fear of post-COVID-19 inflation led the Federal Reserve to implement the steepest federal funds rate hike cycle in a generation. Mortgage rates rose quickly and steeply to the 7% territory, locking current mortgage holders with the golden handcuffs of below-market rates.
Fortunately, as of spring 2023, recent data suggests the Fed's action on inflation is beginning to have an effect. If prices continue to trend downward, the question becomes what happens next. Given that a recession has followed all but two Fed rate hike cycles, it's a safe bet that this cycle will bring the same result.

Whether that happens and what it means for housing is yet to be seen. Analysts and consultants John Burns Research and Consulting look at macro- and market-level housing and economic data to assess the economy's impact on housing and present actionable analysis to a diverse stakeholder community.
Executive decision-makers, including builders, developers, and investors, consult JBREC research for real-time insights and critical variables in more than 100 markets. JBREC also offers consulting services to connect clients with market experts for projects with unique execution requirements.
As Senior Research Analyst, Alex Thomas looks at the intersection of the economic, regional, and market housing trends to develop a broad housing thesis at JBREC. In Thomas's words, JBREC is cautiously optimistic that the Fed may nudge the inflation downward without inducing a severe recession, setting the stage for renormalization in housing.
"That's the theme from most people in the housing market right now," Thomas said. "There are reasons for optimism and reasons for pessimism."
A Decade of Home Price Appreciation in Two Years
Across the residential for-sale and for-rent housing industry, John Burns Research and Consulting is a trusted resource with a strong track record of successfully evaluating growth opportunities. Its extensive collection of free resources, including insights, podcasts, case studies, and rankings, keeps people interested in the housing market up to date on industry trends.
In housing, it's all about affordability. The Burns Under/Overpriced Market Index™ recently reported the housing cost-to-income ratio at an all-time high relative to history. That number has retreated a bit as rates have started to tick downward, but it's still highly elevated compared to norms.
"We saw about a decade of home price appreciation squeezed into the last two years, and there are tons of people who have rates locked in at 2 or 3," Thomas said. "Sales are actually declining right now during the spring selling season when they're supposed to be going up."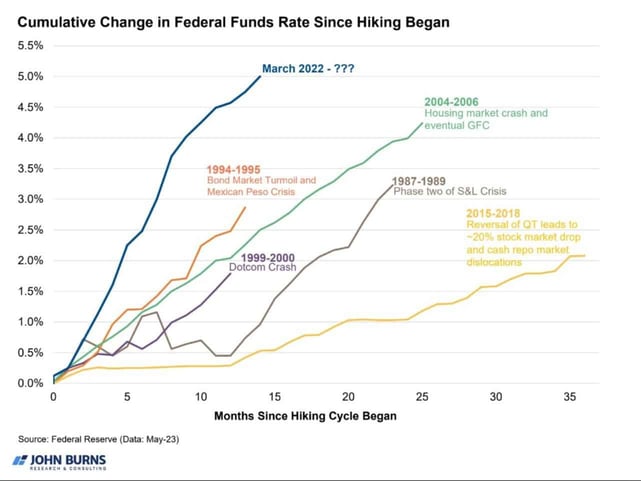 A certain number of people are always looking for homes because of job moves, marriage, and other life changes. But prices haven't crashed for those people because inventory is so low that it's supporting the market in many locations.
However, new home sales appear to be improving relative to sales of existing homes. JBREC research shows that, for most people, the highest acceptable mortgage rate for a new home purchase is about 5.5%. And 71% of buyers say they would consider purchasing a home if rates were below that number.
"Builders can do these rate buydowns and get rates down to somewhere around 5.5," Thomas said. "Prices may be a little higher on the new home side, but the savings from the rate buydowns make these deals solid. Plus, they're getting a new home."
Considerable Regional Market Variation
Clients access JBREC research via an interactive dashboard for enhanced comparative visualization. Proprietary surveys and indices, including the Under/Overpriced Market Index, provide timely insights on important topics and trends.
Clients also access monthly JBREC webinars to sharpen best practices and attend in-person client-exclusive events to network and engage with industry leaders.
A snapshot analysis of rates and demand across regional and local markets reveals ample variation behind the national numbers. Thomas said some markets have come down fairly significantly from peak, owing to remarkably rapid price appreciation over the past two years, partially due to investor buyers now exiting the market.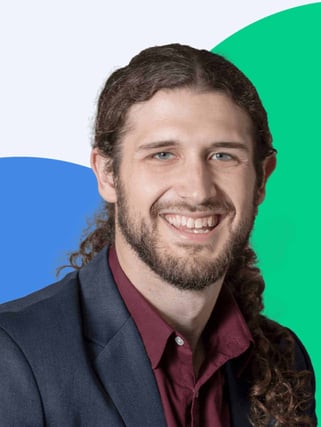 He said pandemic boom markets such as Austin, Texas, and Boise, Idaho, have seen price declines well in excess of the national average.
"Especially since affordability is so stretched at today's rates, you're going to see prices adjust given the fundamentals in those markets," he said.
On the other side is Florida, where low inventory and strong demand are keeping prices rising or at least flat. But prices are declining in northern California, influenced directly by the economy and indirectly by politics.
Everywhere builders have the opportunity, they're using rate buydowns to cross that critical 5.5% buyer threshold and move the market in their favor. Land purchases for new construction are on the upswing.
Back to the macro level, JBREC research helps establish that the Fed rate hikes are beginning to have a positive effect on inflation. But only twice in the past 60 years have rate hike cycles avoided a recession, so the severity of the coming landing is unknown.
"We're not overly pessimistic — we don't think we're in for anything like the 2008-style crash," Thomas said. "But given the Fed's track record of not pumping the brakes before the economy starts to enter recession territory, that gives us some pause in our outlook for the next 12-24 months."
Job Positives Suggest an Economy in Suspense
One reason is continued job and economic growth. The consensus is that a break in the job market would convince the Fed to act sooner to pump the brakes.
"We've seen some slowing in the labor market, but so far, so good, honestly," Thomas said.
Headlines of layoffs at big tech firms — along with housing, tech is one of the most rate-sensitive sectors in the economy — don't seem to be coupled with statistical change.
The mass layoffs in the news have yet to strongly impact the labor market, according to JBREC, which monitors the data, including earnings calls with publicly traded REITs, homebuilder reports, and other sources. Even in the Bay Area, a central focus of the headlines, one big apartment REIT characterized it as churn.
"People getting laid off are finding jobs quickly, and some of the announced layoffs are not even US-based," Thomas said. To be sure, initial jobless and continuing claims show signs of an uptick, but Thomas characterizes it as post-pandemic normalization.
It's the same situation with macro indicators for job openings and job quits. Those numbers spiked significantly as the economy righted itself after the pandemic, but signs point to a flattening.
"Nothing is super worrying so far," Thomas said. "Even monthly employment numbers, which have come down off all-time highs, are still at healthy levels."
Meanwhile, with housing accounting for about 40% of the Consumer Price Index, owner's equivalent rent, which measures the amount a homeowner would pay to rent or would earn from renting their home in a competitive market, has started to level off.
"That's something that will bring inflation down even more and potentially give the Fed more reason to pause or start to cut rates," Thomas said.