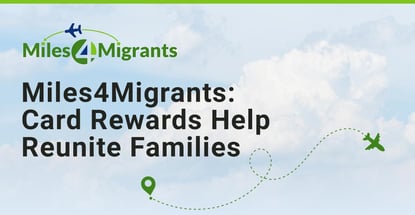 In a Nutshell: Miles4Migrants is a nonprofit organization that uses donated credit card rewards to reunite families separated by war and other crises. During its first five years, it has worked primarily with Syrian and Afghan refugees and with families separated at the US-Mexico border. Its partnerships with airlines and others in the travel industry further its mission, but it still relies primarily on private individuals donating frequent flyer miles and other card rewards. Cardholders can transfer their rewards to Miles4Migrants or donate them directly to someone in need.
As the saying goes, a journey of a thousand miles starts with a single step. But sometimes, it begins with a single post on Reddit.
One thread was devoted to travelers discussing how they used their frequent flyer miles, and it was more or less what you'd expect. But then, Nick Ruiz wrote a post explaining how he used his miles to help a Pakistani refugee family. The father had fled the country to Italy due to religious persecution. Nick used his credit card rewards to reunite the father with his family.

"A lot of people said, 'Oh, I would like to do something like this,'" said Seth Stanton, Co-Founder of Miles4Migrants. "Nick and I started having discussions about talking to refugee charities about integrating this idea into their work."
Unfortunately, none of the charities had any expertise in the plan Nick and Seth put forward. But instead of getting discouraged, the pair saw an opportunity, and they started Miles4Migrants to do the work they envisioned.
Miles4Migrants began by aiding Syrian refugees fleeing the nation's yearslong civil war. They began connecting with other charities and airlines once they established that proof of concept. Since its launch, the platform has expanded to book flights for refugees, asylees, and asylum-seekers from 79 countries of origin.
But the charity remains focused on its original mission: getting families out of danger and keeping them together.
Reuniting Families at the U.S.-Mexico Border and Rescuing Afghan Refugees
Miles4Migrants has been helping reunite Afghan families since early 2017. In most cases, one family member received refugee status, but the rest of the family was stranded in another country.
Since its founding, the organization has experienced several viral moments. The first was in 2018 when the US government began detaining and splitting families at the US-Mexico border.
"We started getting involved in flights there," Seth said. "A lot of miles pledged to us, a lot of attention, a lot of partnerships — charities that hadn't worked with us before that because we were kind of small."
Miles4Migrants' profile and reputation was heightened in the summer of 2021, when the U.S. military ended its two-decade-long occupation of Afghanistan. As forces withdrew, the ousted Taliban government quickly retook Kabul and regained control of the nation.
Watch on
Scores of Afghan nationals who had worked alongside American military forces and embassy workers were left behind. Now, they were left at the mercy of the old regime as it returned to power.
"We got a lot of miles pledged to us and as much money as miles," Seth said. "We've essentially parlayed that, and airlines have looked at how they can step in to help the tens of thousands of Afghans that are currently at U.S. military bases."
Since then, Congress has appropriated funds to help families relocate. Miles4Migrants helps ensure government funds go toward housing and resettlement once families reach their destinations.
"We've flown over 10,000 Afghans off of bases since the end of September, which is an absolutely insane number," Seth said. "The most people we'd ever flown in an entire year before that was shy of 3000."
Partnerships and Private Donations Advance the Mission
Miles4Migrants cultivates direct partnerships with airlines and other companies in the travel sector. Many of these have played a crucial role in evacuating and supporting Afghan refugees.
"When they have sacrificed so much for us because they can't live in their own country anymore because of the help that they gave us — that is a very powerful thing," Seth said. "And it's been recognized extremely well by some airlines."
Those airlines include United, Delta, and Alaska Airlines, all of which collected and donated funds to Miles4Migrants' cause. TripAdvisor and Boeing also made monetary donations to help evacuate and relocate Afghan expats.

But the primary support for Miles4Migrants comes from private individuals who donate their credit card reward miles to the cause. Depending on the rewards program, you can either transfer your miles or points directly to Miles4Migrants' pooled accounts, or the organization will work with you to personally book a ticket for a refugee or asylum-seeker.
Educating the Public About Rewards Points and Crises
The situation today isn't much different from what it was back on Reddit in 2016. Many people don't realize they can donate their credit card rewards to a worthy cause, whether it's Miles4Migrants or another charity. As a result, Miles4Migrants has found an educational aspect in its work by teaching consumers about their options for using card rewards.
"There are trillions of frequent flyer miles floating around that people aren't using," Seth said. "You should use them and do something cool. If your idea of cool is to take your family on a trip, great. If your idea of cool is to donate those miles to World Central Kitchen, which is an amazing charity, great. If it's to reunite a family, great. Let's make use of them."
Miles4Migrants doesn't limit its educational opportunities to the financial side. The organization's work offers a chance to show the public the human side of humanitarian crises across the globe.

In the US, media coverage tends to concentrate on numbers — including how many have been displaced or the number of people trying to cross a particular border. But numbers can't tell the story of what life is like for those people.
"It's a lot easier, and it's a lot more impactful to have those discussions from a sense of this is Muhammad, he's 7, he's my daughter's age," Seth said. "He can't live in this country anymore because it's too dangerous. He's been separated from his father for four years. I get to say to my kids, 'Our organization is using somebody's miles to bring him back to his father.' To talk about things on that level humanizes the issues, as opposed to talking about it in terms of 'X' number of people are trying to get to 'Y' place."
Making a Direct Impact by Helping Refugees Start Fresh
Miles4Migrants has cultivated connections with major refugee organizations, and in its first five years, it has forged a partnership with the United Nations High Commissioner for Refugees. The organization's successful efforts to raise money through donations of miles, points, and cash to pay for flights that reunite families have garnered wide acclaim, Seth said.
"If people give $10 via text when there's an earthquake, where does that $10 go? You don't really know," Seth said. "But with us, you know that if you gave 15,000 United Airlines miles that those 15,000 miles went to flying an Afghan from a military base in the United States to their new home somewhere else so they can restart their lives after they've been through this terrible ordeal."
Seth said the impact on himself and other Miles4Migrants team members has been deeply personal. Even while they slept, the organization's work was bearing fruit on the other side of the world. Seth said in the organization's early days when most of its reunions were occurring in Europe, he would wake up in the morning, look at his phone, and discover pictures and videos of families Miles4Migrants helped reunite.
And even after five years, that impact hasn't diminished.
"At least once a week, I will get a picture of someone that's been reunited," Seth said. "I'll end up having to kind of gather myself. We have the expertise that we started this organization with. And that's why, in some sense, we've been successful. But you can't discount the power of that moment."
Advertiser Disclosure
CardRates.com is a free online resource that offers valuable content and comparison services to users. To keep this resource 100% free, we receive compensation for referrals for many of the offers listed on the site. Along with key review factors, this compensation may impact how and where products appear across CardRates.com (including, for example, the order in which they appear). CardRates.com does not include the entire universe of available offers. Editorial opinions expressed on the site are strictly our own and are not provided, endorsed, or approved by advertisers.