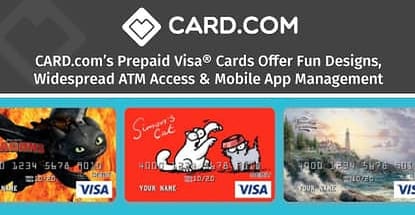 In a Nutshell: Payment cards have lost a lot of their individuality over the last 30 years. Customers don't have the option to personalize cards the way they did with personal checks. To add some personality to the payment space, CARD.com offers prepaid Visa® debit cards that can be printed with any of the more than 1,000 affinity images — from Betty Boop to your favorite NFL football player. As they are not credit cards, the prepaid products require no credit checks and have no setup or activation fees. The $9.95 monthly maintenance fee can be waived if a cardholder direct deposits more than $1,000 into their card account each month. Other terms and restrictions apply##. Funds can be loaded into the card account electronically, through direct deposit, or at any of the in-person loading stations across the US. And users can have up to three cards per person for one monthly maintenance fee through its new Family of Cards program. //
I followed bank products long before I was old enough to write about them.
The average 6-year old child in the 1980s couldn't wait for the latest Toys "R" Us catalog to come in the mail. But I was more interested in the checkbook advertisements my parents received with their monthly bank statement.
Back then, banks would send pages of check-design options to their customers. Everything from inspirational pictures, cartoon characters, or scenic mountain shots could be printed on your personal checks for a fee. I dreamt of the day when I'd be old enough to order my own Ziggy checks.
The technology boom in the late 1990s did away with much of the need to carry a checkbook. Debit cards quickly replaced paper payments. The options to personalize your card never seemed to match those available to check-writers a decade earlier.
In response to the drab plastic options offered by most traditional payment cards, CARD.com set out to help cardholders regain their personalized payment experience.
The company offers prepaid Visa Cards with thousands of affinity images available to customize your card at no extra charge. Options include classic images of Marilyn Monroe and James Dean, as well as cartoon characters. And a partnership with the NFL Players Association lets fans choose an image of their favorite pro-football player on their Prepaid Visa Card.
"We want to offer bank to consumers that are more fun to use than the accounts at a traditional bank," said Tim Coltrell, Chairman and CEO of CARD.com.
Tim said about 30% of the company's customers have an existing relationship with a traditional bank, based on CARD.com survey information collected in November 2017. The others use their CARD.com Prepaid Visa Card as their main tool for storing savings, making purchases, and paying bills.
In addition to the personalization options and card activation with no required credit check since the card is not a credit card, cardholders may get paid up to two days faster‡ when they direct deposit their paycheck. The $9.95 monthly maintenance fee can be waived if cardholders have more than $1,000 deposited into their card account each month##.
"Our target audience is anyone with a bank account who wants something more interesting and more fun to use," Tim said. "We're also very popular in the underbanked segment — people who don't have access to a bank account, but want all of the digital benefits that come with account ownership, like mobile app account management, card-to-card transfers, and direct deposit of their paychecks."
Personalize Your Card with Thousands of Affinity Images
Signing up for a CARD.com Prepaid Visa Card takes around five minutes — depending on your personality.
The first step in obtaining your new Prepaid Visa Card is choosing a design from the thousands available. Applicants can easily get lost in all the options while picking the card that best represents them. Tim's choice was clear when the company added images of football star Odell Becham, Jr.
"If you want to see the real-life experience that our cards create, just use one at any merchant," he said. "I'd say at least half the time I use it I get a comment back about how cool it is."
He pointed to a recent trip to a coffee shop, where the cashier stopped the transaction just long enough to show it to a co-worker who is also a Beckham fan.
"People love the cards," he said. "It really sets you apart when you're using one."
If your Prepaid Visa Card is lost or stolen, or if you just feel like changing your design, you can order a replacement card over the phone or online. Just keep in mind that fees may apply and you should check your cardholder agreement for details before seeking a replacement.
Cardholders can also withdraw their cash from more than 24,000 fee-free in-network MoneyPass­­® ATMs. Money can be added to your card account through electronic bank transfer or at any of CARD.com's in-person reload locations.
Cards for Consumers with — or without — a Traditional Bank Account
Most of CARD.com's customers use their account like a traditional bank account — to store, save, and spend their money. Tim said that around 30% of cardholders use the company's services to supplement their current bank account and add a little flavor to their wallet.
"Our products are just more fun and more engaging than anything you'd get from a traditional bank," he said.
Prepaid cards are a popular choice for consumers who want to avoid carrying cash while taking advantage of low-cost check cashing.
CARD.com does not charge a fee for setting up and activating a new card. Applying for an account takes minutes, and new cards arrive within seven to 10 business days.
Drawing on the same technology banks and credit unions use, CARD.com allows cardholders to deposit checks directly onto their card account balance by taking a picture of the check and uploading it through the company's mobile app.
"We do everything we can to make our products easy to use and useful to cardholders," Tim said. "If it's not something I would use myself, I wouldn't have a customer use it."
Get up to Three Prepaid Visa Cards and Pay One Monthly Fee
Tim isn't just the CEO of CARD.com — he's also a customer.

Cardholders have multiple cards they use for different items in their budget — bills, entertainment, food, and other expenses. Transferring money between cards is quick and easy using your account or the mobile app.
The company responded to consumer demand for the ability to own multiple cards with its latest evolution — Family of Cards.
The new program allows a single account holder to have up to three cards in their name for the single $9.95 monthly maintenance fee. Cards can have three different designs and each has the same functionality and perks offered to all the other cards through the company.
"We're finding a lot of creativity among the customers who are using Family of Cards," Tim said. "It can be a good savings tool, with one card being used for rainy-day savings. Some customers opt into the program just to have different cards for different occasions."
Stand Out from the Crowd with an Affinity Prepaid Card
Tim took over as CEO of CARD.com in June 2017. One of the first tasks he assigned himself was growing the company's brand by exploring partnerships with popular traditional banks.
If the plan succeeds, you may have future options to personalize your credit cards much like my parents did with their checks three decades ago.
For those customers who can't wait for that to happen, the company offers thousands of licensed affinity images available on their Prepaid Visa Cards with low fees, direct deposits that are fast and free, and the ability to own up to three cards using the Family of Cards plan.
An existing bank account isn't necessary and no credit check is required to start an account since the card technically isn't a credit card.
A lot has changed since the days when I would admire my parents' check advertisements and dream of my own Ziggy checks. I've matured and grown and started a family of my own. Ziggy was my dream as a chile — but the Three Stooges cards on CARD.com are perfect for this adult.
---
## If you directly deposit $1,000.00 or more in the prior 30-day billing cycle, in one lump sum or an aggregate of deposits totaling $1,000.00, the Monthly Maintenance Fee will be waived and will not appear on your Card Account. If in the following 30-day billing cycle month the minimum direct deposit load of $1,000.00 is not met, then you will see the Monthly Maintenance Fee charged to your Card Account.
© 2018 CARD Corporation. All rights reserved.
The CARD.com Prepaid Visa Card is issued by The Bancorp Bank pursuant to a license from Visa U.S.A. Inc. and may be used everywhere Visa debit cards are accepted. The Bancorp Bank: Member FDIC.
All trademarks and brand names belong to their respective owners. Use of these trademarks and brand names do not represent endorsement by or association with this card program. All rights reserved.
Advertiser Disclosure
CardRates.com is a free online resource that offers valuable content and comparison services to users. To keep this resource 100% free, we receive compensation for referrals for many of the offers listed on the site. Along with key review factors, this compensation may impact how and where products appear across CardRates.com (including, for example, the order in which they appear). CardRates.com does not include the entire universe of available offers. Editorial opinions expressed on the site are strictly our own and are not provided, endorsed, or approved by advertisers.