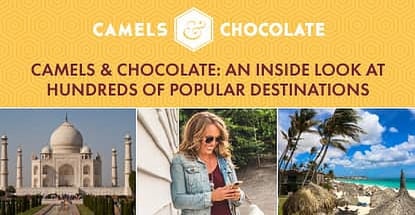 In a Nutshell: It can take months of diligent saving to put away the points and miles necessary for the trip of your dreams — so why squander it? For those who want to make the most of their next rewards trip, travel blogger Kristin Luna's popular Camels & Chocolate blog is an invaluable resource. The site offers hundreds of articles on cities around the world, chronicling her family's adventures with wit, whimsy, and abundant photography that makes each destination come alive. Readers can explore over 80 countries around the world, from Anguilla to Wales and nearly everywhere in between. And for those who want an adventure a little closer to home, Camels & Chocolate's in-depth city guides can give you a play-by-play itinerary to some of America's most popular destinations. //
Most people hope to travel to at least a few faraway destinations in their lives, whether it's because they have an explorer's spirit and insatiable wanderlust, or simply want to experience a little of what the world has to offer.
While it's perfectly possible to plan an enjoyable, budget-friendly trip to the locale of your dreams, travel experiences can get expensive. Enjoying the best of both worlds are the many savvy travelers who use credit card rewards to make the most of their adventures — at a fraction of the cost.
For blogger Kristin Luna, credit card rewards (and a central location) helped make many trips possible that would have otherwise been out of reach as a cash-strapped 20-something. And good thing, because those travels were the inspiration for her blog, Camels & Chocolate — a project still going strong 11 years later.
"I was 24 and broke, so I traveled as cheaply as possible, often using CouchSurfing for free accommodations and credit card points to make an international trip very affordable," she recalled. "One day, I hopped on Blogspot, grabbed a domain, and just started writing, both about my adventures around the world and also in New York."
And while Kristin and her husband Scott can now afford to travel without relying on the couches of strangers, they still use credit card rewards to help fund their wanderlust. Their favorite way to earn and redeem? The ever-popular Chase Sapphire travel rewards cards, of course!
"I've had just about every airline credit card there is over the past 15 years, as well as other big cards, and I would put the Chase Sapphire cards up against any of them," Luna said. "I love the flexibility of being able to book flights on pretty much any major airline, as we don't have consistent routes we fly and are not loyal to any one brand."
Get the Scoop on 80+ Countries Across Six Continents
If a family ever needed the most flexible travel rewards, it's likely Kristin and Scott. Camels & Chocolate posts are full of tales of their international adventures, with insights into over 80 countries across six continents available for readers to explore.
Posts are organized conveniently by country, covering everywhere from Anguilla to Wales — and dozens of destinations in between. Inside, you can find tips and tricks learned on their trips, activity suggestions for a richer experience, and a host of food and drink recommendations.
"While Scott and I have no children and fall into the DINKs category, we do go on plenty of trips that are perfect for all types," Luna said. "We rarely do anything that's very over the top. We're not budget travelers, as we like to indulge on meals, but I like to think we're accessible to most styles of travel."
And her writing is much more than dry recounting of family vacations. The posts on Camels & Chocolate are vibrant and colorful, with plenty of high-quality, scenic photos that help readers get a real feel for each destination.
"We're visual storytellers, so we aim to provide information in a narrative way with plenty of photos and videos that visually add to the experience," Luna said.
In fact, even the blog's name was inspired by a photograph of Luna taken on a trip through the Sahara Desert. The photo won a number of contests, garnering her the tag of "the camel girl." So, when it came time to name the blog chronicling her travels, she decided to buck trend and stick with her favorite things.
"When starting my blog in 2007, there were already a lot of cliché sites with 'travel' and 'globetrotting' and 'jet-setting' in their names. So, I decided to get creative and combine two of my favorite things," described Luna. "My blog content morphed to fit the theme of the name, and it became largely focused on travel and food experiences around the world."
Adventure Across America from Coast to Coast
After 11 full years of go-go-go, however, the couple isn't heading quite as far afield in their journeys as frequently, but there's still plenty of adventures to be had.
With so much to see and do here at home in the States, Kristin and Scott spend most of their time wandering around the good ole' US of A — and writing about it for their readers.
"Since moving back to the Nashville area almost seven years ago, many of our travels are Southern road trips thanks to Tennessee being bordered by so many states like Kentucky and Georgia," Luna explained. "We still travel all over the country, but our niche has become more US travel than international, as we prefer to stay closer to home these days."
Camels & Chocolate includes hundreds of posts covering more than half the country, from an Alabama road trip to camping in Wyoming. Articles include the expected abundance of scenic photographs, plus tons of helpful information, like lodging fees and gas prices, to make planning your own trip easier.
The site also offers a number of in-depth guides for those who want a more set-it-and-forget-it adventure, most perfect for a long weekend or short road trip.
Want to explore the Florida Keys without missing a beat? Camels & Chocolate has you covered. Want a long weekend in Bloomington, Indiana? There's a guide for that. Skiing in Colorado for the first time? That's covered, too.
"I've written plenty of weekend guides to more popular destinations — like Nashville, NYC, Boston, and New Orleans — for those who want an itinerary they can pretty much follow play-by-play," Luna said.
Get Inspired to Record Your Own Journey
As the couple can surely attest, travel can inspire amazing things — not the least of which is a successful travel blog. And for those readers who are inspired by Camels & Chocolate to start their own blogging journey, Luna offers advice and insights into the world of online and travel writing.
Posts range in content from blogging basics and developing a social media strategy to tracking income and dealing with taxes as a freelancer. With over two decades of experience in media, Luna knows what it takes to make it work in the industry.
"I've worked in the media for 20 years and started my blog, Camels & Chocolate, 11 years ago [on Blogspot]," she described. "I later transitioned to WordPress and hired a professional designer to build a site for me. And more than a decade later, I'm still sharing my stories from my travels and home renovations."
While the site was professionally designed, the content itself is managed entirely by Luna and her husband, a strategy that keeps the personal feel of Camels & Chocolate strong and vibrant.
"For the blog, I do most of the writing, and we share photo and video duties, though he'll occasionally contribute a post or two. We both have journalism degrees, so it made sense that we fused our backgrounds with our love for digital storytelling across mediums," said Luna. "Ours is more of a personal brand, so it would be weird to have other writers doing the work for us, though I'm often envious of bloggers who have full teams! It's difficult to juggle it all."
Explore the World — The Camels & Chocolate Way
When it comes to seeing the world, you don't need the budget of a celebrity to make the most of your adventures. As Camels & Chocolate shows, you can pack a lot of exploration into a long weekend or short trip.
You can also pack a lot of value into your travels with a reliable travel rewards credit card. Say, one like the Chase Sapphire Reserve®, the couple's top pick.

"We've taken so many leisure trips to Europe in the past few years where we used our Ultimate Rewards® points to cover airfare, lodging, and rental cars," Luna said. "We opted to upgrade to the Reserve because I want that airport lounge access, as much time as I spend kicking it in terminals during layovers!"
And, as Luna points out, the card's benefits are worth more than a mention. The Chase Sapphire Reserve® card's travel insurance has saved the day for many a traveler, themselves included.
"We were scheduled to go on a group trip to Turkey two years ago, right after the airport bombing and failed military coup, and opted to reroute our trip to Germany and Austria instead," she described. "All of the other travelers had to eat the cost of the airfare, as American Express and Citi wouldn't help them out due to the war exclusion clause. But, what do you know, Chase was the one credit card company that refunded us in full."
Advertiser Disclosure
CardRates.com is a free online resource that offers valuable content and comparison services to users. To keep this resource 100% free, we receive compensation for referrals for many of the offers listed on the site. Along with key review factors, this compensation may impact how and where products appear across CardRates.com (including, for example, the order in which they appear). CardRates.com does not include the entire universe of available offers. Editorial opinions expressed on the site are strictly our own and are not provided, endorsed, or approved by advertisers.