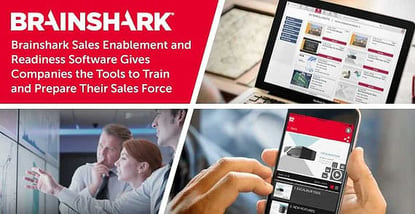 In a Nutshell: Modern organizations need a well-trained and prepared sales force with deep expertise on the latest products and services. Brainshark's platform gives those companies a comprehensive tool to support sales enablement and readiness training programs. With Brainshark, companies create custom video content that salespeople — whether across the country or around the world — can access easily via browser or mobile app. The platform is designed for an on-the-go workforce and continually updated to keep pace with new product offerings. The all-in-one software solution and commitment to the mobile workforce make Brainshark a leader in the sales enablement and readiness space.
No matter how well-prepared salespeople are, they may still need a last-minute refresher before an important pitch meeting with a prospective client. Often, those materials would be spread out over different sites and applications and could consist of material that was out-of-date or not relevant to the client they were about to meet with.
But with Brainshark, salespeople can take a more effective approach to those situations. When they pull up the Brainshark mobile app, they can quickly access video segments and documentation that cover relevant product information and talking points.
That's just one example of how Brainshark's sales enablement and readiness software helps businesses train and prepare their sales force — anywhere and at any time.
"That type of just-in-time learning is prevalent among salespeople, especially in field sales," Brainshark Vice President of Marketing Brendan Cournoyer said. "They are always on the go and traveling. They're in cabs, on planes, and in coffee shops."
Waltham, Massachusetts-based Brainshark formed in 1999 with a stated vision to transform how companies create and share content. Initially, Brainshark helped organizations easily create and share custom video content. Over time, the company sharpened its focus specifically on equipping customers with the content, training and coaching needed to improve sales readiness.
"Over the years the concepts of sales enablement and sales readiness really started to take shape," Brendan said. "As that happened in the market, Brainshark evolved to focus our brand position and product development specifically around enabling, training, and preparing salespeople. That has been a natural evolution."
Today, Brainshark is a leader in the rapidly emerging industry. In a 2017 survey of companies, research firm CSO Insights found that 60% of respondents had a sales enablement solution — compared to 33% in 2016 and 19% in 2013.
Brainshark has thousands of clients, including more than half of the Fortune 100.
CareerBuilder, the global human capital firm that helps employers hire top talent, uses Brainshark as a comprehensive solution to communicate updates on new products and other information to 1,000 sales representatives located across the world. Industrial internet firm GE Digital was in the midst of turnover, expansion, and the introduction of new products and needed a sales enablement solution that integrated with its Salesforce customer relationship management platform. The company selected Brainshark for new hire onboarding, certification training, content distribution for marketers, and data analytics.
Brainshark also has a customer success team, with dedicated representatives assigned to ensure customers see as much value as possible from both the platform itself and the salespeople it enables.
A Comprehensive Platform for Content Creation, Training, and Coaching
Brainshark differentiates itself as a comprehensive sales readiness solution that includes capabilities for content creation, training, and coaching.
"There might be other solutions in the space that do one or two of those things, but Brainshark does all three in a single platform," Brendan said. "That's valuable to organizations looking for a one-stop shop for sales enablement and readiness."
From the beginning, content creation has been at the core of Brainshark's software.
Users can upload existing assets — including documents, PowerPoint presentations, and images — and add audio narration to create their own video presentations for sales training. They can also easily produce screen and webcam recordings, and make content interactive with quizzes, surveys, polls, and hyperlinks.
"That content is extremely valuable from a sales enablement perspective. If you're a company that has its own products, sales methodologies, and processes, you need your own content. And you need to create it yourself in a way that is engaging and impactful for your audience," Brendan said.
Organizations can also take that customized content and use it as curriculum for formal training, accessed through Brainshark. That training can range from onboarding new hires to updates on new products and services.
Salespeople can also engage in informal training when they need to refresh their knowledge on a presentation or product before meeting with a potential client. They can quickly search for content by category and access it from anywhere.
After salespeople go through training, companies still need to ensure that they learned something.
"How can you validate that, when they're in front of a customer, they're going to demonstrate what they learned, say the right things, and pitch the product the way you want them to?" Brendan said. "That's where the video coaching comes in."
With the Brainshark, salespeople go through a video demonstration of a pitch or presentation to demonstrate what they learned.
"For example, before they can be certified, they show you how they would pitch the new product in 30 seconds," Brendan said. "They record themselves delivering their pitch and submit the video. The manager or training supervisor receives an alert to review it and provide feedback. They assess if the salesperson achieved certification or needs to try again. You can also save the best video submissions and add them to the learning curriculum to show an example of how a pitch should be done."
Flexible Solutions Made for When, Where, and How Salespeople Work
In the modern workforce, salespeople may be on the go — more often than any other professions— working from offices, cars, planes, hotels, or coffee shops.
Brainshark provides 24/7 access through browsers on laptops, desktops, or mobile devices. There's also a mobile app designed so salespeople can access content even faster.
"You want to keep your sales force focused on their core selling activities. You don't want them wasting time searching for information, content, or training presentations. And you don't want them spending a lot of time in a classroom. You want them out in the field doing what they do best," Brendan said.
Salespeople work best when they can leverage technology to find what they need quickly, no matter where they are. Brainshark enables teams to accomplish that by supplementing in-person training with online training and coaching for a sales force that could be scattered around the world.
Helping Teams Keep Pace with Rapid Industry Changes
Brainshark launched in 1999 and has evolved into a comprehensive technological support system for sales enablement and readiness training.
Today, companies work to keep pace with a rapidly changing economy, staff turnover, expansion, and new products. They need to move fast to provide employees with the information they need about a new job role, a new product, or a new approach to a sales pitch. With Brainshark, that customized content is quickly put in front of users who need it.
"Salespeople get email alerts of new activities to complete or presentations to watch. Everything is constantly changing and transforming, so your sales readiness and enablement strategy can't be 'set it and forget it.' You need to be able to react and respond in real time to things that are changing," Brendan said.
While the marketplace is more fast-paced, complex, and technology-driven, Brainshark has maintained its original commitment to ease of use.
"The whole concept around Brainshark — whether you are creating a video presentation or sending out a coaching activity — is that any company can deploy it simply and quickly," Brendan said.
Advertiser Disclosure
CardRates.com is a free online resource that offers valuable content and comparison services to users. To keep this resource 100% free, we receive compensation for referrals for many of the offers listed on the site. Along with key review factors, this compensation may impact how and where products appear across CardRates.com (including, for example, the order in which they appear). CardRates.com does not include the entire universe of available offers. Editorial opinions expressed on the site are strictly our own and are not provided, endorsed, or approved by advertisers.