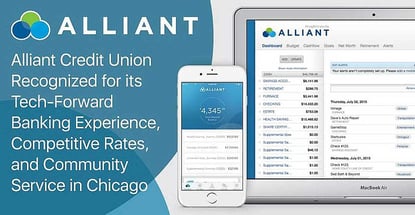 In a Nutshell: As one of the nation's largest credit unions, Alliant Credit Union in Chicago uses its size and resources to serve its members and communities in a number of positive ways. Alliant recognizes that the way people prefer to bank is evolving, and is investing heavily in providing a high-quality digital banking experience for members. Alliant Credit Union also leverages its resources to provide appealing rates like its 1.90% APY savings account. Community service and financial literacy are also key to Alliant's mission. All of these factors contributed to Alliant being recognized with our Editor's Choice™ Award. //
If you happen to walk into the Chicago headquarters of Alliant Credit Union and find it appears to have been overtaken by a team of friendly volleyball players, don't be alarmed. You've just shown up on the day of the annual Alliant Volleyball Tournament, which raises thousands of dollars each year for a charity close to the hearts of Alliant employees.
This year, the tournament raised $6,000 for the Cardiovascular Research Foundation. That amount was then matched by the philanthropic Alliant Credit Union Foundation for a sum total of $12,000 to cardiovascular research. Employees selected this particular charity in memory of an Alliant employee who passed away earlier in the year.
"We've been doing this for 13 years," said Jason Osterhage, Alliant Senior Vice President of Lending. "It's really a cool thing. Employees are walking around in their volleyball team attire. And we're able to raise money for a different charity or worthy cause every year."
Alliant's commitment to the communities it serves is just one reason the organization is a place where members feel good about doing business.
Alliant was founded in Chicago by a small group of United Airlines employees in 1935. In its first year, the credit union had 146 members and around $5,000 in assets. Over the years, Alliant broadened its membership and today is one of the largest credit unions in the US, with around 400,000 members and $10.7 billion in assets. Just last year, it's membership grew by 11%.
The credit union is also demonstrating a progressive approach to digital banking that goes beyond the efforts of many other credit unions. And with competitive savings and loan rates to boot, we are recognizing Alliant with our Editor's Choice™ Award.
Alliant is Investing in Digital Services as Banking Evolves
Osterhage said Alliant operates with a mission to provide consistently superior financial value and to simplify the way people save, borrow, and pay.
"That's really how we think about the purpose of our business, and the strategy is to do that digitally," he said. "We're really dedicated to this digital direct banking model. We're making a lot of investments to serve our members digitally and have been operating that way for a really long time."
Competing on retail convenience has never been a big part of Alliant's strategy, Osterhage said, and it continues to be a shrinking role going forward. He said Alliant is actually winding down its branch network, closing branches rather than opening new ones — all in the service of the digital experience.
"Our CEO David Mooney likes to say banking is not a place you go anymore, it's a thing you do, and we believe in that," he said. "We're investing our resources into building digital capabilities for our members nationwide."
Although a lot of other financial institutions are offering more and more digital services, Osterhage said he thinks Alliant's commitment to the digital model helps set the credit union apart in the space.
Many financial institutions pay lip service to the importance of digital technology to the customer experience, but Alliant's actions — including developing its own technology — show that it is serious.
"We're working really hard to create a distinctive digital experience," Osterhage said. "So, we're taking the time and effort to develop our own digital technology in order to provide that."
Osterhage said Alliant has invested in its own teams and tools to develop, build and release its own software, rather than rely on other companies.
Alliant has already made significant investments in several areas, including a recent refresh of its website, a new mobile banking app, and an Alliant-developed consumer loan origination system. The loan platform was recognized with a CUNA Technology Excellence Award earlier this year.
On top of that, Alliant continues to optimize the digital experience for customers shopping for and applying for various products, or opening new accounts.
Members Can Take Advantage of Great Rates, Including a 1.90% APY Savings Account
In addition to its tenacious commitment to provide the best for its customers through its digital experience, Alliant also strives to provide superior financial value, Osterhage said.
"And we think about that in terms of deposits and consistently great rates," he said. "We have a 1.90% yield on our savings account. We're constantly looking at those rates and looking at ways to move those up and reward our members even more."
To take advantage of the 1.90% APY savings account, members must maintain a daily average minimum balance of $100. To open the account, Alliant requires a minimum deposit of $5, which the credit union actually makes for its members. Interest is paid out monthly.
Overall, Osterhage said Alliant avoids the fine print and "asterisk pricing," and focuses on providing competitive rates for its members.
Similarly on the loan side, he said Alliant is focused on simple products, very few fees, and minimal fine print.

Osterhage said the credit union is particularly proud to offer the Alliant Advantage Mortgage, which has received positive feedback from members.
The mortgage helps to overcome some common barriers to purchasing a home, like requiring private mortgage insurance for homebuyers who do not have a 20% down payment. For qualified first-time homebuyers, the Alliant Advantage Mortgage program requires 0% down for amounts up to $500,000 and no PMI. Other homebuyers can purchase a new home with only 5% down.
"Our members can trust us to offer great products," Osterhage said. "They can trust us to be watching out for them in that regard."
As far as credit card offerings, Osterhage said that, with 3% cash back in the first year, the Alliant Cashback Visa® Signature Credit Card has been one of the most popular among members since its launch last year.
The Alliant Credit Union Foundation Supports Communities and Charities Through Sponsorships and Volunteer Efforts
The Alliant Credit Union Foundation launched in 2008 with a mission to "promote economic empowerment and self-sufficiency in people, especially in communities where Alliant Credit Union members and employees live and work," according to the foundation website.
"The foundation really organizes all of our corporate social responsibility activities and there's a long list, along the lines of financial literacy and learning," Osterhage said. One of Alliant's biggest partners in financial literacy is Operation HOPE, an organization that works to disrupt poverty and empower financial inclusion for low- and moderate-income youth and adults.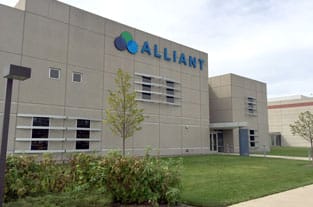 The partnership allows Alliant employees to go into middle schools located near the credit union headquarters and teach classes on financial literacy and financial planning. Osterhage estimated that the program has reached more than 5,000 students over the years. Alliant volunteers represent a nice cross section of employees, including CEO Mooney, Osterhage said.
"It's a great program," he said. "The employees get a little bit of training on how to present the material and then they go into the classroom, and it's really a lot of fun."
Alliant encourages volunteerism in a number of other ways, including the recent introduction of a volunteer day in which employees receive paid time off to donate their time to a charity or cause. Osterhage said employees are already coming together to organize their own volunteer teams.
Of course, the foundation is also the sponsor of the long-running annual volleyball tournament.
The Alliant Credit Union Foundation also has valuable financial literacy resources on its website, including financial knowledge quizzes, financial education materials for kids, and a blog that offers financial tips on a variety of topics. Organizations interested in securing a grant from Alliant can also visit the foundation page to find out how to apply.
Alliant is Continually Looking for Ways to Improve the Banking Experience for Its Members
Whether Alliant employees are spiking volleyballs or its software development team is revving up a new project launch, Alliant is constantly in service to its members and communities.
Osterhage reiterated Alliant's commitment to superior financial value and to simplify the banking process. He said this commitment will continue in the future with a particular focus on developing and implementing an exceptional digital experience for its members.
Advertiser Disclosure
CardRates.com is a free online resource that offers valuable content and comparison services to users. To keep this resource 100% free, we receive compensation for referrals for many of the offers listed on the site. Along with key review factors, this compensation may impact how and where products appear across CardRates.com (including, for example, the order in which they appear). CardRates.com does not include the entire universe of available offers. Editorial opinions expressed on the site are strictly our own and are not provided, endorsed, or approved by advertisers.