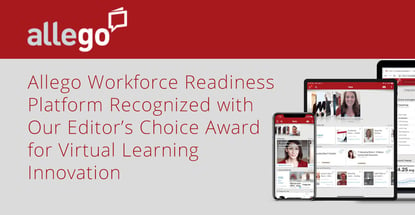 In a Nutshell: Training a sales force in the financial services industry is time-consuming and expensive, but a lower cost solution has recently been developed by the sales learning and readiness software company Allego. The Allego workforce readiness platform solves some of the biggest challenges faced by enterprises today with its innovative approach to training and coaching using on-demand video, informal learning, and personalized training and assessment. Companies that adopt the Allego platform report lower training costs and improved sales results. And Allego isn't supporting just the financial services industry; through a recent partnership with the Ventilator Training Alliance, Allego's proprietary technology is being used to provide virtual on-demand ventilator training to medical personnel treating COVID-19 on the frontlines.
A well-trained sales team is the life-blood of any successful enterprise, and nowhere is this maxim more accurate than in the financial services industry with its evolving products, changing markets, and complex regulations. That's why financial services organizations devote vast resources to train their sales professionals.
But today's stay-in-place restrictions have exposed drawbacks in legacy sales training, which often includes in-person group instruction and travel outside of the workplace.
Formal instructor-led training in a classroom setting is designed to disseminate as much technical information to learners in as short a period of time as possible. The problem with this approach is that it's not how people learn and retain information most effectively.
The virtual training platform developed by Allego resolves many of the problems that legacy training programs have faced for decades. Allego's agile sales readiness platform helps enterprises deliver training quickly and at a lower overall cost while achieving improved results. It does this by using flexible and personalized training techniques that take advantage of informal learning, where the most effective training takes place.
By designing training around an informal learning infrastructure, the Allego platform lets organizations deliver personalized virtual training using mobile devices, peer-to-peer video learning, and sharing of real-world experiences and insights. It also uses reinforcement and repetition of product data through bite-sized video training segments that help learners retain information.
With informal learning making up as much as 90% of what employees need to know to excel in their jobs, it makes sense to maximize this type of learning in a structured training program.
The name Allego is taken from the word allegory, meaning a short story with a point or lesson embedded within. This concept effectively represents the company's on-demand training via short video segments delivered to mobile devices — and is why we're recognizing Allego with our Editor's Choice Award for Virtual Learning Innovation.
A Modern Approach to Training and Coaching for Financial Industry Professionals
Even when travel to centralized training facilities is possible, traditional sales training is a less than ideal way to train a widely distributed sales team.
Research has consistently shown that at least 80% of what is taught in legacy training settings is forgotten within 30 days. It's called the "forgetting curve" and it has to do with the brain's physiology and how we retain information.
Allego's virtual learning platform addresses this problem head-on with its modern approach to sales learning and readiness. This unique and innovative method employs tools like video, remote coaching, flash drills, and performance tracking to deliver a personalized training experience.
"The Allego platform helps financial services firms deliver confident, consistent messaging about their organizations and products," explains Mark Magnacca, President and Co-founder of Allego. "Leveraging mobile and video capabilities and an understanding of how the brain learns and retains information, we provide users with modern tools to share the skills and timely knowledge they need to confidently articulate product value."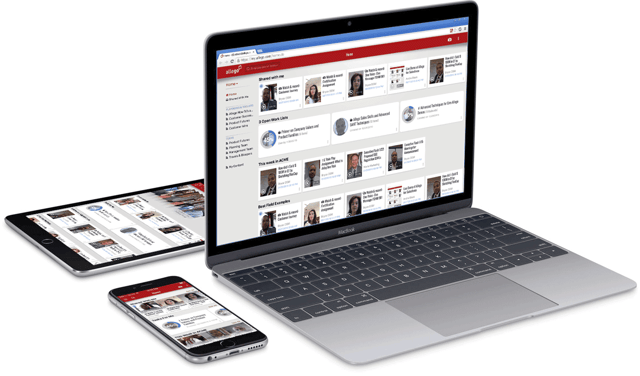 One of the tools Magnacca is referring to includes short video segments that can be viewed on any mobile platform. These targeted video lessons are supported by video compression technology Allego has developed, as well as predictive caching — both of which are patent pending. These features offer easy on-demand streaming of relevant content from almost anywhere.
Another virtual learning innovation is Allego Flash Drills, which uses push notifications sent to mobile devices to reinforce learning. These drills take place for a few minutes each day, challenging the recipient with flashcards covering key training concepts and serving to identify and fill in specific knowledge gaps.
"Our sales learning and readiness platform has been built from the ground up to meet the specific needs of individuals within these industries," Magnacca said.
The information gathered from a rep's response to the flash drills, and through techniques like video sales coaching, can help identify particularly challenging concepts for increased training opportunities. It can also help to lock in certain concepts through repetition and reinforcement that is personalized for each individual.
Allego Delivers Lower Training Costs and Measurable Sales Increases
The true measure of any knowledge development program is its cost-effectiveness and performance. A training platform is only worth the cost if it elevates the sales performance of those who use it. Allego has developed its sales learning and readiness platform to be affordable, robust, scalable, and valuable across industry sectors.
Since the company was founded in 2013, Allego has garnered many prestigious awards from different markets. The company can boast as clients some of the biggest names in financial services, as well as in technology and life sciences.
"Allego is used by more than half of the top 50 U.S. asset managers, including MFS, John Hancock, and JP Morgan Asset and Wealth Management," said Magnacca. "Currently, Allego serves eight of the top 10 wholesalers preferred by advisors, according to [mutual fund reporting source] Ignites."
With sales force training being one of the largest expenses outside of R&D for many enterprises, a big advantage to the Allego training platform is the fact that it's virtual. The training is continual, available any time and almost anywhere, and best of all it requires no travel. Eliminating the expense and downtime of traveling to and from training can be a huge cost saver for organizations.
"One of the country's largest financial institutions uses Allego to drive efficiencies across its distributed branch network and give regional managers the tools they need for on-the-job coaching," Magnacca said. "Since rolling out the Allego platform, the company has seen product knowledge increase and time spent on management calls go down. They also witnessed a 22% increase in the average number of products per client relationship and a 31% increase in sales across the bottom 20 regions."
Another way companies can save time and money with the Allego platform is in the onboarding of new sales reps. Assessing each newly hired individual's industry and product knowledge is a time-consuming and expensive process. Thanks to its ability to personalize training and assessment for each new hire, the Allego platform eliminates the need for sales trainers or other high-value assessors to be involved.
Harnessing the Benefits of Informal or Peer Learning
Most authorities and organizations involved in training development agree that informal learning makes up the vast majority of the knowledge professionals rely on in their jobs. This non-conventional training can take many forms including peer knowledge-sharing, access to subject matter experts, coaching, and even trial and error.
Allego has embraced this philosophy by formalizing these informal instruction channels and building them into its sales learning and readiness platform. With its video-sharing technology, sales reps can share the lessons they've learned with their peers and request pertinent information in time to make a sale. They can also browse a catalog of relevant videos they can instantly access, thanks to Allego's compressed video and caching technologies.
"Users can quickly access best practice video libraries to grab high-impact information at the exact time and place of need," Magnacca pointed out. "Learners get a uniform experience across all activities, and management teams have visibility into individual and group competency that spans employees' entire tenure."
The Allego platform also provides new content recommendations personalized for each user and deep search capability that ensures every employee is equipped with the best knowledge and collateral their organization has to offer. All of Allego's video technology offers contextually aware search and a focus on collaboration that enables reps in the field to access the information they need.
Sales coaching is another key component of the Allego platform, allowing sales managers to be more effective across their entire team than ever before. Effective ride-along and coaching sessions can now be done virtually. Sales reps also have the ability to record practice videos to share and receive point-in-time feedback from managers or training partners.
Allego Leverages Its Technology to Help with Ventilator Training Amid the Coronavirus Pandemic
While the Allego training platform was developed to help financial services sales professionals be more productive in the field, the advantages of this technology extend beyond sales training. In April of this year, Allego announced a partnership with ventilator manufacturers to form the Ventilator Training Alliance (VTA).
As Magnacca explained, "We joined forces with the newly-formed VTA, a coalition of the world's leading ventilator manufacturers, to develop the VTA app designed to provide frontline clinicians and medical providers with quick, thorough ventilator training materials from top ventilator manufacturers as they bravely combat the COVID-19 pandemic."
With the rapid spread of the new coronavirus and its dramatic impact on public health and healthcare workers, many non-ICU trained staff are being asked to operate ventilators. With no time for formal training development, Allego stepped forward to do what it could to provide virtual training to these critical care workers.
The VTA partnership leveraged Allego's proprietary technology to develop the mobile app for medical workers, and to provide them with a centralized knowledge hub of training resources. This virtual repository includes how-to videos, manuals, troubleshooting guides, and other crucial ventilator expertise to help responders treat COVID-19 patients experiencing respiratory distress.
This innovative use of Allego's proprietary technology shows that there are few limits to this virtual learning platform and its potential uses. We wish to express our gratitude and respect for the work Allego is doing.
Advertiser Disclosure
CardRates.com is a free online resource that offers valuable content and comparison services to users. To keep this resource 100% free, we receive compensation for referrals for many of the offers listed on the site. Along with key review factors, this compensation may impact how and where products appear across CardRates.com (including, for example, the order in which they appear). CardRates.com does not include the entire universe of available offers. Editorial opinions expressed on the site are strictly our own and are not provided, endorsed, or approved by advertisers.