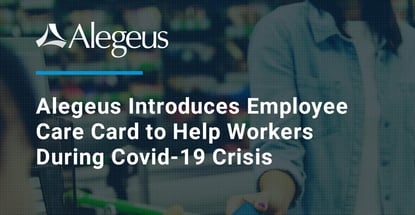 In a Nutshell: Alegeus is a leader in consumer-directed healthcare solutions. It offers an industry-leading benefits platform, debit card, and mobile app to administer Health Savings Accounts, Health Reimbursement Arrangements, and Flexible Spending Accounts, among other plans. Alegeus recently introduced its Employee Care Card, a limited-purpose debit card for current and furloughed employees. The ECC allows employers to control how the money is spent and recoup unspent funds.
The Covid-19 pandemic has roiled the entire U.S. economy, causing the unemployment rate to explode. Amid this catastrophe, businesses are looking for ways to survive while doing something to help employees whose work life has been affected. That can include layoffs, reduced hours, and mandatory work at home, all of which can create financial stresses on workers through no fault of their own.
In response, Alegeus has created a specialized debit card system for employers to help address their employees' financial needs in a controlled and cost-effective way. Alegeus administers consumer-directed healthcare (CDH) accounts on behalf of businesses and other organizations. CDH plans allow consumers to manage some of the cost of their healthcare.
Alegeus has roots going back to the 1995 founding of MBI Benefits, the originator of the benefit debit card. Innovations during its first decade included creating the first multi-purse debit card, IRS-compliant substantiation services, the first multi-bank Health Savings Account platform, and the first single-source benefit account administration and debit card platform.
"Alegeus is in the CDH business, which consists of Heath Savings Accounts (HSAs), Health Reimbursement Arrangements (HRAs), and Flexible Spending Accounts (FSAs)," explains Brian Colburn, SVP, Corporate Development & Strategy. "We are a white-label platform, meaning that our clients are the really big insurance health plans and third-party administrators who take our technology and put their name on it. They get from us the tech and the financial rails that sit behind it."
The main three CDH plans offer consumers tax-advantaged ways to cover healthcare expenses:
Health Savings Account: These accounts are available to and owned by consumers who purchase health plans with high deductibles. Contributions are pre-tax, and unused funds roll over from year to year. HSA money can be spent tax-free on qualified medical expenses, including prescriptions. The contribution amounts for 2020 are $3,550 for individuals and $7,100 for families. The annual "catch up" contribution amount for individuals age 55 or older is $1,000.
Health Reimbursement Arrangement: U.S. employers can establish and fund HRAs to reimburse employees for out-of-pocket medical costs, including some health insurance premiums. There are no minimum or maximum contributions, and distributions are tax-free. In 2020, Individual Coverage HRAs were introduced to simplify reimbursements. Employer contributions to HRAs are tax-deductible.
Flexible Spending Account: This category includes Health FSAs, Dependent Care FSAs, Transit Expense Reimbursement FSAs, and others. The maximum amount an employee can contribute to a Health FSA in 2020 cannot exceed $2,750 per year, and employers can set a lower cap. Employees can carry forward up to $500 to subsequent years.
Alegeus administers all these plans as well as wellness incentive accounts and more.
Alegeus Leads in Consumer-Directed Healthcare Market with Powerful Platform and Services
The Alegeus platform allows businesses, custodians, and employees to manage benefit account programs. It supports 225,000 employer groups and 30 million consumers.
The power of the platform lies in its uniform, real-time handling of all types of transactions, including those from manual claims and debit cards. Customers can configure and administer complex plans without the need for IT resources.
The platform supports many features, including claim crossovers, cost sharing, coverage tiers, customer debit card authorization rules, and embedded deductibles. The result is the elimination of delay, out-of-balance problems, reconciliation issues, and participant servicing challenges.
The platform includes pre-integrated HSA custodians, but customers can use their own banks. The platform is available online and through a mobile app. Because the Alegeus platform does all the work, customers free resources and reduce operational overhead.
Alegeus also offers services that provide turnkey convenience. These include administration services and consumer support. The ultimate support package is White Glove Service, which includes:
Executive engagement to allow clients to optimize business strategies.
Relationship support to meet business goals while maximizing value.
Solution training and consulting to wring maximum efficiency from the platform.
Solution support to resolve issues quickly.
End-user support.
Alegeus provides strategic insights to clients to keep them on top of the dynamic healthcare benefits landscape. This helps clients evolve their benefit designs and distribution practices, and gives them the opportunity to differentiate their plans so they can reap competitive advantages.
The high-tech roots of the company allow it to pivot quickly, internally and externally, when new needs arise, such as the disruption caused by the pandemic.
"As a member of the executive committee, I had to consider issues like should we send people home?" said Colburn. "And if we do, will our computers all work? Beyond these types of basic considerations, I thought hard about the impact on the economy and our accounts. When you think about all this unemployment, it's a major headwind for some of these CDH accounts."
Covid-19 Pandemic Spurred Alegeus to Develop ECC in Only 10 Days
With the onset of the Covid-19 pandemic, Alegeus sought new ways to help its clients. The biggest challenge was layoffs, in which employees possibly lost their health coverage, FSAs, and HRAs.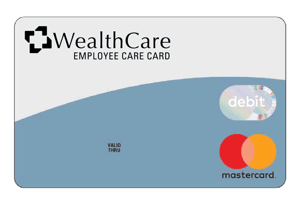 Alegeus had to evaluate the impact the pandemic would have on the benefits its clients offer full-time and part-time employees. The challenge was to expand its platform to add value to the new environment.
"A lot of companies thought about the problem," Colburn recalls. "We reviewed a bunch of different ideas, and the Employee Care Card (ECC) idea arose from conversations with employers and with our clients about what people actually need."
It took about 10 days to develop the ECC once the decision to go ahead was made.
"My perspective was that timing was really critical, not only when you get the card into the channel but then the time for clients to adopt it. We found that employers were really eager to get this stood up. So, while it took us a week and a half, it actually took employers longer in many cases to get their budgets approved," explained Colburn.
On March 25, 2020, Alegeus introduced the ECC, giving employers the ability to provide support for their employees' immediate financial needs. The system is streamlined: Employees receive funds on the ECC, which is essentially a debit card that can be used for specific purposes. The Alegeus platform was augmented to allow employees to view ECC transactions and balances.
Employers Control How ECCs Are Used and How to Recoup Unspent Dollars
The ECC was conceived in an environment in which employers had two important considerations. The first was to conserve cash to make payroll, while the second was to provide some support to current and furloughed employees. The ECC addresses both considerations because it's available to current and laid-off employees, and the funds can be tightly controlled to conserve money.
"Employers can control where that money is spent so they can limit it. For example, to pay for online education for employees who are trying to figure out things to do with their kids during the day while they're working," Colburn explained. "Others include groceries, Amazon, utilities, and so forth. Employers can focus their spending on things that are closely related to the pandemic and to working from home."
In terms of saving money, the ECC is a notional card, meaning it is funded as employees use it. The employer gets to keep any unspent money.
Past experience suggests that not every employee will use all of the money. So funding, say $250 on the card may cost the employer less than adding $250 to a paycheck or gift card. Colburn said these savings more than compensate for the card's administrative costs.
The ECC portal makes it easy for employees to check their card balances. Another interesting benefit arises from Section 139 of the IRS Code, which allows employers during times of national disaster or emergency to give money to employees tax-free to cover expenses associated with that disaster.
The rule is fairly liberal in that it isn't specific about what constitutes a reasonable amount of gifted money. Colburn feels that several thousand dollars would not be unreasonable in the current environment.
"It's tax-free," he pointed out. "And it doesn't drain employers' internal resources because we and our administrator partners handle all the work for them. We found it's a great way to get money to people who need it in a way that can allow them to spend it on the things that the employer wants without burdening those internal resources. So, it makes sense."

Alegeus leveraged its technical expertise to quickly develop a valuable product for employers and employees. That kind of prowess bodes well for the company's future.
Advertiser Disclosure
CardRates.com is a free online resource that offers valuable content and comparison services to users. To keep this resource 100% free, we receive compensation for referrals for many of the offers listed on the site. Along with key review factors, this compensation may impact how and where products appear across CardRates.com (including, for example, the order in which they appear). CardRates.com does not include the entire universe of available offers. Editorial opinions expressed on the site are strictly our own and are not provided, endorsed, or approved by advertisers.