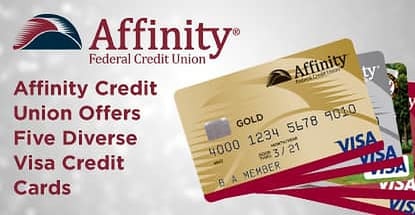 In a Nutshell: Consumer who are looking for a financial institution in the New York, New Jersey, and Connecticut areas have an abundance of choices. But while many banks and credit unions claim they havethe best interest of their members at heart, Affinity Credit Union lets its diverse service and product offerings do the organization's talking. An already robust collection of five credit card options will grow to six in July 2018 when Affinity introduces its Visa Signature card to go along with the Premium Visa and Pure Rewards Visa, as well as the standard Classic, Gold, and Secured Visa offerings. Affinity offers multiple levels of rewards for cardholders, and its interest rates are among the lowest in the Tri-State area. //
For years, credit unions have fought the stigma that they offer fewer services and less technology than their big-bank counterparts. Anyone who has taken the time to research the topic knows that isn't the case.
In fact, many credit unions manage to offer a more diverse menu of services than banks, thanks to their member-owned status and no investors to answer to. Many of the credit unions we've covered here at CardRates also involve themselves more in the communities they serve and work to educate their members on important topics to improve their financial well-being.
Affinity Credit Union is a not-for-profit, full-service financial institution that offers an array of financial services to over 165,000 members throughout the New Jersey, New York, and Connecticut areas. With 22 branches and 5,000 shared branches across the US, Affinity is the largest credit union headquartered in Basking Ridge, New Jersey.
Serving such a large demographic requires Affinity to regularly expand its services to meet the needs of each member. The credit union's five Visa credit card offerings reflect those efforts — especially when you add the sixth card coming in July 2018.
"Our most popular cards are the Premium Visa and the Pure Rewards® Visa," said Michael Rose, Senior Vice President at Affinity Credit Union. "Preferences between the two mostly depend on what each member's needs and wants are. The Premium is best for anyone who carries a balance. If they're rewards-oriented, the Pure Rewards is a great card."

The Premium Visa Starts with a 2.99% introductory APR for the first 12 months before increasing to a very competitive 10.10% to 16.10% APR, with no annual fee or penalty rate increase for late payments. The low APR applies to all types of purchases, including cash advances and balance transfers.
If you don't tend to carry a balance, or if rewards are more of your thing, the Pure Rewards Visa offers one point for every dollar spent and up to six points per dollar when cardholders shop at Affinity's Rewards Website.
The card boasts a variable 13.50% APR with no annual fee or penalty rate increase. New members receive a 5,000-point bonus after their first purchase with the card.
Members who bundle multiple products and services with Affinity can reach EvenMore status and begin earning double points on all of their purchases.
Gold, Classic, and Secured Cards Add Variety to the Mix
Affinity also runs occasional promotions, like its recently completed Spring Credit Card Offer that allowed Pure Rewards cardholders to earn double points, and Premium, Gold, and Classic cardholders to earn 1% cash back on qualified transactions that include utilities, cable, telecommunication services and equipment and home improvement purchases over a two-month period.
These offers are seasonal and give cardholders who typically don't earn rewards a chance to get cash back for their purchases.
Members who do not qualify for the standard credit card offerings, either because they're building or repairing their credit score, still have a credit option with the Visa Secured card.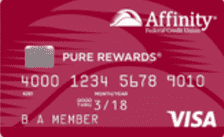 The Secured card has no application or annual fee but requires a deposit that determines the card's credit limit. Affinity stores the deposit in a separate savings account and refunds it to the cardholder when the card account closes (as long as the account is in good standing with no debts).
The Secured card, which sports an APR as low as 12.10% variable, is a great way for members to take the first step toward qualifying for one of the unsecured Affinity card offerings.
"If someone has a Secured card and is performing properly on their payments, they can apply for an unsecured card, and we use that history as part of our decision-making process," Rose said.
A Visa Signature Card Coming in July 2018
Although Affinity has yet to release full details, the institution plans a mid-July 2018 launch for a new credit card offering with its Visa Signature card.
The card will build upon the popularity of the Pure Rewards card by offering more points per purchase and other perks associated with the Visa Signature Concierge service.
"This card will be really rich, with a blended 1.5 points per dollar spent," Rose said. "It features concierge services through Visa and compares favorably to some of the other premium cards from financial institutions."
Members who hold any of Affinity's card offerings get free access to the Affinity Card App which sends transaction alerts and allows card controls and Visa Checkout Provisioning.
"The app has all of the functionalities needed to turn the card on and off," Rose said. "There's a geo-locator function on there. It's got many features tied to the security of your card."
The Best-Kept Secret in the Tri-State Area
Since 1935, Affinity Credit Union has served the Tri-State area of New York, New Jersey, and Connecticut with banking products and services tailored to meet a set of needs as diverse as its growing member base.
"We want to try to get a card to all of our members at all levels of the financial spectrum — from the secured Visa all the way to the Pure Rewards," Rose said.
The institution hosts regular, in-person seminars on topics related to financial wellness and education. These includes opportunities for members to learn from financial coaches, credit counselors, and investment professionals.
"In some respects, I feel like we're the best-kept secret in the area," Rose said. "Our cards have some of the best rates and benefits on the market. We really cater everything we do to our members."
Those sentiments ring true throughout the entire organization, where multiple departments regularly work together to serve every member in the most effective and efficient way possible.
"There is a significant collaboration between the credit card team and our marketing team," Rose said. "That promotion coordination becomes helpful because we're able to target the right opportunities so we can get the right product to the right member every time."
Advertiser Disclosure
CardRates.com is a free online resource that offers valuable content and comparison services to users. To keep this resource 100% free, we receive compensation for referrals for many of the offers listed on the site. Along with key review factors, this compensation may impact how and where products appear across CardRates.com (including, for example, the order in which they appear). CardRates.com does not include the entire universe of available offers. Editorial opinions expressed on the site are strictly our own and are not provided, endorsed, or approved by advertisers.