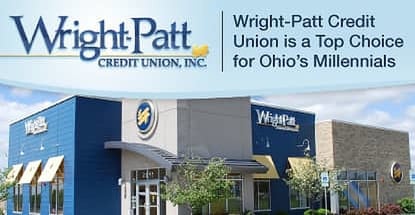 In a Nutshell: A majority of the US workforce is comprised of millennials — a generation that is more accustomed to technology than any other group in the country. The groups' need for speed, convenience, and portability extends to the banking space, where the sought-after money-savers demand tech options when looking for a new bank or credit union. Ohio's Wright-Patt Credit Union has the right mix of do-it-yourself technology options and superior customer service to remain the state's largest member-owned credit union and one of the 50 largest credit unions in America. The institution's app is both modern and secure, and the bank products offered to members feature credit card APRs as low as 7.5%. Its dedication to member relations and the communities it serves, makes WPCUa top banking choice for millennials, evident in the average age — 35 — of its new members. //
Technology has changed the way we conduct even the most routine of life's tasks. This was never more evident to me than when I used my cellphone on a recent trip to lower the temperature on my home's thermostat from the other side of the country.
My conquest over climate control isn't exactly headline news compared to other innovations being introduced every day — though my dogs were very thankful for the cool air.
Some of the greatest advances are taking place in the world of mobile banking, where institutions are improving security and still managing to provide new products designed to make life easier for account holders.
Many of these innovations target a younger demographic that uses banking services very differently than have previous generations. Throughout Ohio, these millennial members, consumers born between 1981 and 2002, have gravitated to Wright-Patt Credit Union for its top-notch technology, stellar savings products, and commitment to education and community causes.
"We approach everything we do with our service model in mind," said Tracy Szarzi-Fors, Vice President of Marketing & Business Development at Wright-Patt. "We have three stakeholders we serve: our members, our employees, and the credit union. We take really great care of our employees and they, in turn, take really great care of our members. As a result, our members use the credit union more and tell their friends and family."

Szarzi-Fors said the average age of new WPCU members is around 35. That demographic is among the most sought after by all banking institutions as the group slowly transitions into becoming the majority of America's workforce.
That shift is causing a similar transition in banking, where brands are working to suit the needs of a modern clientele that's as diverse as it is broad.
"It's all about focusing on people and their needs first," Szarzi-Fors said. "At WPCU, it is very clear. We hire the brightest and most passionate team when it comes to service. They enjoy helping people and the results are happy members."
Financial Products Built on Low Rates and No Hidden Fees
WPCU strives to offer financial products that are both useful to members and different than anything offered by the competition. The company's CentsibleSpend account checks off both of those boxes.
The spending account features no minimum deposits, no paper checks, and no hidden fees for a $4 monthly maintenance fee. Overdraft fees don't exist with the product because members can only spend what's available in their account.
WPCU also offers a Platinum Low-Rate Credit Card, issued through Visa, that sports interest rates that start at 7.50% with no balance transfer or cash advance fees and, most importantly, no annual fee.
"We want to make sure our members know all of their options so we can put the best solution together for them," Szarzi-Fors said.
WPCU's mortgage loans, as well as loans for new construction and home equity, are among the most competitive in the industry. A home equity line of credit lets members leverage the equity in their home in a revolving line of credit up to $150,000 with variable rates over 15 years and a 10-year repayment period.
A Top-Rated App Built to Weather the Test of Time
Wright-Patt's dedication to customer service extends to the digital banking world, where the financial cooperative takes great pride in its mobile application for Android or iOS devices.
"When we develop new products or services we look at it through the lens of the member experience and ensuring it is easy, convenient, and representative of our brand," Szarzi-Fors said. "We want to make sure people are better off by being a member of Wright-Patt Credit Union."
The app lets members enrolled in online home banking deposit checks from their phone, check balances, transfer money, and pay bills at no extra charge. The app's architecture is designed so new features can be added seamlessly without disrupting the user experience or making navigation difficult.
"We want to make sure our services and products weather the test of time," Szarzi-Fors said. "It has to be a service and/or product that we can add features and enhancements to over time to continuously meet our evolving member needs."
Educational Webinars, Courses, and Tools Address Key Topics
Along with providing products members need, WPCU also looks to brighten account holders' financial future by offering educational opportunities in the form of online courses, archived webinars, and tools like calculators and planners. The credit union also offers its Realtor® on Duty Seminars that provide experts to answer members' questions on buying or selling a home.
The WPCU Money Wellness Center has 24 learning modules through a partnership with Everfi that include retirement and estate planning, creating a budget, and intricate investing topics like "Getting Started with Options."
"Our approach is to help people through life and make their life a little easier," Szarzi-Fors said. "We do this by sitting down with members and helping them achieve their goals. We have some of the best products and services in our markets with really competitive rates, so we have many solutions for someone's financial needs."
Striving to Make Life a Little Easier For Members
As the largest member-owned credit union in Ohio, and one of the 50 largest credit unions in the US, Wright-Patt is positioned to offer products and services that beat most of its competition. These include credit cards with APRs as low as 7.5% and a CentsibleSpend spending account that, for $4 a month, offers multiple ways for members to grow their savings and stick to their budget.
The commitment to helping members through traditional banking products and modern technology appeals to all consumers and resonates with the sought-after millennial demographic that comprises much of the country's workforce.
"Our brand, helping people through life, appeals to many generations," Szarzi-Fors said. "But the younger demographic is looking for an organization with solid values and the tools they need to make life a little easier as they journey through life events. We are providing both the help and tools they need to feel confident."
That confidence grows with access to financial education tools, modules, and webinars that teach life's fundamentals  — from starting your first savings account to estate planning.
"We are continuously making enhancements for our members," Szarzi-Fors said. "Our focus is on more digital transformation and making it easier for them to interact with the credit union no matter what channel they select while ensuring our members get the same great experience each and every time."
Advertiser Disclosure
CardRates.com is a free online resource that offers valuable content and comparison services to users. To keep this resource 100% free, we receive compensation for referrals for many of the offers listed on the site. Along with key review factors, this compensation may impact how and where products appear across CardRates.com (including, for example, the order in which they appear). CardRates.com does not include the entire universe of available offers. Editorial opinions expressed on the site are strictly our own and are not provided, endorsed, or approved by advertisers.