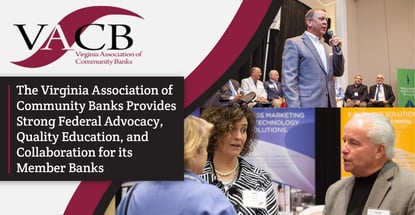 In a Nutshell: The Virginia Association of Community Banks (VACB) has served banks in the state for more than 40 years by providing necessary resources and giving them a collective voice. The Association provides educational opportunities for bank staff and advocates for the needs of its member institutions by meeting federal legislators. VACB also conducts regular webinars, in-person seminars, and conventions that focus on topics as broad as cybersecurity, compliance, fintech, and in-branch security.
When the government enacts new financial laws and regulations, they often address problems caused by banks with the largest number of accounts and the greatest amount of managed assets. Smaller banks are often forced to deal with "one-size-fits-all" regulations that cause hardships for the bank and its customers. Community bankers often feel like there isn't much they can do about that situation.
But the Virginia Association of Community Banks (VACB) works to change that calculus in favor of smaller institutions. For more than 40 years, VACB has advocated on behalf of community banks in Virginia to get them a seat at the table among legislators at various levels of government.
Today, VACB represents 59 banks — which vary significantly in size and scope.
"We have members who manage more than $10 billion in assets and members who manage fewer than $100 million in assets," said Steven C. Yeakel, President and CEO of VACB. "We try to build programming that provides something for every group in that range."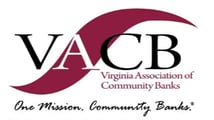 As part of its service, VACB conducts regular meetings, seminars, and conferences to educate its members on the rapidly changing financial industry. Yeakel and his team also travel to Washington multiple times each month to meet with politicians for updates on meetings and to see what's coming down the legislative pike.
"Our schedules are very much governed by our educational programming, the congressional calendar, and the general assembly calendar," Yeakel said. "Then, several underlying things may happen at the spur of the moment — or someone calls with a specific issue or question that requires immediate attention."
Perhaps the greatest value VACB provides its members comes from those unexpected questions — which Yeakel said his team can quickly turn into collaborative answers.
"We often do surveys to collect information for our members," he said. "For example, around a year ago, a member asked us to find out all of the banks' holiday closure policies. So we collected all of that information quickly. We like to be available to do those sort of ad hoc things."
Member Banks Receive a Host of Strategic Benefits
VACB's board of directors met in May of 2019 to announce a total refresh of its strategic plan. As part of the meeting, the group laid the groundwork for future lobbying efforts on behalf of its members and all Virginia community banks.
"The board reaffirmed its strong commitment to federal advocacy as the number one service we provide," Yeakel said. "We're the voice in Washington for community banks, whether it be with our congressional delegation, regulatory agencies, or with our Commissioner of Financial Institutions and local regulators."
Aside from political representation, VACB curates a host of courses and programs that member banks can use to train employees and stay current on compliance.
"They also get a lot of benefits from our educational programming," Yeakel said. "Our training is mostly focused on compliance because that's been a foremost concern of banks over our history."
Yeakel said that every member bank has a different approach to conducting business and generating revenue. But one thing that all members share is a need to follow the government's uniform compliance standards.
To ensure that happens, VACB leans on experts in the field who provide the necessary information and context to help member banks stay ahead of the competition.
"We do a quarterly compliance forum that includes a large number of banks and meets in a unified location," Yeakel said. "We also provide audit programs twice each year and hold a compliance conference in the summer. The events are ongoing and set, but the topics remain timely and relevant."
VACB also sets aside time for meetings about recent changes in laws or regulations, as well as unexpected issues member banks may face that require the help of experts.
"We tell our members that if they have a good idea or an issue, we can be 90 days from a good meeting, speaker, and training on that topic," Yeakel said.
Similar meetings in 2019 included a one-day conference on in-branch security officers and a symposium on cybersecurity.
Courses and Conferences Keep Institutions Informed
VACB's educational component doesn't require members to travel to specific locations to learn from the experts. The Association has a website archive of more than 150 webinars and regularly hosts live online events focused on critical topics.
The webinars, which take place several times per month, allow members to learn about key topics and new standards and procedures. While members have access to all of the webinars, non-members can purchase single sessions to sample the events.
The website also offers several courses tailored to the needs of individual staff members of a community bank.
"We have an Essentials of Banking course designed for a first- or second-level employee who shows promise and who the bank would like to supply with additional training," Yeakel said. "It's an overview of the banking industry with a little bit of depth across a broad range of topics."
Another recent course focuses on the growing trend of Universal Banking, in which institutions offer their clients many different financial services under one roof and have a more diverse workforce.
"Life at bank branches is changing," Yeakel said. "What used to be rigid and regimented job descriptions now flow more into the favor of those who can perform several duties within the branch."
VACB courses and seminars work to meet the needs of community banks. That sets these programs apart from other online offerings that attempt to solve a problem the same way for everyone.
Working on Legislation in Washington, D.C., and Beyond
While VACB's lobbying work aims to improve the legislation that affects its member banks, Yeakel said the group serves more than just the members on its ledger.
"In many ways, we represent our non-member community banks in Virginia as well as we represent our member banks," Yeakel said. "We don't support policies for just our member banks."
But, while non-member banks benefit from the legislation passed thanks to VACB's efforts, the Association uses the feedback it gets from members to drive its narrative with federal legislators.
"The heart of our advocacy campaign takes place in Washington, D.C.," Yeakel said. "We make sure we're well-connected with the 13 members of our congressional delegation."
Yeakel said he spends a good amount of his time and energy in Washington, D.C., because the group's positive relationship with Virginia politicians doesn't require his team to spend as much time there.
"The banking environment within Virginia has been very positive, affirming, and supportive," he said. "One of the key banking operatives describes it as bicameral and bipartisan support for the banking industry in Virginia. We appreciate that."
And Yeakel said VACB prides itself on being a go-between that links community banks to the politicians that, years ago, were out of reach to the smaller institutions.
"We like to be a catalyst," he said. "We communicate with our bankers to ensure that we know what they're thinking and connect them with members of Congress. Then, as legislation develops, we let them know when meetings will be held so that we can carry the word back from Washington, D.C."
VACB: Focusing on Collaboration, Not Competition
While every bank has to focus on revenue generation and growth, Yeakel said that VACB helps to minimize the competitive nature of banking while increasing the number of new ideas and breakthroughs through collaboration.
That spirit is most evident at the Association's annual convention, where approximately 200 representatives meet, network, and share ideas and strategies.
"People appreciate the chance to meet, talk, and network," Yeakel said. "And our convention committee has driven us toward providing solid information that they can use during our business sessions."
"We have a current group of banks that seem anxious to engage. They understand their consumer base is changing and expecting shorter times for loan approvals and more consumer-friendly products." — Steven C. Yeakel, President and CEO of VACB
The Association plans future sessions that focus on the role of fintech in the current and future financial services landscape. The goal is to help close the technology gap that separates many smaller banks from their larger peers.
"It's best for us all when we evolve, learn, and mature," Yeakel said. "We have a current group of banks that seem anxious to engage. They understand their consumer base is changing and expecting shorter times for loan approvals and more consumer-friendly products. They're curious about what's out there."
And Yeakel's team plans to remain on the front line of this rapidly changing field, advancing legislation for its members and all of Virginia's community banks.
"We're anxious to play a role in providing information on what these fintech companies want to do and how they want to partner with community banks," he said. "It's a winning formula because the fintech companies know that they need to have relationships with community banks to stick around for the long term."
Advertiser Disclosure
CardRates.com is a free online resource that offers valuable content and comparison services to users. To keep this resource 100% free, we receive compensation for referrals for many of the offers listed on the site. Along with key review factors, this compensation may impact how and where products appear across CardRates.com (including, for example, the order in which they appear). CardRates.com does not include the entire universe of available offers. Editorial opinions expressed on the site are strictly our own and are not provided, endorsed, or approved by advertisers.