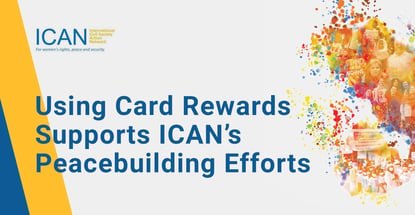 In a Nutshell: ICAN is a non-government organization focused on resolving conflicts and political strife by recognizing the courage of and empowering women at the local level who are first to respond. The organization has helped the UN and foreign governments reshape conflict resolution strategies to be inclusive of women's peace work. ICAN has also addressed how conflicts deeply impact women who are caught in the fray. Those who wish to donate to ICAN can do so through credit card payments for greater access and effect.
Sanam Naraghi Anderlini is globally recognized as a leading advocate in the field of women, peace and security. She has spent the last 24 years as a peace strategist working on conflicts, crises and violent extremism. She is also a consultant and civil society leader for governments and the UN.
She has produced several publications and is the Founder and CEO of the International Civil Society Action Network (ICAN) where she heads the Women's Alliance for Security Leadership (WASL). The latter comprises independent women-led organizations that are active in 40 countries and whose aim is to prevent violence and promote peace and human rights.

Over the years, ICAN has been making a global impact by recognizing and enabling women peacebuilders to elevate their voice and influence matters of peace, conflict, human rights and security. It also influences the peace and security policies of governments, multilateral organizations, and the international community through strategic advice by drawing attention to local solutions.
Women as a Driving Force for Peace
During times of conflict or world-shaping events, those observing from the outside don't often get to see what happens on the ground level. There are untold stories that occur, and many of those stories involve women who take on the responsibility to protect the defenseless who are brutalized, abused, and neglected.
Having seen the tragic events in Rwanda and Bosnia as they were unfolding in the 1990s, Naraghi Anderlini sought a way to deal with these issues and not only help victims gain a voice, but also bring attention to the women who take an active role in resolving conflicts through non-violent transformation.
Part of that process was to start a global campaign, which led to the UN Security Council's Resolution 1325 on women, peace and security that Naraghi Anderlini helped drafted and bring to the forefront in 2000. And the other part involved ICAN establishing the Women's Alliance for Security Leadership (WASL) – a network of locally rooted women-led organizations in countries affected by conflict and violence.
ICAN has contributed funding and resources to its partners in conflict zones and has supported local women to take on leadership roles in the peace-making process.
Often when a crisis occurs, Naraghi Anderlini explains, most people run away. But it is at that critical stage that local women peacebuilders run to address the problems and assist their communities.
Some start by providing humanitarian aid, helping victims of violence like women and girls who have survived rape. Many become involved as mediators, becoming bridges between fighting parties – always trying to find a solution to violence and always doing their best to protect the vulnerable.
It's lonely and dangerous work, but Naraghi Anderlini said, such women emerge in every society, and ICAN's taken up the task of supporting them and connecting them globally.
"We all believe that violence should not be the option. Conflicts can be resolved through dialogue. Sometimes it's about seeking and tapping into the humanity of the other, at a time when it's easier to dehumanize each other. Even when wars are ended with violence, there is a need for political solutions. We have to learned to talk to our enemies," says Naraghi Anderlini.
In an example from Nigeria, one of ICAN's partners had a deep knowledge of Islam and was in the region where Boko Haram was operating and regularly kidnapped young girls. She challenged their ideology and offered alternative solutions.
With financial contributions from ICAN, the partner in Nigeria – Hamsatu Allamin – was able to get area Islamic scholars to address those issues on local radio in their native tongue. They expressed the Koran's view on education because part of the problem was in combating Boko Haram's ideology that books are haram, meaning that children shouldn't go to school.
After three months of campaigning on the airwaves, there was a 40% increase in school enrollment in that area. And then the partner organizations started peace clubs in the schools so children could learn through religion, faith and culture.
Stabilizing War Zones Through Direct Involvement
When funding operations, ICAN's objective is to identify women peacebuilders who are already active and trusted in their society. Through ICAN's Innovative Peace Fund, "we invest in that trust" says Naraghi Anderlini. ICAN also provides its partners with budgeting, monitoring and evaluation and institutional development support. We are often like "angel investors," she says.
For Naraghi Anderlini, it is critical to get grants into the right hands because even a little money can go a long way. In comparison, too often significant sums are allocated to big institutions, but much is wasted on overhead costs in London, New York or Washington DC, so most of it will never get to the ground operations.
"During COVID, we were able to distribute $1.9 million, which doesn't sound like a lot of money in the world we live in today, but that reached 1.3 million people in over 20 countries," says Naraghi Anderlini. "The money that we're able to give them is almost like the icing on the cake. They bring trust as the most important asset. The funds enable them to do their work more effectively. And, the results have been really amazing, in all sorts of ways."
In Yemen, for example, ICAN supported a local partner to provide PPE and address water shortages. That opened the door for mediation with the armed groups and contributed to the partner's involvement in the truce that is currently in place.
In some challenging situations, ICAN's partners had to make medical masks themselves, and in many places, there was no water or soap, but they made their own hand sanitizers. And when people were short on food, ICAN's partners organized food banks to ensure everyone had enough to eat.
Ways to Support an Important Cause
To ensure that the maximum funds reach local organizations, ICAN developed the Innovative Peace Fund (IPF).
"Because we're a small organization, and we don't have the bureaucracy, we're able to be really agile in terms of our response," says Naraghi Anderlini.
Those who wish to give can visit ICAN's donation page and donate by PayPal, credit card, bank transfer or cheque.
What the organization has discovered over the years is that many philanthropic foundations are eager to get involved while private companies tend to lag behind. "So often, the private sector thinks of peacebuilding as 'Oh, this is politics, and we don't want to do politics, but peace is not politics. Peace is the baseline condition needed for any sustainable effort at education, health or commercial business," says Naraghi Anderlini.
"We're told that 'war is good for business,' but that is simply not true for the vast majority of businesses," says Naraghi-Anderlini. "Many sectors are impacted terribly when there is a risk of insecurity."
For example, tourism including hotels and air travel can easily be disrupted by acts of aggression. The Sri Lanka Easter bombings in 2019 devastated the entire tourism sector and the supply chains that came with it.
"There are lots of in-kind donations that make a difference ranging from food and medical supplies to support for office equipment, security, and travel," says Naraghi Anderlini. "And there's obviously the financial donations that help enormously to enable our partners to do their work – be it preventing violence through community engagement or providing shelters and livelihood support for victims of war."
Anderlini recalls a $900 grant to a Cameroonian partner who bought fertilizer in time for planting season to help over 30 women and their families who had been displaced by war.
"If they didn't grow fruit and have the chance to sell it, they'd be at risk of sexual exploitation to earn a living," she said.
By bringing members of WASL together, ICAN helps people see the similarities across different nations and cultures. The most striking point, she says, that the vast majority of us want to live in peace, and co-exist with each other. But she says, we've been conditioned to believe that "war – even another world war – is more possible and inevitable than world peace."
"People think that when you mention world peace, it's as if you drank some crazy Kool Aid. But in reality, the craziness is thinking that bombs and destruction is the way forward. War is only good for the weapons industry and criminal organizations," says Naraghi Anderlini.
"We've all taken peace for granted. But we can't anymore, there is too much division and mistrust everywhere. Without peace and social cohesion, our families, our homes, our livelihoods–everything else we have could be at risk." We need ordinary people to feel that they can be citizen peacebuilders. At ICAN we see this all over the world, We see women taking on the challenge, and we do what we can to support them," says Anderlini. "They are like super heroes hidden in our midst."
Advertiser Disclosure
CardRates.com is a free online resource that offers valuable content and comparison services to users. To keep this resource 100% free, we receive compensation for referrals for many of the offers listed on the site. Along with key review factors, this compensation may impact how and where products appear across CardRates.com (including, for example, the order in which they appear). CardRates.com does not include the entire universe of available offers. Editorial opinions expressed on the site are strictly our own and are not provided, endorsed, or approved by advertisers.