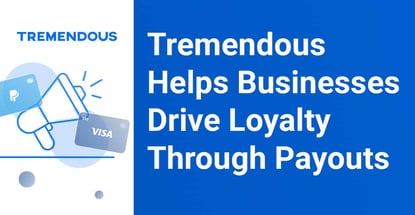 Our experts and industry insiders blog the latest news, studies and current events from inside the credit card industry. Our articles follow strict editorial guidelines.
In a Nutshell: Tremendous enables businesses to send instant international digital payments at scale. The company offers one-off payout solutions that disburse rewards and incentives giving the recipient hundreds of redemption options including ACH, Venmo, PayPal, and brand-name gift cards. Businesses can use the Tremendous platform to buy, track and manage digital rewards, and they have the option of sending to recipients either by using the platform or by integrating with Tremendous' API.
Payroll services are a basic tool used by companies and organizations to pay their employees for the work they do. But how do businesses compensate everyone else?
There is generally no standardization or internal process for companies that just want to provide one-off payments to non-employees, like participants who join a live feedback session or loyal customers who encounter service issues.
Alternative payment solutions, like PayPal and Amazon gift cards, exist. But these solutions are based on recurring payments that may require recipients to go through various hoops — like providing their banking and other sensitive information — to register.
Tremendous offers a better solution that few others can compare to. Its platform allows companies to make instant one-off payments to recipients anywhere around the world. Tremendous also handles all currency conversions, money movement, cross-border regulations, and reporting.

Whether it's gift cards, cash, prepaid Visas or charity donations, Tremendous can make it easy to distribute digital incentives and rewards.
It is a winning business model that has already helped thousands of companies send millions of payments globally. But it took time to get the idea up and running.
Nick Baum, Tremendous' CEO and Co-Founder, said that the company has an unusual startup story. It was incorporated in 2010 and started off by launching a peer-to-peer gifting product called GiftRocket.
The idea was that store gift cards are great, but they are also limited in that funds can only be spent at one location, and recipients don't have other options.
GiftRocket was able to capture the sentiment that gift cards provide without necessarily trapping the funds with a merchant that the recipient may not necessarily want to go to.
After going through Y Combinator and raising funds, the gifting startup achieved profitability, but was unable to scale the business. "The product got a really good reception, but there was a limit," said Baum. "Gifting is a really tough space because you have to be at the top of people's minds at every point in time when they're going to give a gift."
But the company saw an opportunity in that limitation. To the team's surprise, a number of GiftRocket's customers were large corporate businesses. "We had Nike using GiftRocket to pay survey participants, we had SoulCycle using GiftRocket for employee recognition — it didn't make any sense whatsoever because this was a dinky consumer platform."
However, the scale at which these business customers wanted to use the product was requiring much better tooling. Baum said that if these types of customers were willing to use GiftRocket, then the company should build the tools needed to help them manage this process effectively.
So the company rebranded and redesigned its platform, and Tremendous was officially launched in 2018. The platform has continued to improve by providing more options for recipients and more ways to get paid, and by building tools for organizations to track and manage thousands of incentives, rewards, and payouts annually.
Providing Simplified Payout Solutions
Tremendous provides a revolutionary approach for companies to send payments and incentives that takes away all the guesswork and puts everything on an easy-to-use platform.
The benefits of using Tremendous include: business clients can track the process, ensure that recipients receive the incentives, resend them effortlessly, and export all of the information to finance — all of which is critical for businesses to manage effectively.
Tremendous also meets the needs of accessibility requirements, whether it be tax regulations, like collecting W-9s from recipients who receive $600 or more, or a host of other stringencies. These types of gotcha policies can easily disrupt any company that tries to do things on their own.
Baum said that the two largest pain points Tremendous solves for its clients are scale and the international problems that companies run into. "For each recipient, you need to know where they are, what options they prefer, and you need to do currency conversion and language translations," he said.
Fortunately with Tremendous, customers can get all of the support they need out of the box, and they won't have to encounter any of the same pitfalls.
Tremendous clients can engage with the platform interface itself or automate reward delivery by integrating with Tremendous' API. "With the user interface, a client will be up and running the same day," said Baum. "If they want a technical integration, we've had clients upgrade in less than a week. The average is probably on the order of weeks if not months."
Best of all, Tremendous is free to use and set up.
The company makes money based on the products it sells. For example, with Amazon cards, Tremendous receives a percentage discount on the face value when the company orders the cards.
The Value of Offering Reliability
There are many needs for a product like Tremendous within any company. Oftentimes, the CEOs may not even be aware that their companies need this solution. It's a problem that forces a number of people across different departments to do their own research and find a solution independently.
For example, when research requires a method of paying participants, HR may want to find a way to gift everyone at the end of the year while offering an option of what to choose from. Then there is the need for marketing incentives.
What differentiates Tremendous within the payment space is that it simplifies the process of recipients getting something that works for them, no matter what their preferences, no matter where they are in the world.
When companies think about customer acquisition and loyalty, the key is to provide value to those individuals, whether they are current or future customers. A great way to do that is through a service like Tremendous that can ensure recipients are being rewarded and incentivized in ways that work for them.
Baum said several services in which the brand may use a discount on a future purchase as an incentive may or may not be a useful tool, depending on the products and services they provide. But providing a third party incentive through Tremendous — and allowing the recipient to choose what's valuable to them — is going to be of greater value.
"It's incredibly simple for recipients," said Baum. "They get a message that is branded with the company's logos, colors, includes a nice message, and then they get to choose from a set of options that the company selected, so the company can turn on the entire catalog."
"It's first up to the company to figure out what options to allow the recipient to select from and then the recipient gets to choose amongst those, and it takes a matter of seconds for a recipient to browse through the options and choose what they want," said Baum.
The Company's KPIs and Post-Pandemic Impact
To ensure customer satisfaction is met, Tremendous runs through a number of surveys and conducts independent research — not necessarily directly through its customers — related to the company's core use cases.
Baum said the company tries to look at how much time and money Tremendous is saving its clients and that running these KPIs and qualitative data have helped in the process. The company also pays close attention to its Net Promoter Score, which is above 50.
"In terms of time, we're saving the average client 10 hours per month, which is very substantial — over 100 hours on the year," said Baum. And in terms of money, it depends on what the client was doing before since Tremendous is free and is typically helping clients save money overall.
The impacts of the pandemic have influenced the way businesses operate and engage with employees and customers alike.
For a company like Tremendous, it matters across multiple different use cases. Going remote has changed the way companies reward employees, incentivize study participants and implement marketing incentives.
"All of these activities have gone remote, so being able to provide something digital that works for individuals, no matter where they are and what their payment preferences (are), is paramount," said Baum.
Baum added that more companies are realizing the need to interact and engage individuals beyond their employee base. Businesses want to provide value for loyalty and customer acquisition, and they realize there needs to be a way to differentiate themselves by providing value first.
"That's what rewards, incentives and payouts do," said Baum. "One-off payments are growing very substantially, as companies realize that it's core to many different aspects of their business."