In a Nutshell: Eating disorders represent a personal health and emotional problem for individuals and families, and a larger economic problem for the United States as a whole. The National Eating Disorders Association provides educational resources to help people take action against these life-threatening problems. It supplies information about eating disorders through its website and its helpline, which provides personal support and guidance for seeking treatment. To fund these resources and programs, NEDA accepts donations and makes tools available for community fundraising. Young people, in particular, are afflicted by eating disorders, which is why NEDA has launched programs on college campuses. It also uses social media platforms to mitigate risk and promote positive body image and eating habits.
At some point in their lives, approximately 30 million Americans will suffer from an eating disorder. It may be anorexia nervosa or bulimia, or it may be a lesser-known affliction like Binge Eating Disorder (BED) or Avoidant Restrictive Food Intake Disorder (ARFID).
In addition to being physically and mentally unhealthy, eating disorders can be fatal. Each year, 10,200 people die from eating disorders, and about 26% of people who suffer from an eating disorder will attempt suicide.
The toll is personal and emotional, but it doesn't end there. The economic cost of eating disorders in the U.S. was estimated at $64.7 billion in 2018. Eating disorders are, in short, a major problem for individuals and the nation at large.
"Eating disorders have the second-highest mortality rate of any mental illness surpassed only by opioid abuse," said Chelsea M. Kronengold, Program Manager at National Eating Disorders Association.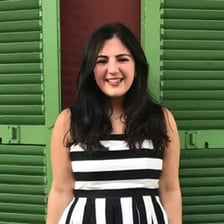 NEDA is the largest nonprofit organization in the U.S. dedicated to supporting individuals and families affected by eating disorders. Through education and outreach, NEDA serves to catalyze prevention and recovery from these debilitating and often life-threatening illnesses.
The organization pursues its goals through two primary pillars. First is its helpline that provides information and resources to people who believe they or a loved one is suffering from an eating disorder. The other is funding for research into eating disorders, their cause, and effects.
By funding research and providing open resources to the public, NEDA is able to help raise awareness about eating disorders across the nation. And it invites the public to contribute to this mission through donations, which can be made directly and in the form of excess, unused, or unwanted credit rewards. These donations empower NEDA to spread awareness, empower people to get help with their disorders, and change and save lives. 
Online Resources Increase Education and Awareness
NEDA's website offers a wide range of information on eating disorders. It is targeted to people who believe they may suffer from an eating disorder or who know someone they suspect may be afflicted.
"Our website is a great place and a clearinghouse of information for people who want to learn more about eating disorders, whether it's learning more for themselves and some of the concerns they have or just general education outreach," Kronengold said.
Eating disorders aren't restricted to a single age group, gender, sexual orientation, or socioeconomic status. NEDA's mission is to provide research, statistics, and concrete facts about eating disorders to as wide a swathe of the population as possible. NEDA believes that by raising awareness on eating disorders, it can facilitate prevention and treatment.
It's important to note that NEDA does not provide diagnoses or treatment. The organization's goal is to educate the public and help those afflicted with eating disorders attain the professional care they need to recover and lead emotionally better lives.
"It's more of an awareness tool and an eye-opener," Kronengold said. "We also have a treatment map on our website where people can search for providers near them as well as virtual providers. A silver lining of COVID is that a lot of eating disorder treatment and just mental health treatment, in general, has pivoted to virtual, and a lot of providers and treatment centers are keeping that option open, and that allows greater access."
Helpline Callers Get Support and Treatment Information
When someone believes they or a loved one is struggling with an eating disorder, online resources may not be enough to confirm their suspicion. They may need or simply want a direct line to someone with more knowledge and experience. For those individuals, NEDA also offers a toll-free helpline.
"[The helpline is] for people who are struggling, whether they are individuals and family members, whether they know for sure that they have an eating disorder, or they are concerned about their food, body image, [or have] exercise issues," Kronengold said.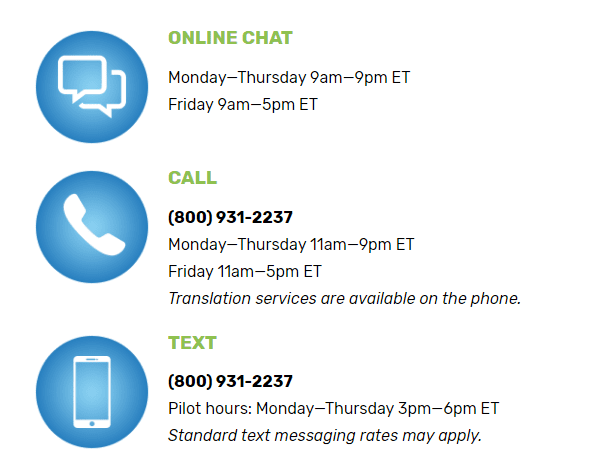 The helpline uses the stages of change model to identify the risk of an eating disorder. The first stage is the precontemplated stage, when someone doesn't think their behavior is a problem but someone else may bring attention to it. 
Then there is the contemplation stage, when someone suspects they may have an eating disorder. Next is the planning stage, which is commonly when people call the helpline seeking assistance in planning a route to recovery. 
And finally comes action, when people are prepared to seek treatment. After that comes the maintenance stage, where people maintain healthy attitudes and behaviors.
"People in all those stages will contact the helpline," Kronengold said. "Depending on where someone is at, you're gonna have a different conversation."
For those who are seeking similar feedback but have reservations about speaking to someone about their concerns, NEDA also offers an online screening tool. This tool is appropriate for people 13 years of age or older. Neither the screening tool nor the helpline can provide a qualified diagnosis, but they are helpful resources for identifying risk and putting affected individuals on the path to recovery.
Donations, Fundraising, and Volunteerism Support Outreach and Education
Credit card donations are critical to NEDA's mission of providing education and support to people suffering from eating disorders as well as their friends and families. NEDA receives no federal funding, so it depends on grants and partnerships. Another major component of the organization's budget is peer-to-peer fundraising efforts to support its work as well as one-time and recurring donations from the public.
"A huge avenue for donations for us has been Facebook birthday fundraisers," Kronengold said. "We've noticed that a lot of our constituents have set those up in lieu of a present. … We've definitely seen the impact of that."
NEDA welcomes planned giving through wills, trusts, annuities, stock, appreciated securities, and IRAs. For those seeking to begin contributing immediately, cashing out credit card rewards presents one way to support the organization without having to reorganize one's monthly budget and provide donations to NEDA through one of these means. 
All donated funds go toward supporting NEDA's research grants, its helpline, and supporting other informational resources and educational programming.
Another source of funding for NEDA comes from fundraiser walks. During the COVID-19 pandemic, these events went virtual, but the organization hopes to see these in-person events happening again in the spring of 2022. NEDA provides information for these DIY fundraisers on its website.
"The walks are a great way to get involved, whether you coordinate a walk or join a committee," Kronengold said. "And then there are other ways to get involved. We're launching a program called Campus Warriors … And that's around spreading awareness and fundraising on college campuses."
Bringing Awareness to Campuses and Social Media
The Campus Warrior program is NEDA's newest initiative to raise awareness about eating disorders among young people and to encourage those affected to seek diagnosis and treatment. The program is rolling out in the 2021 fall semester, and Kronengold expects it to gain momentum and become more robust by spring of 2022.

"College-age students, according to the research, are the population that's most likely to be affected, or has the highest percentage of people affected in that age group," Kronengold said. 
College campuses are not the only places that can breed eating disorders. Social media, as with the media at large, can have a damaging effect on attitudes toward food and can exacerbate preexisting eating disorders. But social media can also be a positive tool in spreading awareness and helping people take action.
Social media can be used as a storytelling platform where people afflicted with eating disorders can share their experiences and support one another. Some dieticians and therapists have also risen to influencer status, and they are able to provide qualified information, expert advice, and support to a wide swathe of the population.
"Social comparison, especially in the context of eating disorders and body image, is a big challenge. And the social media platforms are aware of that," Kronengold said. "These platforms are aware of the kind of responsibility and the dangers that do occur there. And their safety and policy teams have been really receptive to working with us and the feedback we've given them wanting to make it a safer place." 
Advertiser Disclosure
CardRates.com is a free online resource that offers valuable content and comparison services to users. To keep this resource 100% free, we receive compensation for referrals for many of the offers listed on the site. Along with key review factors, this compensation may impact how and where products appear across CardRates.com (including, for example, the order in which they appear). CardRates.com does not include the entire universe of available offers. Editorial opinions expressed on the site are strictly our own and are not provided, endorsed, or approved by advertisers.