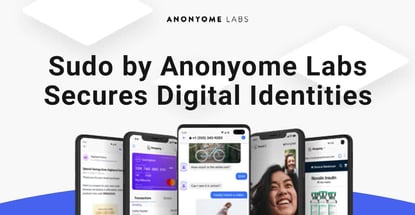 Our experts and industry insiders blog the latest news, studies and current events from inside the credit card industry. Our articles follow strict editorial guidelines.
In a Nutshell: With so many everyday interactions moving online, consumers need privacy protection that works without sacrificing convenience. Solutions from Anonyome Labs protect data through limited-disclosure digital identities known as Sudos. Businesses seamlessly integrate with the Sudo Platform to protect their end users, while the MySudo app offers a suite of consumer-facing tools, including virtual cards for secure online transactions. Anonyome Labs aims to offer leading-edge tools to protect digital privacy from every angle.
Consumers may not give it much thought, but the data trails they leave behind when banking, shopping, and interacting online are worth money. But they're not the ones selling their information and reaping the benefits.
Instead, banks and merchants turn consumer social graphs, location trails, and behavioral data into supplementary revenue streams. They may use that data to gain a better understanding of their customers for marketing purposes, but they can also sell the data to compilers and scrapers for repackaging, reselling, and marketing.
These third-party brokers are adept at putting various data puzzle pieces together to compile detailed digital profiles. Even the most innocuous consumer interaction with a site or service — including social media — can be enough to trigger an action.

Anonyome Labs has built a simple but effective solution through its Sudo Platform — a set of tools that protect online activity through customizable virtual identities known as Sudos. Anonyome works with large enterprises interested in providing privacy protection to end users, and it offers the MySudo app directly to consumers.
Even healthcare and other sensitive personal information can become associated with a consumer's profile. That's bad enough, but data breaches can put critical info in the hands of bad actors, leading to even more unfortunate and damaging consequences.
That's where Sudos can provide peace of mind for consumers who value their private data.
"If I have your phone number, I can find out where you live — it's that simple," said Rich Sordahl, Director of Marketing at Anonyome. "When you create a Sudo, you create a firewall between your personal identifiable information and the outside world."
Sudo Platform Offers Businesses a Privacy Toolkit
It's not too much to say that a privacy crisis threatens the ability of the internet to facilitate modern conveniences without destroying consumer privacy. Credit bureaus, insurance agencies, personal privacy protection companies, and other enterprise-level clients use Anonyome's Sudo Platform to foster a more protective internet.
"A cohort of our core employees came out of IBM's security division, and they recognized the importance of privacy," Sordahl said. "The Sudo Platform gives companies a set of à la carte solutions they can embed into their products."
Sudos are at the heart of the platform. Many consumers typically keep separate work and personal profiles online. Sudos provides a platform that enables individuals to create up to nine virtual identities for different aspects of their online lives.
Companies determine how they deploy that functionality based on their use cases. Through Sudos, end users deploy virtual email addresses and phone numbers for voice calling and texting.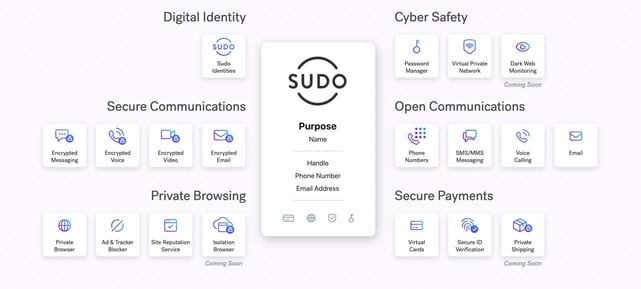 The platform also houses a host of other privacy protections — all easy to integrate into existing corporate infrastructure via preconstructed user interface modules, sample apps, and software development kits (SDKs).
The Sudo Platform keeps communications private with tools that include encrypted messaging, voice, video, and email. Private browsing, ad blocking, and site reputation services protect end users from online threats. And the ability to create virtual credit and debit cards enables users to shop securely by creating a different card for every purpose.
"We started out to protect communication, but Sudos also make sense with bank cards because banks sell data," Sordahl said. "That's why companies contact you out of the blue to sell you stuff you're not interested in."
MySudo App: Protection for Card Transactions
The MySudo app works on the Sudo Platform and extends its capabilities to individuals. Through the app, consumers create profiles with easily identifiable handles, each with a safe browser and a virtual phone number and email address.
Emails and messages are end-to-end encrypted, group messaging is supported, and users may edit and delete sent messages and set messages to expire. Phone numbers can have any area code, and calling supports video chat with-end-to end encryption. All end-to-end encrypted features work with users on MySudo as individuals or groups across voice, video, and advanced messaging features.
The iOS version of the app enables virtual debit cards (with Android support coming soon). When it's time to go online and interact with a merchant or provider, users choose the handle and virtual card that fits the use case.
Watch on
Signup through the app or one of Anonyome's partners requires a comprehensive KYC (know your customer) identity check that Anonyome's services perform. After they're validated, users connect a debit or credit card to make transactions. ACH based funding via bank account is coming soon. Creating and changing Sudos for shopping, browsing, social media, or anything else is simple.
Anonyome's Fintech Operations Manager, Dave Glass, who oversees the virtual card program, said the way the platform works allows consumers to take advantage of their card rewards even when transacting through Sudos and virtual cards.
"You're able to see the transaction's authorized against the underlying card," Glass said. "The transaction is processed, everything's authorized, the card is funded in real-time, and then those funds are processed and settled and pushed out to the merchant."
Returns are also seamless, with the Sudo Platform handling all processing when a return is initiated to ensure funds return to the end user's virtual card funding source.
"It all goes back to the original card," Glass said.
Anonyome Labs: Security Solutions for Digital Life
There's no turning back from the efficiencies and conveniences of digital life. But every click and tap has the potential to become part of a bank's or merchant's revenue model. Sudos give consumers a simple way to control how they present themselves online.
"Anytime you generate transaction data, brokers can associate that with spend categories, which at some point down the line almost inevitably turns into a spammer calling you or sending emails," Sordahl said.
Consumers often don't appreciate the behind-the-scenes data aggregation work companies are willing to pay for. Data aggregation transforms seemingly unconnected actions and behaviors into a psychological and sociological profile that reveal consumer preferences and motivations.
It's worth all the time and effort because it drives purchasing decisions. The internet knows what consumers like and where they go to shop, and it uses that information to present them with purchasing opportunities they may not have considered.
"That can also open you up to data breaches," Sordahl said. "Using Sudos prevents this bigger-picture process of data aggregation from making as much of an impact."
A basic version of MySudo is available for free. From there, subscription tiers offer increasing levels of functionality, culminating in SudoMax for dedicated privacy advocates. MySudo app work in the US and Canada.MySudo is offered in the US, Canada, and the United Kingdom.
Sordahl illustrated the privacy problem with a story about moving to another state and looking for moving services. He made a single phone call and immediately started getting calls from other moving companies.
"That's how fast this stuff can propagate online," he said. "What happened to me was just an inconvenience, but over time, it can turn into something much more serious."