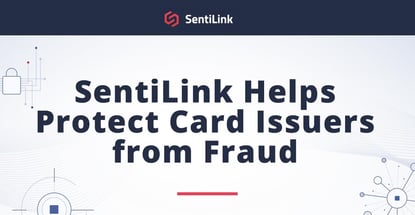 In a Nutshell: Identity fraud costs card issuers and lenders billions a year, but not all fraud is the same. When fraudsters co-opt a user's actual credentials, there's a clear break in an existing customer relationship, and the damage can be stopped. More insidious is synthetic fraud, where entirely new identities are fabricated, and there's no real customer involved. SentiLink uses an innovative combination of data analysis and human intelligence tools to protect financial institutions from both kinds of fraud. Since 2017, SentiLink has emerged as a leader in stopping synthetic fraud — earning our Editor's Choice™ Award as a Top Identity Fraud Solution.
Card issuers and lenders do a good job of protecting users from the consequences of identity fraud. When customers detect that someone other than themselves is using their card number to make purchases, all they have to do is report it. Unless other factors are at play, the charges are usually written off.
It's an inconvenience for the customer and counts as a loss for the issuer, but after the initial damage is done and proper adjustments are made, both parties move on.

That type of fraud remains active throughout the payments system. But criminals haven't been content to ride the status quo. Instead, they've developed new ways to beat the system — ways that financial institutions struggle to even detect.
These novel ways of stealing are collectively called synthetic fraud, and SentiLink arose in 2017 to combat them. The industry solution is the brainchild of data scientists who experienced the problem firsthand in their roles at online lender Affirm. SentiLink works with banks and other financial services providers to detect synthetic fraud and ensure it's accurately accounted for.
As Co-Founder and COO Max Blumenfeld explained, the problem with synthetic fraud is that it slips through the system undetected. When a fictitious Social Security number is tacked onto a real name and date of birth or an entire fake identity is built from scratch, there's no real customer involved. And the losses are often chalked up to account abandonment rather than theft.
"The losses are misclassified," Blumenfeld said. "And banks are holding unnecessarily large loan loss reserves as a result."
SentiLink protects against that. And because its solutions save money and time for its financial customers, it earns our Editor's Choice™ Award as a Top Identity Fraud Solution.
Synthetic Fraud Scores Offer Comprehensive Precision
Blumenfeld and CEO Naftali Harris watched synthetic fraud happen in real time when they were at installment loan provider Affirm. SentiLink's Synthetic Fraud Scores product helps banks, credit unions, and other card issuers and lenders detect fraudulent activity before it can impact the books.
"There was one consumer who applied for credit 12 times with the same name, the same date of birth, and 12 different Social Security numbers," Blumenfeld said. "And each time she applied with a different SSN, we got a different real credit report back, and the same lender lent to the consumer 12 times."
The moment of clarity came for Blumenfeld and Harris came when they tried to verify a driver's license number as part of authentication, and the applicant had supplied the same real number 12 times in a row, Blumenfeld said.
"The only reason we detected the fraud was because we saw that same number tied to 12 different SSNs," he explained.
That's the root of SentiLink's Synthetic Fraud Scores solution: the amassed set of credentials used by more than 300 million distinct U.S. consumers who have applied for credit, along with additional data elements associated with those consumers.
Synthetic Fraud Scores then combines all that info with unique consortium data shared across all its partners.
"There's definitely a machine learning component to the product, but it's more of a data problem than a machine learning problem," Blumenfeld said. Certain factors impact the resulting models, such as when the Social Security Administration began to randomize the issuance of new numbers. Also, fraud rings sometimes sell sequential strings — so-called credit privacy numbers — which the tool can detect.
"Different scores map to different MOs of fraud," Blumenfeld said. "And we map the treatment strategies to the type of risk introduced."
ID Theft Tool Detects Unemployment Benefit Fraud
When the Social Security Number is the sole fabricated factor at play in the ID combo, the fraud is considered first-party synthetic fraud, according to SentiLink.
"That's where the wrong credit report would be pulled, but you would be able to pass ID verification because you have a driver's license with your name and date of birth," Blumenfeld said.
First-party synthetic fraud is prevalent in auto lending, and the mitigation is SSN verification. SentiLink is the first fraud protection provider to offer real-time integration with the Social Security Administration's new eCBSV tool, which replaces time-intensive and more expensive manual processes.
When the entire identity is fabricated, the result is third-party synthetic fraud, and that's more of a factor in card and installment lending. Not only does it skew loan loss reserves due to misclassification, but many of these types of applications also are thin files. And because bad applications get rejected, banks get more conservative in underwriting legitimate consumers with thin files.
"Tons of legitimate thin-file consumers are being negatively impacted," Blumenfeld said. Because Synthetic Fraud Scores flags these applications quickly and accurately, card issuers are able to extend more credit to more consumers while saving costs.
That's also the rationale behind a new SentiLink product, ID Theft Scores, which arose as a result of the huge uptick in unemployment benefits associated with CARES Act COVID relief. The product targets stolen identities that are used to open financial accounts where the benefits are deposited.
"I would want to open a bank account that's tied to your name if I took out unemployment benefits using your identity," Blumenfeld said. "The actual attack vector has existed for a while — it's tied historically to things like romance scams and tax fraud — but it's become much more prevalent as CARES Act programs have rolled out."
Risk Analysts Catch Activity With Fewer False Positives
Although SentiLink draws on data to derive its scores, its strength as a provider lies in its reliance on human insight. SentiLink's team of risk analysts tags transactions on behalf of the company's partners as they stream in.
"The output of those investigations ends up serving as the target set," Blumenfeld said. "In fact, the way we found a lot of the unemployment benefit fraud was because our team started to see things like the same phone number being tied to 15 applications. Or the same name, date of birth, and SSN combo was affiliated with several of our partners at the same time."
The human element is particularly important in the synthetic arena, where increasingly sophisticated fraudsters demonstrate amazing levels of patience in an effort to squeeze as much money as possible out of the system.
"A lot of synthetic identities will make legitimate payments for five or six months to get larger lines of credit, and our mental model of how fraud works ends up doing a very good job of detecting folks who are in it for the long game."  — Max Blumenfeld, Co-Founder and COO of SentiLink
SentiLink's small team of about 25 members dedicates its expertise on behalf of top financial clients who need speed and precision to catch those who want to do harm.
Blumenfeld credits the team.
"A big piece of our success is that the team's incredibly focused," he said. "Every time there's a new fraud problem, everybody really focuses on solving it. We're growing, but we've really been able to punch above our weight."
Packing that big punch means bringing a deep understanding of fraud detection tactics and strategies to the table every day to help financial businesses thrive. And that earns SentiLink our Editor's Choice™ Award as a Top Identity Fraud Solution.
Advertiser Disclosure
CardRates.com is a free online resource that offers valuable content and comparison services to users. To keep this resource 100% free, we receive compensation for referrals for many of the offers listed on the site. Along with key review factors, this compensation may impact how and where products appear across CardRates.com (including, for example, the order in which they appear). CardRates.com does not include the entire universe of available offers. Editorial opinions expressed on the site are strictly our own and are not provided, endorsed, or approved by advertisers.