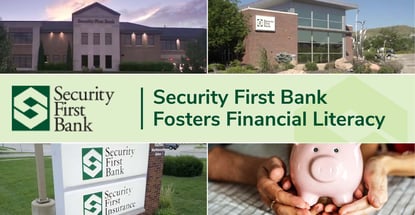 In a Nutshell: Security First Bank operates 29 branches in Nebraska and South Dakota and serves those rural communities with an emphasis on providing financial literacy resources. The bank offers free Banzai courses and the MX Personal Financial Management tool to help customers and community members learn money management skills. And, by providing personal finance education programs in local schools, Security First Bank empowers the next generation to make wise decisions. For its impact on the financial literacy of the communities it serves, Security First Bank earns our Editor's Choice™ Award.
Local banks often try to meet more than just the financial needs of their customers. In rural areas, especially, a bank may be the only financial institution for miles around, which means it has the opportunity to play a significant role in community growth.
That is the reality for residents in large sections of Nebraska and southwest South Dakota served by Security First Bank.
"In nine of our communities, we're the only bank in town," said Marnie Herrmann, Senior EVP, Marketing for Security First Bank. "I think that's one thing that makes us a little unique — the number of communities we serve where we're the only brick-and-mortar banking presence."
Security First Bank, founded in Rushville, Nebraska in 1898, has grown to include 29 branches and 10 insurance offices that serve a wide range of markets — from the metropolitan hubs of Lincoln, Nebraska and Rapid City, South Dakota, to small farm and ranch communities.
While the pace of growth in its city markets keeps Security First Bank moving forward with the latest in financial technology, rural markets benefit from its flexibility to offer services that larger banks no longer provide.
Security First Bank is also one of the few resources for financial guidance in farming communities where early independence is the norm. Teenagers are licensed to drive as early as age 14 in its service areas.
That early-age responsibility underscores the need for financial literacy, and Security First Bank provides tools and programs for young residents to learn the skills they need later in life.
"It's a much healthier relationship for our communities, and the whole economy, when people understand how money works, how budgeting works, and the importance of making thoughtful decisions about how to spend, save, and borrow," Herrmann said.
Security First Bank is improving financial literacy in the communities it serves with integrated educational courses, financial planning tools, and hands-on programs. For that commitment, the institution has earned our Editor's Choice™ Award.
Courses and Articles Make Financial Knowledge Accessible
Security First Bank had been looking for the right online learning service to enhance its educational efforts when it found Banzai at the Financial Brand Forum. In January 2019, the bank announced its partnership with the award-winning, web-based financial literacy program.
"We liked their approach and their underlying philosophy. It was also priced in a way that enabled us to offer the educational services for free across our entire customer base — in all our communities," Herrmann said. "Regardless of whether you're a customer of ours, you're welcome to use the literacy materials."
The Banzai online courses offer three levels of resources designed for kids, teens, and adults. Each gamified course walks users through real-life scenarios such as balancing a budget, paying bills, and dealing with unplanned expenses. Users can assess their understanding of personal finance material by taking tests both before and after the course.
The Banzai program features an extensive library of short articles on practical financial topics for every age. Adult-level resources even tackle complex subjects like insurance and mortgage interest, with embedded links for further research.
"When we tested the program internally, everyone from entry-level tellers through senior leadership said that the articles were easy to read and they all learned something new," Herrmann said.
Since Banzai has strategic partnerships with many of the same software tools and services Security First Bank offers its customers, it's also easy for those who take the courses to integrate and apply their knowledge directly to their finances.
Financial Management Tools Help Consumers Visualize and Set Goals
Another way Security First Bank supports the development of sound financial habits is through the MX personal financial management (PFM) solution available through its online banking platform and mobile app.
"It enables you to input your personal financial information — whether it's a mortgage, car loan, or savings account — and then have a snapshot of your entire financial life," Herrmann said.
The PFM features full-color graphics and charts, with individual dashboards for goal setting, debt management, spending and cash flow, investments, net worth, and financial trends.
"For example, you can set a goal and establish a timeline, and then the PFM tool will help you reach your budgeting goals through graphics and reminders. It also shows you the progress you're making," Herrmann said. "You can even program in your overall household budget, then check in periodically to see how you're doing."
One of Herrmann's colleagues uses the tool to code transactions throughout the year for tax purposes, while her children are using it to save up for a down payment on their first home.
But Security First Bank provides more than technology and online programs to empower its communities; it is also known for giving back at the local level in more personal ways. And the bank emphasizes investment in its communities' financial literacy through various programs geared toward children and teens.
Programs in Schools Teach Kids How to Handle Money
In some communities, bank employees participate in Teach Children to Save Day, an event sponsored every April by the American Bankers Association for students in kindergarten to eighth-grade. But that isn't the only time you'll find Security First Bank teaching financial literacy in local classrooms.
Security First Bank also uses elements of the Junior Achievement curriculum to teach essential aspects of financial management to children of all ages. And, for the past two years, it's been sponsoring the Banzai classroom curriculum and making it available to teachers to incorporate into their own lesson plans. To date, more than 40,000 teachers in 20,000 schools nationwide participate in the program.
Security First Bank employees spend time visiting schools and answering questions about money and finances, as well.
"It's pretty amazing to hear the questions that kids come up with — even second- and third-graders," Herrmann said.
In one of its smaller communities, Security First Bank engages with teens at an even more personal level through an annual senior breakfast it's been hosting for the past 20 years.
"We invite all the high school seniors into the bank for breakfast in the morning," Herrmann said. "Then the bank president goes through all the banking options the kids have as they prepare to graduate. And if they don't already have their own checking account, we get them set up with one. We might also show them how the mobile app works, how a debit card works, and teach them how to access and manage their money while they're away from home."
And, since it serves regions in which eighth-graders and freshman can drive themselves to school and need a way to purchase their own gas and food, Security First Bank offers special account services for teens.
"With the program, teens get a debit card and have their own account, but their parent also controls it so they can see where the teen is spending money. It's easier to transfer money into accounts like that, and it's a way for parents or guardians to have a guiding hand," Herrmann said.
Strengthening Communities by Engaging in Early Education
In communities where residents often rely on one bank for financial services, it's crucial for banks to invest in financial education — and Security First Bank embraces that responsibility.
Early financial literacy establishes a positive relationship between customers and their financial institutions, and ultimately leads to stronger communities.
"Part of our job is to consult with customers and keep them informed. It avoids the potential for an adversarial relationship and goes toward building healthier communities," Herrmann said. "The more people understand how finances works, the better decisions we think they'll make, and the less likely they are to make a costly mistake."
By empowering and guiding young people through responsible money management, Security First Bank is also helping them grow into financially-savvy adults who contribute to the local community and broader economy.
"We hold to the idea that we're all in this together. The more you know, the better you can do," Herrmann said.
In recognition of the continuing impact of its financial education curriculum, tools, and community-engagement programs, Security First Bank earns our Editor's Choice™ Award for improving financial literacy in the communities it serves.
Advertiser Disclosure
CardRates.com is a free online resource that offers valuable content and comparison services to users. To keep this resource 100% free, we receive compensation for referrals for many of the offers listed on the site. Along with key review factors, this compensation may impact how and where products appear across CardRates.com (including, for example, the order in which they appear). CardRates.com does not include the entire universe of available offers. Editorial opinions expressed on the site are strictly our own and are not provided, endorsed, or approved by advertisers.