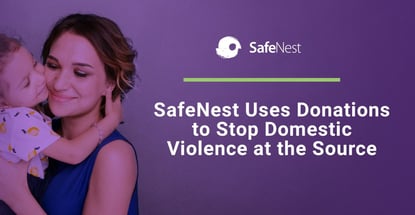 In a Nutshell: The Nevada nonprofit SafeNest not only focuses on providing resources to domestic violence survivors, but it also helps batterers address their issues and stop the cycle of domestic violence at the root. SafeNest serves more than 30,000 clients every year, providing domestic abuse survivors, their children, and the perpetrators with services that better their lives. Card donations help the organization expand and build facilities so more survivors have a place to stay.
After pandemic-related lockdowns in 2020, domestic violence incidents rose 8.1% in the United States.People working remotely and children attending school from home had fewer options to escape dangerous situations. And shelters had less space available to help survivors during the pandemic.
SafeNest works actively to not only help survivors and their children or pets, but to stop the violence at the source. SafeNest is one of the largest domestic violence organizations in the country that offers its resources to stop batterers from harming anyone else.
"We can spend all of this money to support survivors, but no one works with the root cause of domestic violence, we all work with the symptom," Liz Ortenburger, CEO of SafeNest said. "SafeNest decided 20 years ago that if we truly want to end the cycle of domestic violence, we have got to work with batterers."
Based in Clark County, Nevada, SafeNest got its start in 1977 and has expanded to include 10 locations in southern Nevada thanks to donations and grants. The facilities house shelters and counseling centers, and provide legal assistance. A 24/7 crisis hotline and online chat is available for help from home.
Money from government grants is usually earmarked for specific needs. Donations from the public help organizations like SafeNest pay for, among other things, hotel rooms for survivors and their loved ones when a shelter is full.
SafeNest has a page where people who want to donate can send funds with a credit card. Donors have the option  to give a fixed or custom amount or to make a one-time or recurring donation. Cardholders can often also cash out accumulated rewards toward a statement balance with their issuer, freeing up additional funds for donation purposes.
Modern Solutions to Stop Future Domestic Victimization
One of the biggest obstacles for people in domestic violence situations is recognizing the signs of abuse and finding out what resources are available to them. Eighty percent of domestic violence instances do not get reported. One of SafeNest's primary goals is education so people know what to look out for and when to take action.
"Many women, men, and gender non-binary individuals are suffering in this space," Ortenburger said. "Most are suffering in silence because it is the norm in their community or their family. A lot of what we do around awareness is what's appropriate for your situation."
Part of that education also comes in teaching all children about healthy relationship habits. Seventy-six percent of children growing up in a house with domestic violence will repeat that cycle as a victim or batterer. Reaching out to children in these dangerous situations is critical to making sure it does not continue in their future.
Family members and friends also play an important role in stopping abuse when they see it. In many cases, an abuser's close friend or a loved one calling them out on their behavior can make the ultimate difference. SafeNest has support networks for people who need to have that difficult conversation with an abuser, and will guide them on the steps they need to take.
"The research is clear. If a loved and respected person can have a conversation with an abuser, they are likely to change their abuse, and figure out ways to stop it," Ortenburger said. "The way the community can help end domestic violence is by having courageous conversations with people who may be perpetrating abuse."
Changing How Domestic Violence is Viewed and Treated
When it comes to something as serious as domestic violence, it is especially difficult to recognize signs of abuse. A common stereotype is that it comes in the form of men abusing their partner. But in reality, domestic violence comes in several different forms.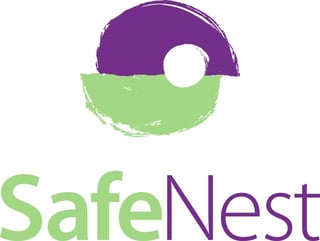 Fifteen percent of domestic violence reports involve men being abused by women or a same-sex partner, and nearly half of incidents don't come from an intimate partner, but from another family member. The abuse isn't always physical, either. Domestic violence can be psychological or financial. 
One of the most important parts of the equation to stopping abuse comes from mental health programs. SafeNest uses much of its resources to help everybody involved.
"Much of what we deal with is unpacking a survivor's trauma, but we also look at the batterer's desire to have control in the relationship," Ortenburger said. "We try to find how we can mitigate that with the perpetrator."
Part of SafeNest's education programs focuses on teaching good relationship habits early on in children's lives, with additional follow-ups and check-ins. It's the continued support that will make a difference in their lives.
"For the kids, it's about understanding what healthy relationships look like, unpacking their trauma, and helping them rebuild lives so they don't repeat the cycle of their parents," Ortenburger said."
Expanding Lifesaving Programs Using Donations
Providing access to the resources needed to address domestic violence is costly. This year alone, 110,000 domestic violence calls will be made in Clark County prompting counseling and emergency shelter, among other services, at a cost of $2.5 billion.
Those funds also cover court costs, medical expenses, and mental health support. Nevada ranks as the third most dangerous state for women who are murdered by men. Ninety percent of those murders are committed by their intimate partner.
SafeNest does its part to intervene before domestic violence becomes fatal, but there is more work to be done. Right now, SafeNest relies on grant money and donations to continue running. Grant money is usually given to organizations for specific purposes, limiting how that money can be used.
Donations to SafeNest can be used for programs that don't need special permissions. Unrestricted money like that helps the organization get results treating the underlying causes of domestic violence before it becomes fatal.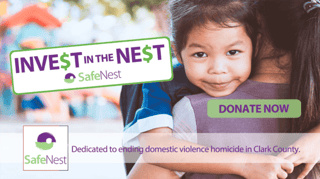 "Using donations, we started a program where we were on domestic violence 911 calls with our police," Ortenburger said. "In the area with the program, homicide rates for domestic violence victims went down. We then used that data to secure more grant money and bring that pilot citywide."
There are other ways to help as well. SafeNest takes in secondhand goods and offers them to families in shelters where their impact can be immediately felt.
For those who want to volunteer their time making a difference, SafeNest offers a volunteer metro response program. These volunteers join officers on domestic violence calls and talk to survivors at the scene, offering lifesaving support when they need it most.
Any money or donation to SafeNest stays local and is used in southern Nevada. Those donations go a long way to cover support and prevention programs.
As of right now, shelters in Clark County are limited, in large part, to people whose lives are in danger. With more money, SafeNest can expand its shelters and help all survivors before their situations end tragically.
"If we're waiting until they're highly lethal to have a bed in our shelter, that's a pretty high threshold," Ortenburger said. "There's a lot of costs in unpacking that trauma when you're highly lethal. If we had more beds, we could take people at lower trauma levels and the investment would be less because the trauma is less."
Advertiser Disclosure
CardRates.com is a free online resource that offers valuable content and comparison services to users. To keep this resource 100% free, we receive compensation for referrals for many of the offers listed on the site. Along with key review factors, this compensation may impact how and where products appear across CardRates.com (including, for example, the order in which they appear). CardRates.com does not include the entire universe of available offers. Editorial opinions expressed on the site are strictly our own and are not provided, endorsed, or approved by advertisers.