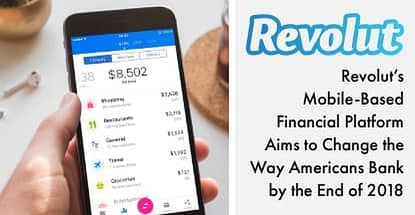 In a Nutshell: Anyone looking for an alternative to traditional banking should look no further than Revolut — a tech-driven, entirely mobile-based financial platform that will arrive in the US by the end of 2018. Revolut offers traditional services like personal and business accounts and loans, and includes tools to help users better manage their finances. It also provides fee-less international money transfers and transactions, low-cost currency exchange, and the ability to purchase cryptocurrency — all within a single app. Revolut abandons the formal, corporate mode of interacting with customers in favor of communication that is fast, friendly, and fun. With a 50,000-person waiting list for US accounts, anyone who wants to be part of the platform at launch is encouraged to sign up soon at Revolu's website. //
Let's be honest — opening a bank account is tedious. In most instances, you have to visit a branch office, speak with a representative, complete and submit paperwork, and then wait to hear back, all of which can take days or weeks. If opening a new, technology-forward account in a moment or two without setting foot inside a bank sounds appealing, then Revolut would like a few seconds of your time.
"With us, it's completely mobile-based, and it only takes a matter of minutes," said Chad West, Head of Global Brand and Communications at Revolut. "You'll be up and running with a fully functioning checking account."
Revolut has big plans to disrupt the traditional banking industry. It offers standard products like checking accounts, loans, and business accounts for startups and SMBs, but also provides perks like currency conversion at the standard exchange rate, no fees for international purchases, and tools that help customers stick to a budget and build their savings.
Best of all, it lets them do it on their phone or tablet — no branch office required.
"Revolut's coming in with a unique proposition that doesn't exist," said West. "We're going to basically offer you everything that your bank does, but completely tech-driven."
Currently, Revolut has 2 million customers in Europe, has processed more than 100 million transactions, and has $2 billion flowing through the platform monthly. Now, this novel approach to banking is arriving on North American shores with an ambitious goal.
"We're launching in the US to replace your traditional bank," said West.
Mobile Tools Let Users Reclaim Control of Their Money
The Revolut card and account work like Americans have come to expect a bank card would, but with tools and analytics to ease money management. Through these, customers can track their spending, budget, and enjoy more effective oversight and control of personal finance.
It all starts with a purchase. "Every time you make a transaction with your Revolut card you'll get an instant notification telling you what you spent and where," West explained. Revolut then categorizes each transaction, allowing users to sort their expenses and then set a budget on each type.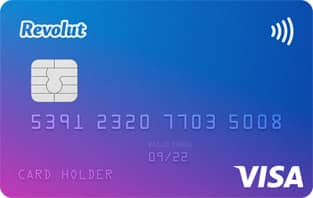 Say, for example, you want to spend less on meals at restaurants; you can set a cap on how much you'll spend each month.
"As you continue spending in restaurants, a little bar in your analytics for restaurants will go up, up, and up the closer you get to your target," West said. "And as soon as you hit your budget, it'll send you a push notification letting you know."
More than just a convenient perk, West sees this as a crucial money-management feature for Revolut consumers.
"There's a big problem in America, and there has been in Europe, where we've sort of taken the market by storm, which is that people just never felt in control of their money," he said. "Letting people know exactly what they're spending, where they're spending it, how they're spending it, and then letting them do things, like create budgets, really puts people back in control."
Revolut further empowers its customers with Vaults, a simplified saving process that eliminates the need to transfer money from one account to another. Users simply establish a goal — what they're saving for and how much they need to put away — and Revolut does the rest.
"Essentially, what it does is it rounds up your card transactions to the nearest dollar," West explained. The difference is automatically set aside in the Vault. "It's a real sort of instantaneous way to round up your spare change on every card payment and put it into your savings goal, whatever that may be."
Loans are likewise quick and easy through Revolut; customers can apply for and receive a decision within moments.
"We're typically cheaper than any bank that offers a loan, whether it's to an individual or a business, but it's instant and paperless," said West. "Within about two minutes, you'll quickly go through the application, and then you will be given a quote. You'll be told within two minutes whether you've been approved, and that money goes straight into your Revolut account."
Revolut's spending categories, notifications, Vaults, and easy loan process all serve to expedite everyday financial services and help users automate healthy financial habits like budgeting and saving. Additionally, the analytic features give users greater control over their finances while reducing the effort of managing them.
Efficient Conversions Between Fiat and Cryptocurrencies
Already an international product, it's no surprise Revolut also provides cheap, efficient currency exchange and transfer services. Users can send and convert fiat currencies as well as a handful of cryptocurrencies, and they can make international transactions without paying fees.
Revolut currently allows users to buy, hold, and transfer funds in 25 global currencies at the Interbank Exchange Rate, which banks use to trade among themselves. Revolut gives clients access to that rate, and it also waives fees on international remittances and transactions.
"With your Revolut card, in addition to using it for your everyday spending card at home, you can also send abroad anywhere in the world with no fees using the real exchange rate," said West. "If you have a Revolut card and you go to Europe for vacation and pay with your Revolut card, you will not get any fees for that foreign transaction."
Users can instantly buy and sell cryptocurrencies through Revolut, which currently supports Bitcoin, Ether, Litecoin, Bitcoin Cash, and Ripple transactions.
"This is taking Europe by storm because trying to get cryptocurrency exposure through a traditional exchange is very time-consuming," West explained. "It's very complex if you're not the most tech-savvy person, whereas with Revolut, it's as simple as tapping a couple of buttons."
In sum, users can quickly and easily invest in and make transactions with foreign currencies and cryptocurrencies through a single interface. Best of all, they can do so at highly competitive rates that banks and other exchanges can't match.
Success Built on Friendly, Informative Interactions
Revolut has become a huge success in Europe in less than three years. "We've signed up 2 million customers in Europe," West said, "and we're signing up over 10,000 customers a day." In only 33 months, Revolut's value has reached more than $1 billion.
The vast product offerings and features have obviously played a huge role in this success, but so has Revolut's approach to client interactions.
"No one has a relationship with their bank," West said. He used the example of how no one gets excited about their bank and recommends it to friends at parties. But Revolut aims to change that with its new model for customer-institution interactions.
One of the most apparent changes is to customer support. Gone are the days of dialing a call center and waiting on hold; Revolut's customer support is built into the app.
"You can just open and chat away to a customer support agent," West said. But alongside access, Revolut wants to change the tone of interactions as well. "Our agents are incredibly friendly. They'll have conversations with you, they'll share jokes with you — and obviously fix your problem if you're having one."
This attitude is a major component of Revolut's brand, and the company applies the same personal tone in every channel it uses to reach consumers.
"Every type of communication we do — whether it's PR, marketing, or social media — everything is fun, friendly," said West. "We break complex financial talk and make it less corporate so that anyone can understand it."
Landing on American Shores (and Phones) in Late 2018
American consumers can expect to start enjoying Revolut before the end of 2018. "We're hoping for August, but it could be September," said West. "It will 100% be this year." And that's great news for people seeking an alternative to traditional banking. "We'll be the first official and proper challenger to banks in America," he said.
It's also great news for people who want a fully mobile-based financial platform that provides traditional products, like loans and checking accounts, alongside services designed for the digital age, like cryptocurrency conversion and fee-less international money transfers.
"Revolut's mission, globally, is to be this financial control center where you manage every aspect of your financial life," West said. "Your day-to-day banking, your cryptocurrencies, your insurance, your credit – all of these kinds of things."
Anyone who wants access to Revolut at launch will need to add their name to a waiting list with 50,000 people already in line. Those interested can get more information and sign up at the Revolut site, but they should hurry if they want in on the ground floor.
"Our prediction is that the US will probably be our biggest market — even bigger than Europe," said West. "In the next couple years, big metropolitan cities will be dominated with people going to coffee bars with Revolut cards."
Advertiser Disclosure
CardRates.com is a free online resource that offers valuable content and comparison services to users. To keep this resource 100% free, we receive compensation for referrals for many of the offers listed on the site. Along with key review factors, this compensation may impact how and where products appear across CardRates.com (including, for example, the order in which they appear). CardRates.com does not include the entire universe of available offers. Editorial opinions expressed on the site are strictly our own and are not provided, endorsed, or approved by advertisers.