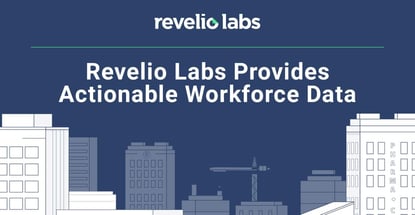 Our experts and industry insiders blog the latest news, studies and current events from inside the credit card industry. Our articles follow strict editorial guidelines.
In a Nutshell: Corporate financial metrics are relatively easy for investors and consultants to act on, but organizations are ultimately run by people. Revelio Labs helps bring the human side of the business into the equation. It analyzes publicly available workforce data to offer actionable intelligence on company composition and trends. The Revelio Labs team of economists can reveal the inner workings of companies and provide powerful predictive insights for investors.
Corporations are collections of people at their core. But investors and financial consultants typically favor financial metrics, including revenues, rather than data on workforce composition and perfomance when assessing profitability.
Financial benchmarks are critical, but they can't measure perhaps the most crucial differentiator of all between companies — the human factor. The adage that a company is only as good as its people indicates other data may be necessary to accurately assess its growth potential.
Investors and analysts enjoy parsing financials because dollars are easier to compare. That's why industries have been built around streamlining financial benchmarks to make better investment decisions.
But human capital isn't as readily quantifiable. People come and go, titles and job descriptions between companies don't match, and corporate hiring strategies can be difficult to understand to outsiders. Those factors make obtaining comparative workforce insights more challenging for stakeholders than simply looking at the numbers.
Revelio Labs aims to change that by subjecting publicly available workforce data from millions of firms to sophisticated statistical and academic analysis.

The company provides data and insights that can lead to more complete views of the workforce landscape and precise performance assessments. That can be a boon for investors, consultants, corporate analysts, and researchers. In fact, its data for financial modeling will be the focus of a case study at Harvard Business School in the upcoming academic year.
"Trying to understand a company just by looking at financial statements is like taking your car to a mechanic who never lifts the hood to see what's going on," said Reyhan Ayas, an Economist at Revelio Labs. "That's the void we're filling. In a very rigorous, academic way, we provide workforce data for understanding companies."
Analysis for Millions of Public and Private Companies
Revelio Labs brings order to an unruly process by integrating public workforce data from all US public companies and more than 2 million private firms. It parses hundreds of millions of documents, updated monthly, that fall into four major categories.
Data from millions of individual professional profiles online include employment dates, companies, titles, education, and skills, among other information. Job post data includes posting dates, descriptions, and salaries.
Government data sources include domestic and global labor statistics, immigration filings, the census, the Social Security Administration, and voter registration data. Company subsidiary-parent relationships, industry classifications, and maps to financial identifiers fall under firmographic data.
"That includes things like resumés, H-1B filings, employee sentiments, and layoff notices. Anything that is workforce-related that is in the public domain," Ayas said.

Revelio Labs is, at its core, a data science company staffed by technologists and credentialled economists. Ayas earned her economics Ph.D. at Princeton. Revelio Labs uses a sophisticated AI-powered platform to render what it absorbs into a form suitable for broad comparisons.
An internal taxonomy brings the title and description mismatches into line. Revelio Labs also employs a weighted model to account for job roles that are underrepresented in online platforms. It also corrects for lags when people report job changes.
"Those three things are essential to bringing the data together. And the key ingredient to making it possible is data science," Ayas said. "Although the data is out there in public before it comes to us, it's not in a format a financial analyst can use to draw conclusions, or that an economist can use to research."
Reports Tailor Insights to Specific Use Cases
Users gain access to panel data for every company on the platform dating back to 2008. Workforce composition snapshots are available through a dashboard interface and a raw data feed from an API that integrates with third-party platforms.
Users can access workforce intelligence insights across the data spectrum thanks to custom reporting. These insights can show when specific companies or market categories are expanding or shedding workers, how workforces are changing, and which companies are entering new markets or geographical locations.
The data can also detect variables, including revenue and salary projections, changes in employee geographical distribution, and average employee tenure that provide a clearer picture of the most recent intelligence. These insights allow investment managers and corporate strategists to relate workforce dynamics to financial performance in ways previously unattainable.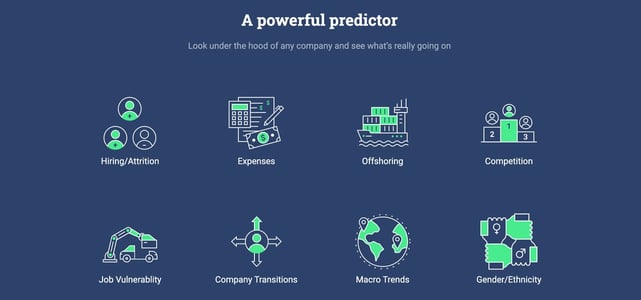 "The biggest group of clients we have are in investment management," Ayas said. "Quant funds feed our data into their internal models, but there are also discretionary funds that use us to track their portfolios."
One straightforward way Revelio Labs augments investor understanding of portfolio companies is through workforce salary changes. That is one of the most significant predictors of corporate expense.
A company suddenly hiring additional senior salespeople could signal an upcoming product launch. Investment management companies use various granular data to track companies that way.
Revelio Labs also provides intelligence on broader workforce dynamics according to the region or a specific aspect of the general workforce. Benchmarking along those lines can be vital, especially for consultants.
"Say you're doing a DEI [diversity, equity, and inclusion] initiative, and you want to measure how you're doing," Ayas said. "What are you measuring against if you don't have external data?"
Putting Human Capital on Par with Financial Capital
Revelio Labs economists have multifaceted roles. They're part of the modeling team on the data science side, working on the algorithms for cleaning and standardizing information.
"We're providing workforce intelligence through the lens of labor economics," Ayas said.
Inventing new use cases for the data is also part of the job, and that requires observational and communication skills more often associated with journalists. The company's newsroom showcases many of its results.
For example, a recent post reported that toxic workforce culture was driving the so-called Great Resignation, in which a record number of Americans resigned from their jobs in 2021. The research, co-authored by Revelio Labs CEO Ben Zweig, used a combination of attrition data from Revelio Labs and employee sentiment data from the corporate review site Glassdoor. That data revealed that employee dissatisfaction was more than 10 times as important as compensation as a predictor of attrition.
Another news article reimagines the Great Resignation as a great career reshuffling, in which individuals quit their jobs mainly to change careers. Another post disclosed that cryptocurrency experts hired at large banks and financial firms primarily originated from Wall Street rather than Silicon Valley.
Revelio Labs newsroom content demonstrates that human capital shifts can significantly impact bottom lines. Spectacular growth at Revelio Labs in 2021 is evidence that more investors and consultants recognize the value of human insights as predictors of corporate potential.
"Businesses are thinking more mindfully about what they should be doing about their workforces," Ayas said.