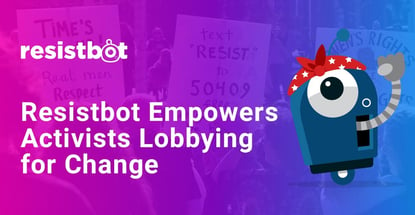 In a Nutshell: Resistbot equips activists and ordinary citizens with the power to amplify and communicate their political viewpoints to elected officials. Thanks to SMS, people can bypass the phone lines and send petitions directly to the office of their desired government official. Resistbot simplifies the lobbying process and guides traffic to the right place for the most impact and action. Card donations help Resistbot continue its efforts to support political justice and make lobbying accessible for everyone.
The political climate in the United States has grown increasingly divisive in the past few years, with its citizens forming strong opinions on political matters. Out of that same reckoning, new groups of activists have emerged to protest the injustices that often played out on media platforms. 
Social media provided an outlet to spread awareness of issues many people may have ignored before. With more people in the know, activists can rally the public to get their message heard by local and federal lawmakers. But calling your senator on the phone isn't enough to herald change.
"After the 2016 election, there was really a groundswell of activism all over the country. A lot of new groups were forming," said Jason Putorti, Co-Founder and Executive Director of Resistbot Action Fund. "People were out there marching, sitting in airports to protest the proposed Muslim bans. All of these activists were encouraging phone calls to Congress and flooding the phones. But there is only so much traffic you can jam into a dozen or so phone lines. People just want to get through in an easy way."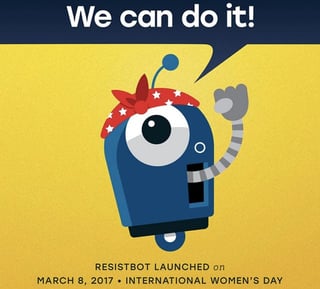 Senate offices in states with massive populations like California have difficulty replying to constituents because of limited phone lines and resources. It can be easy for messages to get lost in a sea of voicemails.
On March 8, 2017, Jason Putorti co-founded Resistbot to create a simplified pathway for supporters to capture the attention of their government officials and streamline their messaging process. The communication tool equips organizers with the power to mobilize their community and increase awareness of their cause using SMS. Card donations can also help in this mission and keep Resistbot online.
"The first version of the Resistbot was very simple: write a letter using SMS and send it. And we'll take care of routing it to the right officials. And it would print out in the fax machine in their offices. And we have been building and expanding functionality ever since. It was just a side project and everyone was a volunteer. The response was very unexpected, and it just took off," said Putorti. 
How Resistbot Simplifies Campaign Planning and Rallies the Public Voice
Creating a civic campaign can be difficult. Without the proper resources, disorganization can occur and people can't gather a large, unified group to make the impact they need. Campaign planning requires effective communication tools to reach its target audience. 
Resistbot uses its service to help activists and citizens drive campaigns and rally the public through petitions. The nonprofit understands how contacting elected officials can influence legislation decision-making. With the right idea, tenacity, and effective communication, citizens have the power to shift how Congress views certain issues and see the reasoning behind their argument. 
According to a study by the Congressional Management Foundation, 92% of congressional staff members responded that "in-person issue visits from constituents" could sway an undecided lawmaker's view while 94% answered "individualized email messages" could successfully influence a lawmaker's decision.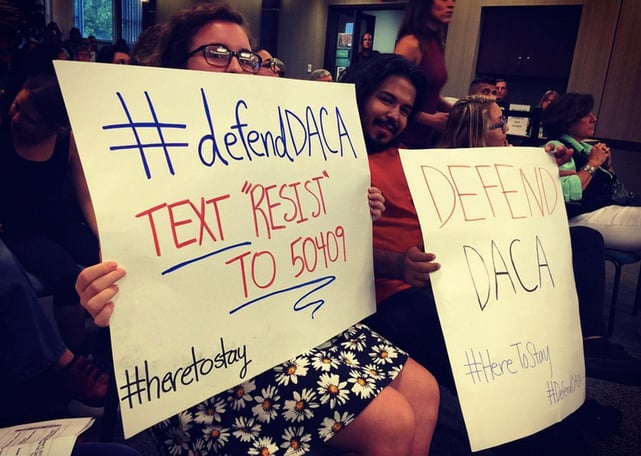 Resistbot simplifies the communication process and positions activists for initial success. People can rally more people for their cause by simply sharing a code and number. Resistbot then  converts their SMS messages into letters.
The company works with congressional and state lawmakers' offices and the Congressional Management Foundation to ensure every letter is delivered and collected. Resistbot sends these letters to Congress electronically or via web form, email, fax, and postal office to state and city officials.
"All you have to do is text this code to this number. No need for a URL or website. It is very easy to verbally communicate. So we built this easy-to-use advocacy tool that anyone can pick up and use. We just hope people engage that way or any way," Putorti said.
Enabling Successful Lobbying Ventures
Resistbot has helped organizers achieve victories in their outreach efforts. Advocates have mobilized supporters and created petitions to reach the attention of Congress. In March 2020, an individual in Tennessee rallied the public on the Resistbot platform to combat the slowdown of the postal office. Amid a pandemic, the mail service was essential in keeping everything from elections to prescription delivery afloat.  
"People were relying on the mail more and more that summer. So you had a large constituency of people that were affected by the mail slowdown. We had a massive groundswell of activity on the bot, which saw Nancy Pelosi call back members to Capitol Hill. There was so much correspondence coming in that she realized the importance and brought people back. The attention helped us have a successful election," Putorti said.
Resistbot helps organizers drive activity for their initiatives on a local and federal level. It supplies them with speed and volume to hammer state legislators and get laws passed.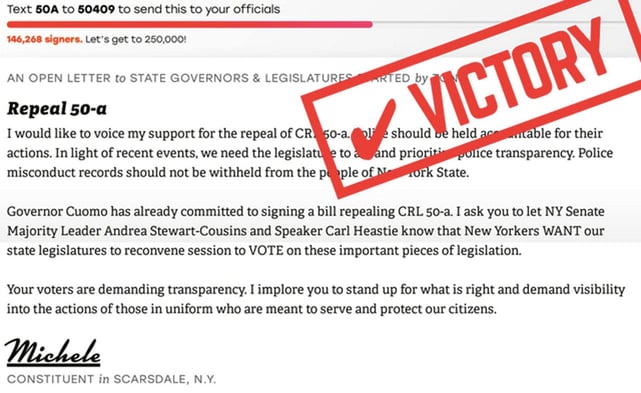 Last year during the George Floyd protests, organizers were able to flood New York state representatives' inboxes by using Resistbot. People found the code on social media and signed the petition. The bot made it easier to reach more people. Within two weeks, former Governor Andrew Cuomo signed reform bills into law. Repeal 50-A had become the largest state-based campaign on Resistbot, catching the attention of celebrities and senators. 
Campaigning for Financial Reforms
Campaign finance reform will require new laws. Creating petitions can help push for new legislation and make an impact.
"We have a persistent constituency that wants (President Joe) Biden to forgive student debt like he said he would. I think that everyone would like to see that. It would unlock a lot in the economy because all of a sudden people will have money to spend. Student debt is pretty crippling. And the campaign promise hasn't been fulfilled," said Putorti. 
Although Biden has canceled $11.2 billion in student loan debt, with $2 billion more on the way, Biden has yet to explore a wide-scale effort. Instead, the Biden administration is only targeting specific constituencies of student loan borrowers. A wide-scale cancellation is still possible, but supporters must add more pressure to call for urgency.
Putorti said anyone can speak out for a cause, even if they are not affected by it. Many minority groups, such as underpaid disabled employees, need additional voices to make enough noise to get Congress to act. By using Resistbot, people can join in on petitions, inform, and create change for others. 
Donations Support Resistbot's Social Reach
Donations help Resistbot maintain its operations and develop features to advance activism efforts. Its use of text messaging as a social channel makes its service more accessible and available for everyone. Because it runs on SMS, every text accumulates a cost.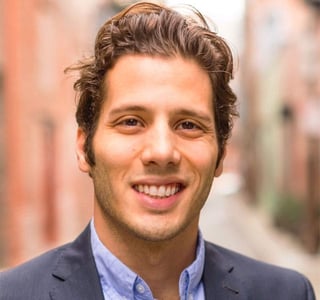 "There's a lot of infrastructure cost to run the service. Offering SMS makes it available to everyone, even with a flip phone, but it's costly. We ask our regular users with smart phones to use iMessage or other apps if they can, and to donate to keep the service free and accessible for those who most need it," Putorti said.
Credit card donations allow Resistbot to remain free and empower people with limited resources to amplify their voice. Since Resistbot is nonprofit and grassroots donor-supported, any amount can help keep the tool running. Donors can also leverage credit card rewards to join the 10,000 monthly donors needed to help advance the mission and fight for political justice. Most issuers allow cardholders to simply apply points or miles toward their statement balance and have more flexibility to use that cash for philanthropic goals.
Resistbot continues to build more tools and now focuses on customizing resources for individual organizers. The company has expanded its reach to cover more targets, like state representatives and mayors. Because mayors and state officials tend to receive less inbound communication, people can find it more accessible and make more impact. So by using Resistbot, they can have a say in laws that affect them on an even closer level.
Advertiser Disclosure
CardRates.com is a free online resource that offers valuable content and comparison services to users. To keep this resource 100% free, we receive compensation for referrals for many of the offers listed on the site. Along with key review factors, this compensation may impact how and where products appear across CardRates.com (including, for example, the order in which they appear). CardRates.com does not include the entire universe of available offers. Editorial opinions expressed on the site are strictly our own and are not provided, endorsed, or approved by advertisers.