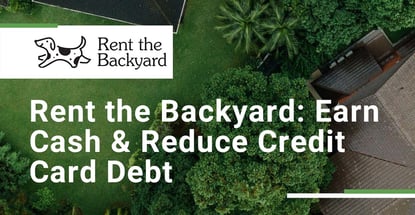 In a Nutshell: Perhaps now, more than at any other time in the modern era, people are looking for ways to earn extra income, whether it's to pay off credit card debt or to simply boost their savings for retirement. For residents in California, Rent the Backyard provides a simple way for people to earn passive income with an upfront investment in an accessory dwelling unit. The company offers pre-fabricated, one-bedroom, one-bath structures that homeowners can install in their backyard and rent out to tenants. Rent the Backyard facilitates the whole process from start to finish, including securing building permits and dealing with the city planning department.
In recent years, the media has often focused its attention on side hustles and the gig economy as millions of U.S. residents struggle to make ends meet or get out from under credit card debt.
That's because the wealth gap in the U.S. has never been greater. The minimum wage has not increased in well over a decade, yet the cost of living continues to rise. People are looking for ways to bring in extra cash, even when they are in a household with one or two full-time earners.

Of course, credit cards can be extremely useful financial tools when used properly. But, unfortunately, many people find themselves using them as a financial safety net and end up falling into a debt spiral that can be extremely difficult to stop.
California in particular is known for its high cost of living. And thankfully, residents of the Golden State have a money-making option for them that is essentially passive income — no ride-share driving or food delivery necessary.
Rent the Backyard helps people in California generate income by facilitating the construction of an accessory dwelling unit in their backyard — a modern-day mother-in-law suite.
We recently spoke with Rent the Backyard Co-Founder and COO Spencer Burleigh about the company's expertise in accessory dwelling units, how people can utilize Rent the Backyard to begin earning money, and the many customization options available to customers.
Identifying a Need in the Market and Helping Californians Use the Accessory Dwelling Law
Burleigh discussed the inspiration behind Rent the Backyard and how the company has evolved since its inception in late 2018.
"The aha moment for us was really when my co-founder (Brian Bakerman) and I were moving to California, and we were looking for a place to live," Burleigh said. "We kept seeing all these different places available in people's backyards, and we were just kind of really confused."
Coming from the East Coast, the concept wasn't one that Burleigh was familiar with, he said.
"So we started learning about all the different options available, and it turns out, the state of California has introduced a new legal code that makes it much, much easier to build things in your backyard," Burleigh said. "They're called accessory dwelling units (ADUs)."
He said that he and Bakerman became really excited to learn this important piece of information.
"I've always been a little bit of an urban planning nerd," Burleigh said. "When we learned more about ADUs, we realized that they're actually pretty hard for people to put into their backyards."
In most cases, homeowners had to hire an architect, spend a considerable amount of money on plans, and submit the appropriate paperwork to the city planning department, he explained. The whole process was costly, and the average homeowner generally doesn't have the knowledge to see a project like this through.
"Even though the market was growing, it seemed like there was a great opportunity to streamline the process for people and make it all much easier," Burleigh said.
And Rent the Backyard was born. After consulting with the client about what they want from their ADU, the company basically handles the whole process from start to finish.
Burleigh said Rent the Backyard offers the easiest way to install an ADU in California.
Begin Earning Rental Income in Just a Few Months
Other companies that assist California homeowners in taking advantage of the accessory dwelling rules may take up to nine months or even more to install a unit on a customer's property.
But with Rent the Backyard, clients can have everything up and running — and be earning money — in as little as four months. And oftentimes in these situations, time is of the essence whether you're trying to get rid of credit card debt or provide a place for a family member to stay.
"Being able to add that additional space as soon as possible is one of the most important things for our customers," Burleigh said, who gave us an overview of how the process works.
He said Rent the Backyard, which primarily works around the San Francisco Bay Area, initially constructed various ADU kits on-site at customers' homes.
"But as we built those, we realized we could provide a better customer experience with less noise and disruption to people's lives by building them in a factory," Burleigh said. "This would also offer more competitive and consistent pricing."
Rent the Backyard offers one standard design, which can then be customized to suit the needs of each customer (more on that later).
"Homeowners come to us and give us an idea of what customizations they want," Burleigh said. "And we handle all the architect stuff because we're already working from a standard design. And then we work with the city planning department on their behalf. Then, we do the full install and supervise everything."
Rent the Backyard is able to build each unit to about 95% completion in its Oakland factory, he said. Then they drive the ADU to its new location and permanently install it in a concrete foundation.
Customizable Options That Appeal to a Variety of Potential Tenants
"We are focused on our standard one-bed, one-bath model right now," Burleigh said. "And the reason for that is because it allows us to basically permit and build at the same time. And in the unlikely event that a permit falls through, we have other customers who want the same floor plan."
This is one of the secrets behind Rent the Backyard's speedy process compared to the timelines of other companies.
Even though Rent the Backyard offers one standard design, it accommodates customers with an array of customization options. The units are 35 feet long and 12 feet wide, and come in at 418 square feet.
"If homeowners want it in a different color, if they want the planks throughout vertically, if they want something like shiny aluminum to be on the edges, all of that is very possible," Burleigh said.
Burleigh said the majority of people who live in these ADUs tend to be on the younger side.
"You see a lot of older people who build ADUs, and they like the people who live in their backyard — usually younger people," Burleigh said. "I think it can really cultivate a lot of great relationships between people of different generations."
And, of course, it serves as a great source of passive income.
"The cost of living, food, everything, can become quite hard for people to pay when they're on a fixed income," Burleigh said. "So, a lot of people will install an ADU which then makes their income a little more variable and tied to the cost of living."
This approach is beneficial for anybody looking for some extra income to pay down credit cards or simply boost their savings. Burleigh said he has seen a number of older people move into ADUs simply to downsize and save money.
"We're selling our units for $185,000, all in," he said. "That includes the permit, that includes the actual building, the full install, the landscaping, and, if you're looking to rent it out we'll connect you with a property manager to help you find your first tenant."
Plans to Expand Into Other States
"We're really focused on the San Francisco Bay Area right now," Burleigh said. "And most of the projects we do are in San Jose, which has about a seventh of the population here in the Bay Area."
But he said the company is looking to expand into other states where there is a demand and building codes will permit.
"I think over the next two to five years, we'd be excited about moving into states like Oregon and Washington, and then slowly moving east," Burleigh said. "Since we make the units in a factory, if we're putting the ADUs on a truck and driving one hour versus seven hours, there's not too much of a difference."
Advertiser Disclosure
CardRates.com is a free online resource that offers valuable content and comparison services to users. To keep this resource 100% free, we receive compensation for referrals for many of the offers listed on the site. Along with key review factors, this compensation may impact how and where products appear across CardRates.com (including, for example, the order in which they appear). CardRates.com does not include the entire universe of available offers. Editorial opinions expressed on the site are strictly our own and are not provided, endorsed, or approved by advertisers.