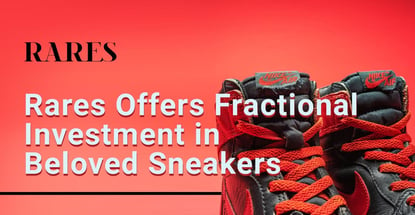 In a Nutshell: Rares provides investment opportunities in the collectible sneakers category. The company purchases the shoes — at prices that range from thousands to millions of dollars — and allows investors to buy fractional shares of the shoes for as low as $5. Investors either make money from selling their shares to other investors or by earning a return after the company sells the shoes. Rares owns shares of every shoe on its platform to show that the company is committed to getting investors a return on their shares.
It may be hard to believe, but I didn't take an interest in the economy, the stock market, and investments until I was already out of high school. Before then, I was fascinated with sneakers. I loved finding the newest and greatest sneakers for every occasion and matching the shoes to my outfit.
Unfortunately, I could only afford to get my hands on two pairs of my favorite brand of sneakers. Sneaker resellers would often snatch up the shoes I wanted and put them on the secondary market for hundreds of dollars more than the retail price.
I spent several hours every weekend researching sneakers — and the best ways to buy them before they sold out — and making sure I had enough money in my piggy bank. I knew sneakers. Rares takes that knowledge, and the knowledge of millions of other fellow "sneakerheads," and turns it into investment opportunities.
Rares is an alternative asset investing website where anyone can purchase shares of shoes the company has purchased. Famous shoemakers, including Nike and Adidas, produce a limited supply of highly sought-after sneakers to create a sense of exclusivity — the kind of exclusivity found in other collectibles markets, like that of sports trading cards. Some shoes are more scarce than others, and Rares focuses on shoes with values that range from thousands of dollars to millions of dollars.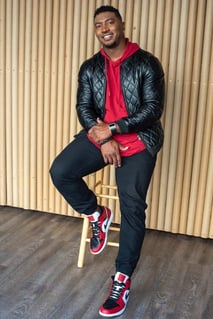 In between playing college and professional football, Rares Founder and CEO Gerome Sapp studied finance, earned his MBA from Harvard, and worked for Merrill Lynch in the summer.While Gerome was in school, he realized that his heart wasn't in corporate finance. So he merged his passions for the stock market and sneakers to create an accessible platform to invest in shoes.
"I actually know what a lack of access and opportunity looks like," Sapp said. "Growing up, we sometimes went without electricity and running water in the house. That was something that I understood. I always told myself that I would start a company that helped bridge the chasm between that access and opportunity."
An Innovative Platform for Investing in Collectibles
Sapp's "aha" moment came while walking through campus one day. Someone accidentally stepped on his shoes, and while he was wiping off the scuff mark it left, he thought about a better way to derive value from sneakers besides physically owning them. That's when he came up with the idea for Rares, a social investing platform for rare sneakers.
Investors purchase shares of the sneaker through the Rares website. Shares of shoes go for as low as $5 a share and as high as $30 a share. The shoes are valued based on the price of the sneakers when Rares purchases them. Investors cash out when they sell the shares to other investors or receive a payout after Rares sells the shoes.
The highest ticket item on the website is the most expensive pair of sneakers ever sold, a prototype pair of the Nike Air Yeezy 1 Prototypes. Nike and rapper Kanye West designed the shoes, which were never officially released to the public. West wore the pair only once at the 50th Annual Grammy Awards. It is the only known pair in existence to feature the black and white colorway. Rares bought the shoes for $1.8 million in 2021. There are 72,000 shares up for grabs at $25 apiece for the landmark sneakers.
"We're allowing the culture to own a piece of that history for as little as $25 a share," Sapp said. "And it's not only just for that culture. This platform is for everyone."
Sapp said he created Rares as a platform for people of all ages and demographics, and people looking to diversify their investment portfolio. Forbes said sneakers are one of the fastest-growing alternative asset classes. 
Rares said its investment platform is the first true stock market for collectible sneakers. But Sapp also wants to make sure the cultures and communities that propped up the sneaker industry get a chance to interact with the shoes in this new way.
Teaching Financial Literacy to a New Generation
The pandemic taught us all the importance of saving and diversifying investment portfolios. This reality opened the eyes of newer investors, showing them they couldn't rely on traditional securities because of the stock market's volatility. 
Rares said its investments are safer because alternative asset investments will maintain or sustain their value no matter market conditions. It sees continued growth in the sector especially with sneakers that many people relate to. There is growing interest in rare sneakers investing among a broad age demographic, including older investors who want to buy in to have something to talk to their grandchildren about.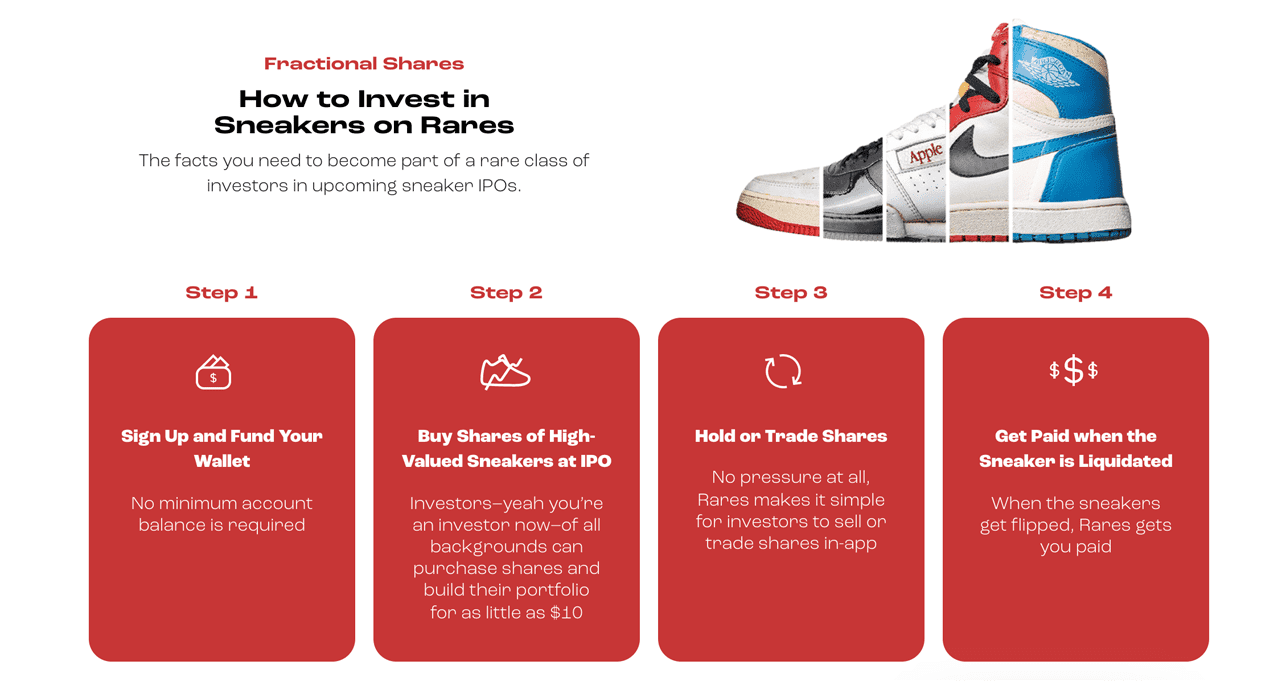 The company does not see the stock market as the place Gen Z will put its money. Rares said Gen Z's perception of the stock market is that it's for older generations. Alternative asset investments are a way to help younger people get more comfortable with investing and learning about saving for the future.
Rare's inspiration to become an educational tool came when Sapp went back to the community he grew up in to teach financial and educational courses about money management in football offseasons. He said there are many people there who never learned financial literacy. The company provides videos on its website that detail how the process works.
"We're not only providing the platform, but we're also going to educate you along the way, too," Sapp said. "We're not going to talk over your head. We have videos on our platform that talk about what a bid is, what an ask is, and what an alternative asset investment is. Financial literacy and education are a big part of what we do."
Expanding Into New Sectors With a Community Focus
Rares takes the headache out of trying to make money in the sneaker resale market. The company makes sneaker collecting easy because it does most of the work for you. Rares sources the shoe, purchases it, stores it, and works to sell the shoe to the top bidder. Shareholders don't have to worry about running out of space to store the sneakers or not being able to afford them; they only have to look forward to reaping the financial benefits.
"We provide the storage, insure it, and make sure it's secure," Sapp said. "We do all of those things so you can invest into it. The market handles the rest. It's a fun experience."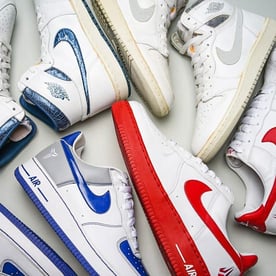 Rares makes it easy to liquidate investments through its platform. Investors can sell shares of shoes to others to get money back instead of waiting for long-term gains. This market is not on a schedule and is open 24/7.
The company uses a data-driven formula to determine which sneakers to buy that will appreciate the most. A team of sneaker experts then decides when to buy the shoes and when to sell them to maximize profits.
Rares ultimately plans to introduce polls open to shareholders to help them determine whether to sell the sneakers now or wait longer. Rares pointed out that it also owns parts of every shoe on the platform, so investors know the company is working in their best interest.
"What's good for you is good for us as well," Sapp said. "Whatever decision we make on an asset, it's for the good of the whole because we're investors as well."
Rares said it plans to become the Amazon of alternative asset investing. The company wants to open up investing for other products, including vinyl records, high-end handbags, and vintage fashion. It wants its community of collectors to get involved, too, putting their own assets on the platform for investment.
Rares is also getting into NFTs, with owners receiving a one-time $20 investment credit on the platform. People who don't win raffles to purchase new Nike sneakers are eligible to receive an NFT. The company is also talking with big brands to provide discounts through the NFTs program.
Advertiser Disclosure
CardRates.com is a free online resource that offers valuable content and comparison services to users. To keep this resource 100% free, we receive compensation for referrals for many of the offers listed on the site. Along with key review factors, this compensation may impact how and where products appear across CardRates.com (including, for example, the order in which they appear). CardRates.com does not include the entire universe of available offers. Editorial opinions expressed on the site are strictly our own and are not provided, endorsed, or approved by advertisers.