Our experts and industry insiders blog the latest news, studies and current events from inside the credit card industry. Our articles follow strict editorial guidelines.
In a Nutshell: When looking for a travel destination that is loaded with entertainment, history and attractive pricing, Raleigh, North Carolina is hard to beat. The city boasts family-friendly activities and an eclectic nightlife. Raleigh is renowned for its beer gardens, craft breweries and music festivals. From Spring till late September, Raleigh is teeming with outdoor music and events. Whether visitors are exploring the city by car or bike, the city's natural beauty is captivating.
Travelers looking for a little slice of the South, along with a vibrant social atmosphere and captivating nature scenes will feel right at home in Raleigh, North Carolina.
Raleigh is a charming city that embraces a modern vibe while honoring its rich heritage. There's all kinds of entertainment to be found, from family-friendly to college-town clamoring events and amenities enjoyed on a budget or when you're looking to splurge. There's something for everyone in Raleigh.

Named after Sir Walter Raleigh, the city was founded in 1792 and was officially established as both county seat and state capital of North Carolina in that same year. In fact, North Carolina was one of the original 13 American colonies and is the birthplace of the first child born to English parents within the colonies. The child's given name was Virginia, however, because that area was located in the colony of Virginia at the time.
Much of Raleigh's history has remained a tourist focal point over the years, and the City of Raleigh Museum in the downtown area is a great resource. That's where visitors can dive into the city's history, how it came to be, and what it looked like back in the early 1800s.
There are actually several museums in the state capital that visitors can enjoy. Visit Raleigh's Director of Public Relations and International Tourism Jessica Holt said that Raleigh is often referred to as "the Smithsonian of the South," given the number of free Smithsonian-affiliate museums in the city.
Free museums include the North Carolina Museum of Natural Sciences, the North Carolina Museum of Art, and the North Carolina Museum of History, which also includes the North Carolina Sports Hall of Fame.
"The museum scene really adds to the arts and culture that's here in Raleigh," said Holt. "It's a big driver for folks both traveling on a budget, but also, even if you're not traveling on a budget. The museums are great to visit during the day, and because you didn't pay an entrance fee you can spend more on the amazing food and beverage offerings in the city."
A Beautiful City With Great Year-Round Entertainment
What's great about Raleigh is that temperatures are very moderate throughout the year, so there is not really a bad time to visit the city. Holt recommends visiting anytime between April and October because the city hosts many large-scale events and outdoor seasonal activities.
April kicks off with Raleigh's Dreamville Festival, which is curated by internationally acclaimed hip-hop superstar J. Cole.
In 2019, J. Cole started this artist-run festival at Dorothea Dix Park — Raleigh's largest city park with over 300 acres of sprawling green space. Dreamville attracted 40,000 people at its first one-day installment, and after a hiatus due to the pandemic, it restarted again in 2022 attracting nearly 80,000 people over the course of two days.
There are many other music events throughout the summer in Raleigh, and the season finishes off in late September when the International Bluegrass Music Association comes into town and hosts the IBMA World of Bluegrass festival. In 2022, Raleigh celebrated 10 years of hosting IBMA World of Bluegrass. It's also a free event, which makes it a little more approachable for folks who may not be familiar with bluegrass.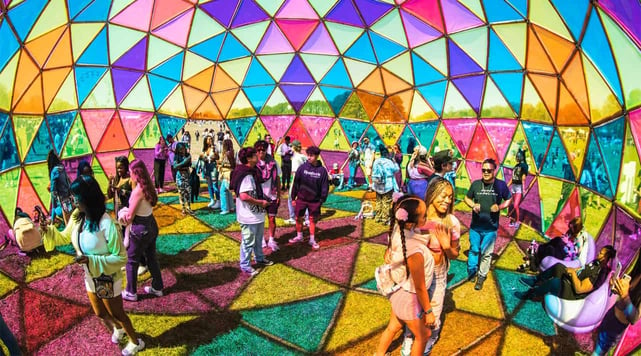 For sports fans, Raleigh is home to the NHL Carolina Hurricanes and NC State basketball and football are a big draw to the area. The Hurricanes have made it to the Stanley Cup playoffs for four consecutive years, which has really helped the team grow in popularity.
And considering Raleigh's temperate climate, many hockey fans from the Northeast or Canada can come down and go to hockey games even in the winter.
The Hurricanes will host the NHL Stadium Series in February 2023, which will be an outdoor hockey game at Carter Finley Stadium, where the NC State football team typically plays.
"They're turning the football field into a hockey rink for the Hurricanes to take on the Washington Capitals in an outdoor hockey game," said Holt. "This is the Hurricanes' first time hosting and participating in a Stadium Series game, so it should be a really fun event."
Enjoyment For Food and Drink Aficionados
Another great reason to visit Raleigh is that the city is quickly becoming a foodies haven. This university town is filled to the brim with whole-hog BBQ, craft breweries and tastes from around the world.
The Raleigh Beer Garden has the distinction of holding two Guinness World Records. One for having the most number of different types of beer on draft, and the other is for having the most beers from one brewery at one location.
"They have over 360 different beers on draft there," said Holt. "The first floor is dedicated just to North Carolina beers, so if you want to get a taste of what there is to offer across the state of North Carolina, you can do that there."
The Beer Garden has domestic and international beers from all over the US and the world on the second floor of the building. There's also a rooftop and back patio area with fire pits and games. If visitors are not into craft beer, there's the Spiritual cocktail lounge in the front of the venue.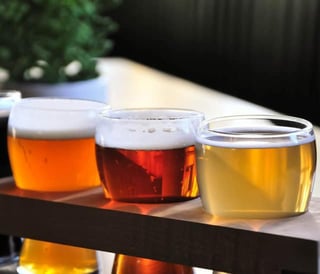 With over 30 breweries throughout the Greater Raleigh area, visitors can get a craft beer experience like no other. "There's everything from classic breweries focusing on IPAs to breweries putting out smoothie sour beers called 'smoothsicles'," said Holt.
When asked about a "smoothsicle," Holt said, "They taste like a mix between a milkshake and a beer – and they're actually really good!"
Visitors can also participate in the Raleigh Beer Trail to take in everything Wake County has to offer.
Since Raleigh is part of the Research Triangle that includes Durham and Chapel Hill, the city has a very eclectic food scene. "We have a diversity of people that move to this area for jobs, or for higher education and then decide to stay, and that's really helped expand our food scene," said Holt.
The food halls continue to be a favorite that people like to visit because there are so many options. Visitors won't be disappointed if they go to the Transfer Co. Food Hall or the Morgan Street Food Hall. Both venues also hold events and live music throughout the year.
Traveling Around and Getting The Most Out Of Raleigh
Raleigh is known as the "City of Oaks" because of its many oak trees that line the streets throughout the city, and there's no better way of taking in all its beauty than by riding a bike.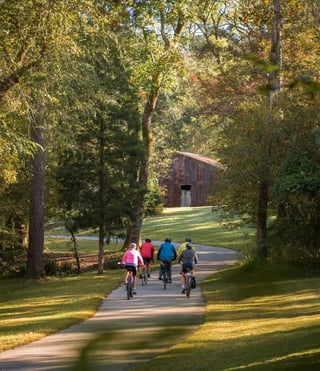 Visitors can rent bikes through Cardinal Bikeshare. Bikes are a few dollars to rent per ride and per bike. Renters need to just dock within 30 minutes to avoid overage fees. Riders can use up to four bikes per phone.
Once in the downtown area, visitors can walk to visit a lot of the museums. "Many of our award-winning culinary restaurants, breweries, and art galleries are within the downtown area," said Holt. "If you stay downtown you don't need a car at all, just transportation to and from the airport."
That said, it is convenient to have a car if you're flying in and want to experience more adventures in the area. Raleigh's surrounding towns have a number of outdoor parks, serene nature trails, and 100+ miles of greenway trails.
Any way you choose to travel, you'll be sure to find a little piece of small-town charm and modern cultural excitement in Raleigh, North Carolina.
Note: The visitRaleigh logo design is a registered trademark of the Greater Raleigh Convention and Visitors Bureau.