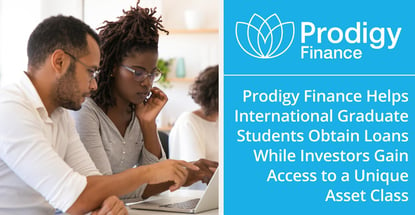 In a Nutshell: International graduate students can face challenges when it comes to securing funding outside their native countries. Traditional student loans are often not an option for students because they don't have credit history in the country where they are studying. Prodigy Finance helps to solve this problem with its approach to funding that considers other factors such as a student's potential for future earnings and their credit profile from their home country. Investors can also benefit from Prodigy Finance by gaining access to a unique asset class of future leaders who are likely to land high-paying jobs after graduation. And schools that partner with the company can expand their international student population and attract top-tier students from around the world.
In a world where people can often move across international borders — physically or metaphorically — with much more ease than in decades past, many opportunities exist that did not in earlier times.
The digital marketplace, modern communication technology, more convenient travel options, and even the decentralized cryptocurrency ecosystem all play a part in diminishing national borders and contributing to a truly global experience.
International students continue to pursue their higher education at institutions far away from their home countries.

But, despite the opportunities students have to join programs all over the globe, paying for an education abroad can present some unique challenges — something Cameron Stevens learned firsthand when he was gearing up to earn his MBA.
After completing his undergraduate degree at the University of Cape Town, Stevens was accepted into the prestigious INSEAD graduate business school in France. But, as an international student, paying for his graduate studies was not as straightforward as it had been for his bachelor's degree.
Sam Weber, Chief Sales and Marketing Officer at Prodigy Finance, explained how — because Stevens was not a native of France and had no French credit profile — he couldn't obtain a student loan to attend INSEAD.
"His experience trying to borrow money to go there was that the bank told him that, if he provided the funds to them in pounds or rand, they could convert that to euros for a fee," Weber said. "So, this is someone who would not have been able to go to INSEAD had he not had other means to pay because a loan was not available to him."
When Stevens arrived at INSEAD, he discovered that many of his colleagues had faced similar challenges while trying to fund their MBAs.
This inspired Stevens to launch Prodigy Finance, which provides a way for students to fund their education without having to rely on traditional student loans that are often impossible for them to obtain.
"Prodigy Finance is changing traditional student lending. Our loans are borderless, security-free and based on your future potential," according to the company. "So you can travel across the world to get a top-tier degree, without worrying about collateral or a co-signer."
Here's how the business model works: Qualifying international students with no credit history in their host country can obtain a Prodigy Finance loan funded by investors.
The P2P-inspired model presents distinct benefits for both students and investors.
Borderless Loans for International Students Based on Future Earning Potential
Prodigy Finance's greatest value to students is giving them an avenue for funding that is not dependent on their having a credit history in their host country. Traditional student loans are based on credit scores and credit histories in the country originating the loan — something a German student coming to grad school in the U.S. would not have.
Weber said that, instead, Prodigy Finance makes its loan decisions based on other factors such as credit scores from the student's country of origin and the student's earning potential based on the chosen area of study.
When Prodigy Finance was founded in 2008, it was solely focused on helping international business students acquire funding, a reflection of Cameron's background in business.
Since then, the company has broadened its eligible areas of study, but it largely remains oriented toward STEM disciplines.
"We work with 200 universities and more than 600 programs around the world, from the core MBA curriculum to other programs — things like masters (degrees) in management, finance, or data analytics," Weber said. "The number of courses that we've been able to take on has helped us support a larger number of students since we entered the U.S. market in 2014."
Interested students can visit the Prodigy Finance website to check their eligibility, including whether they are attending a school the company works with in 150 countries and U.S. states.
Students can then select whether they want to get a graduate school loan or refinance an existing loan.
The loan application process takes place entirely online and requires no co-signers or collateral, according to the company. Borrowers can also count on not having to worry about any hidden fees when securing a loan amount that fits their needs.
"We're FCA approved and backed by some of the biggest names in finance," according to the Prodigy Finance website. "You focus on your education, and we'll focus on your funding."
Loans Offer Financial and Social Benefits for Investors
The Prodigy Finance business structure relies on the investors providing funding to the international hopefuls.
Weber said one of the main benefits of investing with Prodigy Finance is that investors gain access to a super-prime — and unique — asset class that is facilitated through an established, trusted company.
"If you want access to international students studying at Stanford Business School, MIT, Carnegie Mellon in fields where they come out and enter the workforce in high paying jobs, there aren't many places to invest in that particular asset," Weber said.
He said Prodigy Finance has essentially created an asset class with great potential for yield because the high-caliber students are likely to go on to successful jobs and some will become important leaders in their fields.
"It's something that's pretty unique," he said. "And we've been able to prove that this model works so that we can attract even more investor interest, which allows us to lend to more students."
It's also a great way to diversify portfolios, according to the company.
"Loan portfolio achieves diversification by funding postgraduate students attending business, engineering, law, public policy, and health sciences degrees at top universities around the world," according to the Prodigy Finance website.
"I wanted to invest a small sum of money in an asset other than property, but I did not feel comfortable investing in companies that I had no connection to, or which I could not be sure were acting ethically in their business activities and decisions. I liked the idea of a 'community investment' that supports real people doing something that will benefit their careers and long-term futures." — Jayne Glass, Prodigy Finance Investor
Investments have the potential to yield financial as well as social returns.
"Eighty-nine percent of current borrowers depend on Prodigy Finance to fund their degree and 80% come from emerging markets," according to the website.
How Prodigy Finance Can Benefit Its Partner Schools
While Prodigy Finance's founding mission was to help international graduate students fund their education, the company's model is also good for the schools it works with. Once a student is approved for funding, Prodigy Finance delivers the funds directly to the college or university.
This means that graduate students who are getting funding through Prodigy Finance can't go to just any school, they must be accepted into one of Prodigy Finance's partner institutions. The company determines which schools to partner with based on certain funding requirements.
"We've already supported more than 18,200 students at over 670 schools worldwide, and we'd like to work with your university next," according to the company.
Prodigy Finance encourages potential borrowers to contact them if they do not see their school or university listed on the company website because it is always interested in expanding its partner network. In 2019, Prodigy Finance announced the addition to 200 new schools to its list.
"Our mission is to mobilize the world's top talent, and we know that, as an administrator, you share that dream," according to the company website. "To do that, we're making international student finance easier and more affordable. This means your students can focus on what really matters — their education."
Prodigy Finance has partnered with schools in a number of different ways over the years. It has provided schools with data and insights on international student trends, run funding webinars for students, provided support for orientation and exit counseling, and listed its loans on school sites as a finance option.
Prodigy Finance's unique and focused mission to help international graduate students obtain funding for their education presents a range of opportunities to students, investors, and schools. When traditional student loans present a barrier to students who want to conduct their graduate studies overseas, Prodigy Finance may be the perfect solution to continue their education.
Advertiser Disclosure
CardRates.com is a free online resource that offers valuable content and comparison services to users. To keep this resource 100% free, we receive compensation for referrals for many of the offers listed on the site. Along with key review factors, this compensation may impact how and where products appear across CardRates.com (including, for example, the order in which they appear). CardRates.com does not include the entire universe of available offers. Editorial opinions expressed on the site are strictly our own and are not provided, endorsed, or approved by advertisers.