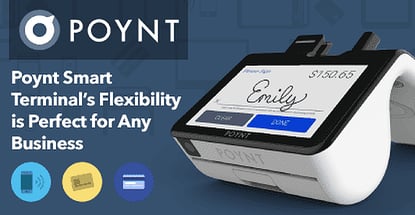 In a Nutshell: When you're starting a business, your mind wants to linger on the big picture: product, customers, location. Then you discover that getting the big picture to work smoothly depends a lot on getting paid. Poynt Smart Terminals can help streamline the payment process by letting you store and process everything in one place. Poynt's system accepts every type of payment you might encounter on one flexible terminal. Regardless of what sort of business you run, with Poynt, getting your customer out the door and money into your account is a one-step, centralized process. //
Last week, I stood in line at my favorite café for much longer than any sane person should. A few people shuffled their feet ahead of me waiting for the customer up front to finish paying for her latte. She'd swiped her card through an iPad, but suddenly she had a gift card, too…so she needed a refund, then a receipt and then, just like a rush hour pile-up, the line had come to an utter standstill.
Why do those little snags in your day always feel so painful? I could smell my much-needed Tuesday coffee, but the chances of reaching it before noon felt increasingly unlikely. And right about then, I found myself wishing my coffee shop knew about Poynt.
Poynt is…something else, a bold company with bolder plans. In a recent Forbes interview, founder Osama Bedier (a former product executive at PayPal who also helped launch Google Wallet) described his company as a way of "bringing commerce out of the Dark Ages" by selling a "software-enabled-point-of-sale device…[that's] worlds better than inadequate tools that work on smartphones…and antiquated machines."
What that means in simple terms: it's a new way for businesses to process payments that's uniquely suited to the digital age. The Poynt Smart Terminal is versatile and mobile, which makes it easy for any merchant — big, small, just starting out — to implement and use and afford.
Poynt's not a POS system exactly, but that's actually the exciting part: it has basic register functionality built in and lets you download third-party applications like Vend so you can use it with the hardware and processes you already have in place. And since it connects through WiFi, you can bring it with you anywhere — throughout your office, store, or restaurant, even off-site if, say, you need to sell products at an event.
Accept Any Payment Method Anywhere
If you're deciding to run your own business (or you've already taken that jump), chances are you've spent way too much time weighing the pros and cons of different POS systems. And if you've ever shopped, well, anywhere, it's entirely likely you've had to deal with your card not processing, a system-wide crash, or some other frantic mess thanks to a battle-worn processing system, dated register, and frustrated cashier. That's the problem Poynt aims to solve.
Multiple Payment Options Are Convenient for Customers and Merchants
Each handheld Poynt device feels distinctly futuristic (I have a sneaking suspicion the Jetsons would be all about it), like you're using a tool that will be in every store next year. The pint-sized system is highly evolved but simple and intuitive, too.
Poynt is flexible enough to accept all forms of payments in one place, from magnetic stripe cards to NFC payments from apps like Apple Pay and Google Wallet. Chip card, QR codes, and Bluetooth payments are in, too.
And with two screens — not one banged up, outdated iPad — there's no he-said-she-said dynamic between merchant and customer — you each have your own place to process, accept, and sign. That means less go-between and way less mess.
Mobile Capabilities Make the Terminal Portable
Poynt allows you to accept any payment method, but maybe more importantly, you can do that anywhere. Running a bespoke suit shop? Accept payment from any spot in the store.  Adorable French bistro? Accept payment directly from your patio two-tops thanks to those aforementioned WiFi capabilities and Poynt's 3G/4G modem.
Apps and Open SDK Create an Adaptable Platform
If you're anything like me, you probably have way too many apps on your phone. But what's not to love about customizing your technology to suit your needs, wants, and maybe a few whims — isn't that why it's "smart?"
Poynt is a bit like a smart phone for merchants that scales and adapts according to individual needs. Because after all, a housewares boutique is not a restaurant is not a vintage shop. Poynt allows for those customizations plus any future development a growing company requires.
There's also a complimentary Software Development Kit (SDK) available so developers can customize the platform for what a business needs (and skip what it doesn't). If you happen to be one of those developers, Poynt welcomes you and your apps — which is a great opportunity if you're interested in selling to merchants across the U.S.
EMV Compliant Terminal Ensures Merchant Security
Security is a major concern for everyone in this economy, especially in the digital space, and that's a warranted fear. Given the risk of of accepting only magnetic stripes, accepting chip cards is necessary. Still, making the switch hasn't been exactly…seamless.
Poynt is already an EMV compliant terminal, meaning that security is top priority for the company and accepting chip cards is as streamlined as possible. Given that EMV standards have long been used to gauge financial security in Europe, and the U.S. has recently embraced the standards as well (as of October 2015, businesses are liable for any card fraud committed on their watch if they're not EMV-capable), it's convenient that Poynt is all ready to go.
Coming Soon: Poynt Integration with Processing Hosts
Of course, knowing all these perks exist at the tap of the button means that if you're already using your own processing host, you might be feeling a little left out. Well, here's something to look forward to: Poynt's future plans include introducing a way to integrate the terminal into a business' custom framework.
According to Forbes, Bedier has plans in the works to "attack the market of 18 million "terminals" in the U.S. and 120 million worldwide. Already, Poynt has taken preorders on 500,000 units, an enviable start." Enviable indeed — especially when you're stuck in yet another iPad-caused coffee line.
Advertiser Disclosure
CardRates.com is a free online resource that offers valuable content and comparison services to users. To keep this resource 100% free, we receive compensation for referrals for many of the offers listed on the site. Along with key review factors, this compensation may impact how and where products appear across CardRates.com (including, for example, the order in which they appear). CardRates.com does not include the entire universe of available offers. Editorial opinions expressed on the site are strictly our own and are not provided, endorsed, or approved by advertisers.