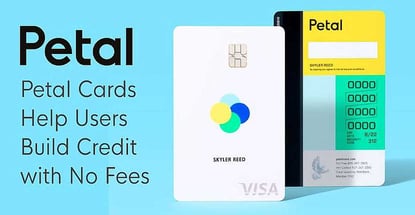 In a Nutshell: The most significant benefits of credit are generally reserved for people who are already financially successful. Consumers establishing their credit and those recovering from financial setbacks tend to get higher interest rates and fees and lower credit limits. But Petal is changing that. Using AI and machine learning, the Petal platform analyzes the customer's entire financial record, not just a credit score. The result is often a better deal — in the form of higher limits, lower rates, and no fees — for the people who need it most. And the Petal app helps users learn to use credit wisely to make financial progress instead of accruing more debt.
Building credit is critical for financial success. And it's a requirement for achieving some of life's biggest milestones — including buying a car, starting a small business, or owning a home. But for many consumers, good credit is hard to come by. For some, past mistakes can lead to challenging repayment cycles, while others with no credit history find their options limited to products with high rates and fees.
For millions of consumers, building credit isn't easy, and that not only dampens their future prospects but also reduces purchasing power in the economy as a whole.
Petal, a credit card company with a disruptive business model, strives to change that. Built with today's emerging credit consumer in mind, Petal efficiently accesses modern data to offer a new way forward. The company only succeeds when its customers build good credit, so Petal takes an active role in helping them achieve that goal.
"Traditional starter credit cards — aimed at people who are just beginning to build credit — are not very consumer-friendly," said Petal Co-Founder and CEO Jason Gross. "They carry high interest rates, fees, security deposits, and, often, very low credit limits. Those obstacles can make getting on the right track, or recovering from past mistakes, practically impossible."
But lending is inherently risky, and lenders are in business to earn a return. Established banks leave a lot of opportunity on the table by lagging in their adjustment to the realities of today's information economy. And Petal is seizing that opportunity.
"What's interesting about the millions of people in the U.S. who don't have credit scores is that they actually have plenty of other financial data," Gross said. "These are people who are making money, paying bills, and participating in the economy just like everybody else. It's just that the data that lives in a credit report isn't there for them yet."
Petal uses AI to seek out that data, analyzing the holistic picture of a person's financial history so consumers so can start further along on the path to good credit, not at the beginning.
Petal Holistically Analyzes Consumer Credit History
Petal's innovation, called cash flow underwriting, analyzes complete financial records, not just a consumer's credit report, to make decisions about creditworthiness, APRs, and credit limits. It's a commonsense approach made possible by sophisticated technology.
"In a world where the consumer's entire financial history is fully digital, machine-readable, and easily transferable, looking only at a credit report to make decisions just doesn't cut it anymore," Gross said. "To reach millions of potential customers previously considered 'credit invisible,' we extended our view. It's all about if they can afford credit — whether they can reliably pay on time."
The result is a credit product that doesn't make a good credit score a requirement and offers better terms to people who want to put their best foot forward. "If you have a score, we factor that into our decision along with the rest of your financial information," Gross said. "But even if you don't, you can still qualify for a high-quality card — with up to a $10,000 limit — in a market where other entry-level cards typically allow $300-$500."
Petal's variable APRs are also significantly lower than those of other starter cards.
That additional customer data means Petal can abandon one of the revenue-producing pillars of traditional credit cards — fees. Petal earns its money from merchant transactions and interest, charging no late, annual, over-limit, or international fees.
"We're one of the few cards on the market that has no fees," Gross said. "We're all about the responsible use of credit, not about 'gotcha' fees or setting traps for people who are just getting started in their financial life. We want our users to succeed."
App Experience Keeps Modern Users in Mind
Petal backs its words with action. In addition to using big data to offer attractive credit options to people who have traditionally tended to fall between the cracks because they are brand new to credit, Petal is also reimagining its customer service.
"We've realized that customer service should be about more than creditworthiness and rates. So we've dedicated ourselves to helping people learn how to use credit responsibly. We help them understand common industry terms, for example, how APR is calculated, and much more," Gross said.
Central to that mission is that Petal is a digital product. What distinguishes it from other credit providers is that it's set up like a technology company, with a team made up mostly of engineers, data scientists, and product designers. According to Gross, the card feels more like a tech product than a bank product.
The resulting app and web experience are intuitive and straightforward. Users can not only track spending and automate payments, but they can also view the balances of all the bank accounts connected to Petal. "You're not just viewing your credit card account; you're also viewing what's going on in your checking and savings accounts and what's going on with bills. All of that information is in the Petal app," Gross said.
Petal is built on a foundation of AI, machine learning, and big data, but it all boils down to real people making real financial decisions.
Petal Helps Users Build Credit, Not Debt
Petal uses data and technology to do something relatively new in the financial industry — build a credit business whose success hinges on the well-being of its customers.
"We're a mission-driven company, working to help our users build credit, not debt," Gross said. "We encourage people to pay their entire statement balance every month. And, before you decide to carry a balance, we calculate the actual cost of interest in cash terms. We help customers see the consequences of their financial decisions so they can make informed choices."
That approach fits in well with Petal's no-fee business model. "We don't charge fees when people mess up. Instead, we provide financial education, tips, and information to help people stay on track and achieve their goals," Gross said.
"We might make a little bit less money by not charging late fees and encouraging users not to carry a balance. But our customers appreciate it — and that builds trust over the long term. We want Petal to be their provider of choice. We have long-term relationships with our customers." — Jason Gross, Petal Co-Founder and CEO
In that way, Petal is flipping the traditional business approach on its head. With the credit card industry taking in more than $50 billion in fees each year, Petal is willing to abandon that slice of the pie for the well-being of consumers.
"We've got a different business strategy," Gross said. "We might make a little bit less money by not charging late fees and encouraging users not to carry a balance. But our customers appreciate it — and that builds trust over the long term. We want Petal to be their provider of choice. We have long-term relationships with our customers."
Advertiser Disclosure
CardRates.com is a free online resource that offers valuable content and comparison services to users. To keep this resource 100% free, we receive compensation for referrals for many of the offers listed on the site. Along with key review factors, this compensation may impact how and where products appear across CardRates.com (including, for example, the order in which they appear). CardRates.com does not include the entire universe of available offers. Editorial opinions expressed on the site are strictly our own and are not provided, endorsed, or approved by advertisers.