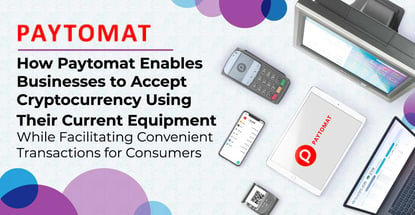 In a Nutshell: When Yurii Olentir — an early cryptocurrency enthusiast — realized that brick-and-mortar merchants didn't have a simple solution for accepting payments in cryptocurrency, he developed Paytomat. The payment solution allows merchants to easily accept cryptocurrency without investing in costly new equipment or undergoing long training sessions. Paytomat also offers a convenient wallet for consumers to easily make payments using their crypto assets. And the Paytomat Merchant is a free mobile solution that allows businesses and individuals to accept cryptocurrency payments via their smartphones.

Entrepreneur Yurii Olentir was an early investor in Bitcoin and followed cryptocurrency closely through its nascent years.

Olentir began to notice that, with so many new cryptocurrencies cropping up all the time and digital currencies being increasingly viewed as investment assets, crypto's real-world use cases were becoming eclipsed.

And it wasn't helping matters that there was not an easy solution for brick-and-mortar stores to get on board by accepting cryptocurrency as payment, without overhauling their current point-of-sale systems.

"There were dozens of projects working in the e-commerce space, but none of them offered payments in supermarkets, restaurants, or cinemas," said Olentir. "We saw the need and we filled it."

Olentir founded Paytomat as a way for businesses to easily accept cryptocurrency payments with their existing equipment. He gathered a team that allowed him to manage mining facilities, created a close crypto investment fund, and started integrations with top retail software companies.

"Our team successfully follows the original road map," Olentir said. "Paytomat products include a multicurrency wallet, various plugins for Point-of-Sale and e-commerce systems (NCR Colibri, Poster, WordPress, etc.), as well as a standalone crypto payment solution."

Businesses Can Offer Expanded Payment Options Without Investing in New POS Systems

Paytomat integrates into existing point-of-sale systems and offers a standalone solution for small-scale merchants, Olentir said.

Merchants can enroll in Paytomat for free via their POS system, which comes with a software update, or install the Paytomat Merchant app.

"The biggest challenge that merchants face when exploring the possibility of accepting cryptocurrency payments is the need to purchase extra equipment and considering a new payment option," Olentir said. "This process is cost-inefficient, time-consuming and requires frequent and redundant training sessions for staff."

He said Paytomat stands apart from its competitors because it introduces products that integrate into existing software that merchants are already familiar with. Paytomat's solutions also don't require the purchase of additional hardware and have little to no learning curve for employees.

"Paytomat accepts 18-plus сryptos and the list is continuously growing," according to the company website. "If you haven't found the crypto you are interested in, please wait for its adoption, or request that we add it, or drop us a line if you're a core team member."

The product is a ready-to-install solution and is now used by more than 300 merchants, including restaurants, retail stores, beauty salons, and medical clinics.

"Paytomat is based on blockchain technology driven by the PTM coin, where each member benefits from and fuels the ecosystem's growth," according to the company. "Fees from each transaction are distributed between all participants, with zero cost for merchant and POS, and best exchange rate chosen for the customer."

Paytomat's onboarding process for merchants is quick and easy. The business provides some basic background information, and a Paytomat manager will guide it through the integration process to get the merchant operational and accepting cryptocurrencies quickly and easily.

The Paytomat Wallet Lets Consumers Easily Transact Using Their Cryptocurrency Assets

"Over time our vision expanded and we started to work with the customers who were paying in crypto," Olentir said. "During that time we stumbled upon a demand for a decent wallet that can be used by an average person, not only a cryptography expert."

As a result of listening and responding to customer demand, the company developed the Paytomat Wallet, which has become one of the company's core products.

"Paytomat Wallet is a convenient multi-coin tool allowing to store and manage assets in one secure app," according to the website. "It is the fastest way to transact in the Paytomat ecosystem. Moreover, it supports mQR (Merchant QR) natively from the Merchant App, and, right after launch of the loyalty program, Paytomat customers will receive bonuses for each transaction."

The wallet supports multiple assets, provides fiat value updates, cutting edge security, and quick payment capabilities.

"The demand for the ability to pay with cryptocurrencies increases every month," Olentir said. "It's adoption is dependent on global awareness, the movement toward a cashless economy, and a general desire to see the current financial system replaced."

The biggest markets interested in using cryptocurrency as a form of payment include developing countries such as Venezuela, Columbia, and Argentina; blockchain hubs like the U.K., U.S., Ukraine, South Korea, Slovenia, and Germany; and regions with favorable crypto legal conditions like Switzerland and Malta, he said.

"Most of the regional demand grows because of extreme support from a local community, however, some expand naturally due to word of mouth and the value proposition cryptocurrency presents," Olentir said. "Our team believes the first two types have the biggest potential, which is why we put all of our efforts there."

He said the company is excited to be adding support of master nodes to Paytomat Wallet in the near future. It will be the first master node system that allows users to stake EOS tokens via a simple user interface inside of a mobile app.

Paytomat Merchant is a Standalone Payment Solution Allowing Anyone to Accept Cryptocurrency

Paytomat Merchant allows anyone with a smartphone to accept payments in cryptocurrency.

"Paytomat Merchant App is a free mobile point-of-sale that allows you to accept various cryptocurrencies," according to the company. "Doesn't matter whether you're an individual or a merchant; this is a convenient solution for growing all kinds of businesses with the power of the decentralized world."

This is a valuable app with more people participating in the gig economy and working remotely from locations all over the globe. The ability for an individual to easily accept payment in cryptocurrency for products or services from anywhere in the world eliminates fees and conversion rates that accompany traditional payment methods.

"This app doesn't take any fee, it's just a tool that's designed to run and grow your business with crypto. Paytomat does not charge any fees," according to the company. "The only fee you pay are the ones going to the miners of a particular blockchain."

Users simply install the app to gain access to a number of key features, including a simple and understandable design, 0.0% fees, and multi-asset support including BTC, ETH, EOS, NEM, LTC, DASH, BCH, and more.

Paytomat Merchant users can receive payments in their bank account or on their credit card once a month or once a week. If users prefer payment in cryptocurrency, payment will be sent to the crypto wallet of their choice.

Users can also create invoices with generated QR codes and send unique links to customers. The company also promotes the app as having a "comfortable and detailed payment tracker," and instant support from within the app.

With Paytomat, Olentir and the Paytomat team are delivering a convenient method for businesses and individuals to remain competitive in an increasingly decentralized financial ecosystem.
Advertiser Disclosure
CardRates.com is a free online resource that offers valuable content and comparison services to users. To keep this resource 100% free, we receive compensation for referrals for many of the offers listed on the site. Along with key review factors, this compensation may impact how and where products appear across CardRates.com (including, for example, the order in which they appear). CardRates.com does not include the entire universe of available offers. Editorial opinions expressed on the site are strictly our own and are not provided, endorsed, or approved by advertisers.