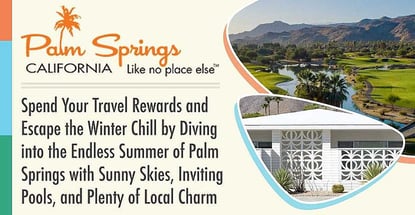 In a Nutshell: Anyone experiencing the winter cold knows how nice it can be to thaw out and use those hard-earned credit card rewards in the process. A vacation to Palm Springs, California is an ideal way to accomplish both. The desert oasis welcomes visitors with its 350 days of sunshine, tons of local charm, and countless activities. We spoke to Palm Springs' Director of Tourism, Mary Jo Ginther, to learn more about what the town has to offer. Lounging by a heated pool is one of Palm Springs' most popular pastimes, but visitors will also find plenty of unique local retailers and restaurants and some prime examples of midcentury modern architecture. A jaunt to Joshua Tree National Park or a 2.5-mile ride on the Palm Springs Aerial Tramway to hike around San Jacinto Peak are among the great day trips that will have you back by the pool before dinner.
Winter is a season of dualities. It arrives bringing thoughts of drinking eggnog by a warm fire, building snowmen in the yard, and spending quality time with loved ones. Then the day-to-day reality sets in — scraping ice from a windshield in the bitter cold, shoveling snow from the walk, and generally being stuck inside.
'Tis the season for Seasonal Affective Disorder (SAD).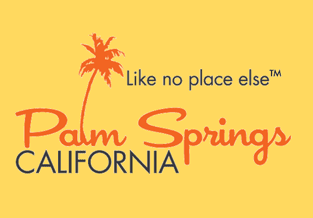 Taking a vacation to warmer climes is a great way to cash in credit card travel rewards and can provide a much-needed respite from the bleak winter months. It's more than just a nice idea — exposure to sunlight is actually one of the best ways to escape the winter blues.
With 350 days of sunshine per year, Palm Springs, California, may as well be a SAD treatment center. Situated in the Coachella Valley just over 100 miles east of L.A., Palm Springs provides plenty of warm weather, outdoor amenities, and local flavor for visitors throughout the year.
We spoke with Mary Jo Ginther, Director of Tourism for Palm Springs, about the city's offerings, including its accessibility, warm pools, midcentury modern architecture, restaurants, and day trips.
Lounge by the Pool or Find an Abundance of Local Shops, Restaurants, and Activities Within a 10-Minute Drive
"A big reason people visit Palm Springs this time of year is definitely for the great weather — clear blue sunny skies, no clouds," Ginther said.
Palm Springs is home to about 45,000 residents, but the city welcomes millions of visitors each year, with many coming from the colder areas of the West Coast, the Midwest, and Canada, she said.
She said once people get to Palm Springs, one of the most popular activities is to simply lay in the sun and swim during the winter.
"That's definitely at the top of the list," Ginther said. And, most of the pools in Palm Springs are heated so swimming is a year-round favorite, she said. Other tourist destinations in the general region, including Las Vegas, close their pools during the winter months.
"If you're using your points on a vacation rental home, no matter where it is in town you can be laying by the pool with a barbecue and nice weather, and because we're in the Coachella Valley, you have this amazing view of the mountains," she said.
Ginther said those who can pull themselves away from poolside relaxation to hit the town will find a plethora of great shops, restaurants, and activities, all in close proximity. The Palm Springs Bureau of Tourism estimates that about 500 out of its 700 businesses are locally owned and operated.
The city itself is very walkable, she said, and visitors love it because they can park off the street and find plenty of local restaurants and boutiques they can wander around in and shop, or sit outside a bistro and have a glass of wine.
Speaking of food, Ginther said Palm Springs offers a wealth of dining options and even clued us in on a couple of secret spots. She said Mr. Lyons Steakhouse — a re-imagining of the Lyons English Grill that operated in the same location for 70 years — is a great restaurant. And the restaurant holds a little something extra for those in the know.
"When they re-opened the restaurant, they put a small, speakeasy-style bar inside called Seymour's," she said. "You have to go in and ask where it is because it's not advertised in the restaurant. It's a really fun spot, and they have these amazingly crafted cocktails."
Bootlegger Tiki is another tucked-away bar worth a visit, Ginther said. It is a small and cozy space but unlike Seymour's, Bootlegger Tiki does have a sign in front and two tall tiki statues welcoming visitors.
Palm Springs has one of the largest date crops in the world, and the tiny fruit makes its way into a number of local recipes, Ginther said, with one of her favorites being the date shake — an ice cream-based treat that's less sweet and a bit more earthy than a chocolate shake.
Get Out of Town for Rewarding Day Trips to Joshua Tree or a Hike Around San Jacinto Peak
For those looking to venture outside the city limits, Joshua Tree National Park is only a one-hour drive from Palm Springs and makes for a great side trip, Ginther said.
"It's a perfect day drive," she said. "You get up in the morning and drive to the park where you can see these amazing Joshua trees that don't grow anywhere else in the world."
The drive back to Palm Springs is dotted with antique shops, thrift stores, and pioneer towns ripe for exploring. "Then you're back in Palm Springs in time for dinner and a swim," she said.
Palm Springs is also home to one of only three aerial tramways in the world that rotates 360 degrees as it carries visitors on a 2.5-mile, 12-minute ride up the steep face of San Jacinto Peak, she said.
"You go right up the side of the mountain in this rotating tram, seeing different geological zones," she said. "There's snow on top of the mountain right now. People don't realize how drastic the climate changes on the ride. They'll be wearing flip-flops and shorts, and someone will tell them, 'You better go back and get a jacket.'"
When visitors reach the top of the mountain, they can dine at one of two restaurants, and visit a natural history museum, observations decks, and a gift shop. Ginther said some people will simply ride the tram to the top, have a drink, then head back into town. But for the more adventurous, the mountain holds more than 50 miles of hiking trails.
Ginther said she recommends taking the time for a hike to take full advantage of the trip.
For visitors not eager to jump back into cold weather — even if briefly — the Indian Canyons (part of the native lands of the Agua Caliente Band of Cahuilla Indians) is another nearby hiking and popular spa area that doesn't require a winter wardrobe, she said.
Soak Up the Midcentury Modern Style while Keeping an Eye Out for Celebrities
Where some resort towns can be lacking in its own character, Palm Springs offers plenty of local flavor with its popular midcentury modern architecture and bright color schemes.
"The uptown area is all about midcentury modern design," Ginther said. "It's actually becoming known around the world for it."
Palm Springs' midcentury modern origins lie in its proximity to Hollywood. The town became popular with some of the biggest celebrities of the mid-20th century as a nearby escape from L.A., and they commissioned some of Palm Springs' first midcentury modern homes. And the trend spread from there.
Today, some people visit Palm Springs just to take in the sleek lines and open floor plans of the architectural style popularized in part by Frank Lloyd Wright.
Frank Sinatra, Dean Martin, and their Rat Pack left a big impact on Palm Springs, and Ginther said a number of visitors still show up in town looking to "live like Frank" for a weekend. Some can come close, as Sinatra's original midcentury modern home is available for vacation rentals and private events.
Palm Springs is still a popular getaway for celebrities today, said Ginther. Leonardo DiCaprio owns the former estate of singer Dinah Shore, and the Palm Springs area was the first stop for President Barack Obama when he left office.
Ginther also noted that Palm Springs residents love bright colors. She said she thinks of places like South Florida and the Florida Keys as specializing in pastels, Palm Springs is all about big, bold colors.
"Palm Springs is bright pink, bright orange — all these wonderful vibrant colors," she said.
Gearing Up for Great Events Throughout the Winter
If you're still not sold on spending your hard-earned travel rewards on a Palm Springs getaway, Ginther noted that Palm Springs International Airport recently added a wide selection of non-stop flights from around the country. Up until a few years ago, visitors had to fly into L.A. then drive to Palm Springs.
Finally, Palm Springs events don't slow down for the winter either.
The Palm Springs International Film Festival takes place January 3-14. And, for the architecture fans, Palm Springs hosts Modernism Week in February.
"Modernism Week is a celebration of all this great architecture," Ginther said. "People come into town wearing 1950s and 1960s attire, and there are a lot of great educational opportunities to learn what makes midcentury modern architecture so special."
Advertiser Disclosure
CardRates.com is a free online resource that offers valuable content and comparison services to users. To keep this resource 100% free, we receive compensation for referrals for many of the offers listed on the site. Along with key review factors, this compensation may impact how and where products appear across CardRates.com (including, for example, the order in which they appear). CardRates.com does not include the entire universe of available offers. Editorial opinions expressed on the site are strictly our own and are not provided, endorsed, or approved by advertisers.