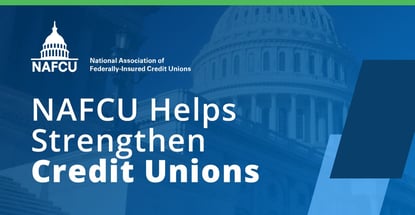 In a Nutshell: The National Association of Federally-Insured Credit Unions (NAFCU), which represents the industry's interests on Capitol Hill, has helped member institutions grow since 1967. The association offers members assistance with educational and compliance resources and compiles useful data and insights that support industry best practices. And as COVID-19 took hold in the U.S. in early 2020, NAFCU embraced its role as a real-time network to aid communities in navigating the pandemic's challenges.
As not-for-profit financial cooperatives, credit unions are uniquely positioned to make a difference. They not only direct earnings back to members in the form of better rates on products and services but also have a commitment to social responsibility and the communities they serve.
That's why credit unions across the U.S. step up prominently as volunteers and supporters of charitable events and initiatives. Most credit unions follow the belief that communities only get stronger when everyone who lives in them has the best chance to succeed.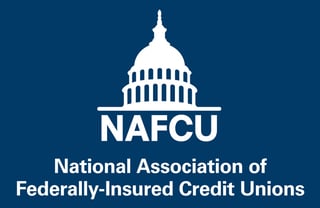 Even though credit unions pour so much of what they generate back into the community, they also need support to accomplish their missions. That's why they often partner with businesses, charities, and other institutions to give back on a bigger scale.
A chief vehicle for credit union institutional partnerships is the National Association of Federally-Insured Credit Unions (NAFCU), founded in 1967. The association serves as a resource for education, industry advocacy, and compliance assistance.
NAFCU frees credit unions to focus more on their members and communities by helping staff to serve more effectively in a dynamic, competitive, and regulatory environment. The association also partners with industry stakeholders to promote their interests on Capitol Hill.
That's become more critical during the COVID-19 pandemic, which has affected communities and the economy, according to Jacqueline Ortiz Ramsay, NAFCU VP of Media Relations and Communications.
"Even during the pandemic, credit unions are still calling to join and gain full access to the resources we provide," Ramsay said. "We've worked some really long nights, but we do it because we're passionate about making sure our members not only survive but thrive during these times."
Partnering with Members to Bring Relevant Issues to Lawmakers and Regulators
NAFCU's dedicated and agile staff brings urgency, substance, and gratitude to everything they do, Ramsay said.
"We have an integrated, seamless approach, so no matter who you speak with, no matter what department you engage with, you always have our attention," she said. "We're the kind of association where we're never too busy for you — when you need help, we promptly and happily get you the answers you need."
Instead of a top-down approach, NAFCU relies on partnerships to prioritize member needs and provide the right tools at the right time. In 2018, NAFCU was recognized as an American Society of Association Executives Silver Award winner for its efforts on behalf of its members.
Ramsay said the association's federal advocacy work is where its commitment to partnerships particularly shines.
"We believe in people who believe in credit unions," she said. "We have a big voice on the Hill and tight, bipartisan relationships. We care about policy, not party, and that's been a huge driver of our reputation."
But face time with lawmakers and regulators isn't all about NAFCU. Instead, the association acts as a facilitator for member institutions to bring their concerns to Washington in a context where they can be effectively heard.
"We don't speak for them, per se, we bring them in, and that fosters direct relationships," Ramsay said. "We say, come with us to the Hill, come with us to talk with your representatives, while always being ready to provide the information and data support our time- and resource-strapped partners need to make their best case. We aggressively go to Capitol Hill and build relationships, no matter what administration is in charge."
COVID-19 Resources Help Members Serve Communities
That same commitment extends to NAFCU's education and certification and compliance assistance functions, Ramsay said.
Top-rated educational resources help credit unions train both board and supervisory committee members. They teach institutions how to keep tabs on trends and best practices, prepare executive-level leaders, drive growth through marketing and communications, and improve day-to-day operations.
On the compliance assistance front, NAFCU addresses hot topics, including cybersecurity, overdraft litigation, and how to navigate a slew of regulatory challenges. Staff is always available to point members to the right resources and help them work through challenges and find a solution.
The COVID-19 pandemic has added complexity to the mix, Ramsay said. It has also highlighted NAFCU's platform and its commitment to members.
"We've been blogging like crazy," she said. "Content is king, and we have followed that belief, and that has proven to be incredibly valuable as the pandemic has taken hold."
NAFCU dedicated a section of its website to coronavirus resources and constructed new online communities where members and association staff can come together in real time.
"We're getting hundreds of questions a day," Ramsay said. "On our networks for CFOs, marketers, HR professionals, and more, we're seeing everybody pinging back and forth and using our platforms to share best practices."
While there's no shortage of coronavirus information on the web, NAFCU cuts through the clutter to bring credit union members the most relevant material.
"When people can check with one another, they can come to the best conclusions for their institutions," Ramsay said.
NAFCU: Committed to Supporting Credit Union Growth
NAFCU is just as committed to supporting its members as credit unions are to impacting their communities. And its updates on regulatory and policy changes, economic analysis, and pandemic-related resources are evidence of that.
"We're always trying to help our members overcome any headwinds or take advantage of any opportunities we see," Ramsay said.
Meanwhile, the COVID-19 outbreak resulted in changes in the association's approach — including CEO Dan Berger's customary personal approach — to member outreach.
"Our CEO is known for being on the road — he's a very present, in-person, high-touch guy, and that drives the culture at NAFCU for us to be very direct," Ramsay said.
When COVID-19 put a temporary stop to that, NAFCU quickly launched a Roadshow Webinar series where Berger and NAFCU staff meet virtually with every state and region in the U.S. over several months.
"We brought our information and intel to them, and gave a platform for region heads and CEOs to talk with one another and with us to say, 'This is what we see. This is what we're concerned about,' and 'This is what's working and what isn't,'" Ramsay said.
The organization continues to make member feedback — from surveys, social media, and daily contact — a priority for its resource innovation aimed at driving credit union growth.
"We're constantly reinventing ourselves," Ramsay said. "The fact that our membership also continues to grow tells you everything."
Advertiser Disclosure
CardRates.com is a free online resource that offers valuable content and comparison services to users. To keep this resource 100% free, we receive compensation for referrals for many of the offers listed on the site. Along with key review factors, this compensation may impact how and where products appear across CardRates.com (including, for example, the order in which they appear). CardRates.com does not include the entire universe of available offers. Editorial opinions expressed on the site are strictly our own and are not provided, endorsed, or approved by advertisers.