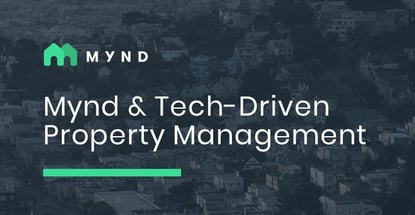 In a Nutshell: Property management is a corner of the real estate industry that takes a lot of time, coordination, and effort to do well. But thanks to Mynd, real estate owners and tenants alike can have a much easier and more pleasant experience when it comes to rental properties. The company uses human talent and modern technology to assist real estate investors protect their assets by helping reduce delinquencies, efficiently maintain property upkeep, and find high-quality residents. At the same time, Mynd helps renters by giving them access to a reliable, secure, and responsive platform that results in an overall more satisfying living situation.
Being a landlord and property manager can be a challenging gig. I can tell you this from personal experience. For several years, I owned a rental property as a small investment asset with the hopes to earn a few extra bucks on the side.
Between working 40 hours a week and raising a family, keeping up with the rental property was often a struggle. Vetting new tenants when the previous tenants moved out, responding to calls about routine maintenance requests, and occasionally dropping significant cash on new appliances and even a roof are just a few time-consuming and costly things that come to mind.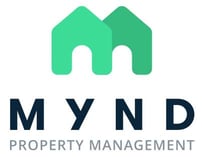 In the end, owning just one property and managing it myself was not worth the time or financial investment to keep it going and to help it hold its value. If I ever dive into real estate again, it will be with a property management company at my side.
And a company like Mynd offers appealing benefits for real estate investors and tenants alike. The company was founded in 2016 by CEO Doug Brien and CTO Colin Wiel with a modern approach to property management that gives property owners peace of mind and results in happy renters.
"Mynd Property Management is a full-service, results-oriented property management company committed to providing the best customer service in the industry," according to the company website. "Our team of on-the-ground experts and technology combine to boost efficiencies for property owners, and improve the rental living experience for residents."
We recently spoke with Brien about how he and Wiel used today's technology to find a niche in the age-old real estate industry and how Mynd benefits investors and tenants alike.
From Owning Assets to Managing Property
Brien said that he and business partner Wiel entered the real estate market in 2009 when they began purchasing foreclosed single-family homes.
The duo secured funding and created their first company, Waypoint Homes, where they would eventually purchase 13,000 homes in 13 different real estate markets.
"Ultimately, the big question in the industry is whether this is a manageable asset class and scalable," Brien said. "Is the operational intensity for single-family homes such that it's just meant to be a regional business?"
The duo eventually came to believe the solution was to systemize as many components as possible and utilize technology to enable the systems, processes, and collected data to function in a platform. That platform was implemented at Waypoint, Brien said, and the business partners realized what they were doing was scalable.
"Our real takeaway was that we were spending half our time raising capital to actually own the homes," Brien said. "Why not become more of a 21st century business and not own the assets themselves but really invest in the technology and data to create an even more scalable platform?"
With Waypoint Homes a success, the startup merged with Colony American homes, which is now Invitation Homes, the largest single-family rental operators in the country.
"We basically took 10 of our most talented people over to Mynd and told them we know this works so let's take all the things we've learned and focus on technology and data intake," Brien said. "Let's take the tools we use to make large institutional investors a lot of money and bring that to mom-and-pop investors — folks who own a handful of homes."
Many of those types of investors still use antiquated, manual processes and delivering automated 21st century tools to them adds a lot of value, he said.
"It makes investing easier," Brien said. "We've been at it for four years now, and we manage about 7,500 homes in what will soon be 16 markets. We started in the property management space because in the residential real estate investing ecosystem, the property manager is the most enduring relationship."
Results-Oriented, Full-Service Property Management for Real Estate Owners
Because the Mynd team members are real estate investors themselves, they treat their customers' properties as they would their own, according to the company.
"We understand your concerns about residents, property damage, and legal compliance. We know that vacancies negatively impact your bottom line. When you work with Mynd, you can sit back and relax," according to the Mynd website.
The company's professional expertise and personal understanding of the real estate ecosystem helps it protect and promote the value of rental assets.
"Mynd understands that trust is not implied, it is earned," according to the company. "We think like investors and align our services with your best interests as a real estate investor and owner."
This approach includes simplifying as many processes as possible, Brien said, including automating systems and being extremely responsive to owners' needs.
"Our whole goal is to create a toolset for owners so that they can be more efficient and focus on the activities that add more value to the owner and be able to manage more properties," he explained.
Mynd gives real estate owners the best property management tools and talent, and lets them utilize it virtually, regardless of where the property is, Brien said. "Part of how we pull this off is with technology. And part of it is with on-the-ground resources that we work with in a coordinated fashion."
This means Mynd can help real estate owners see faster than average leasing times, quick response to requests, higher than average resident quality, and low delinquency, according to the company website.
Much of the interactions are done through Mynd's convenient owner portal or the owner app.
"We feel like the real game changer is combining top talent and technology," Brien said.
Mynd Also Benefits Tenants with Quick Response Times and High Satisfaction Rates
Mynd also delivers big benefits for tenants who are able to use the platform. Tenants also have access to a tenant portal and app for fast, easy communication.
Potential renters can even search properties on Mynd.
"If they want to go see the property, they can get screened over the phone with software to verify their identity, and then go to a calendar, choose an increment of time where they want to go see the property, and we send them a unique code," Brien said.
This method also allows for no human-to-human contact, an important consideration during the COVID-19 pandemic.

"You don't even have to talk to a person, you can just go see the property," Brien said. "We just had an all-time leasing record in the month of June."
For current renters using Mynd, the company prioritizes giving them a high-quality experience.
"At Mynd, we know how important your home is. To ensure our level of service is top notch, we constantly measure and solicit feedback from our residents," according to the company.
It also responds quickly to any concerns or requests, most efficiently through a Mynd account.
"All Mynd residents have access to their very own account. Once set up, it will be the fastest and most effective way to address all of your needs," according to the company.
Mynd residents can also pay their rent directly using their Mynd account. No more mailing checks or using potentially unsecured payment apps simply because the landlord prefers it.
Thanks to the platform's convenience, responsiveness, and impact, Mynd residents also consistently report a higher than average satisfaction level, according to the company.
Staying Safe During the COVID-19 Pandemic
The COVID-19 pandemic has presented an array of challenges across nearly every industry, and property management is no exception. But Brien said that, thanks to Mynd's tech-forward approach and virtual services, the platform has remained effective and safe for users.
"I'm excited about our ability to serve this market in a COVID-19 environment because of the fact that we are virtual in many ways," he said. "In these difficult times where people are rightfully nervous about their biggest investment, we are a company that serendipitously is set up to operate seamlessly and effectively."
Advertiser Disclosure
CardRates.com is a free online resource that offers valuable content and comparison services to users. To keep this resource 100% free, we receive compensation for referrals for many of the offers listed on the site. Along with key review factors, this compensation may impact how and where products appear across CardRates.com (including, for example, the order in which they appear). CardRates.com does not include the entire universe of available offers. Editorial opinions expressed on the site are strictly our own and are not provided, endorsed, or approved by advertisers.