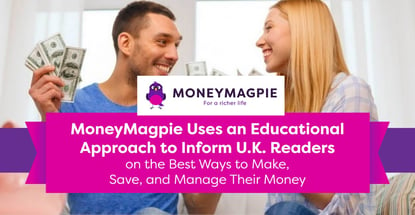 In a Nutshell: Jasmine Birtles was already a financial expert in the U.K., with several books to her name, when she decided to launch the website, MoneyMagpie, in 2008. Birtles said that money trends are constantly changing so books were proving to be too slow to provide the most timely information to U.K. consumers. With MoneyMagpie, Birtles provides articles, videos, and other information for nearly any financial situation readers may come up against. Three of the main categories on the website address making money, saving money, and managing money. Additionally, MoneyMagpie will be increasing opportunities for readers to make money through the website by downloading surveys, writing comments, and clicking links.
For more than 20 years, Jasmine Birtles has been dishing out expert financial advice to British residents through books, speaking engagements, television appearances, and — since 2008 — her website, MoneyMagpie.
"I'd been writing books and I realized books are too slow, particularly for money which changes every day," Birtles said. "So, I just thought, 'Right, so let's do a website.'"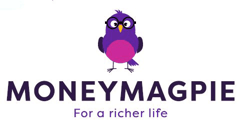 Just as Birtles is a personal finance money expert across nearly any financial topic, from basic budgeting to fintech and cryptocurrency, MoneyMagpie covers the gamut of financial issues. Over the years, the website has evolved to include not only articles but eBooks and videos as well, making it the U.K.'s leading self-help money website.
"I try to have a holistic approach to money because it comes up in so many areas," Birtles said.
She said she personally gets requests from media outlets to discuss all things related to personal finance, including mortgages, finance for millennials, pensions, life insurance, budgeting, and saving.
"Because I get all these requests, then, I think, 'Ok, so people are wanting to know about that topic, right? We'll make sure to cover that,'" she said. "And there are two ways you can go with a website like MoneyMagpie. You can try to cover everything or you can go narrow. We try to cover a bit of everything."
Birtles' holistic philosophy has resulted in a vast resource of financial advice on nearly any topic imaginable.
"MoneyMagpie has become a major and trusted online destination with over 2,500 money articles across a broad range of financial topics from how to make money, save money and manage your money wisely," according to the website. "Readers around the U.K. learn how to make the most of their money and to supplement their day-to-day incomes."
Providing Impactful Tips on How to Make Money
Birtles said the MoneyMagpie site essentially goes through the whole arc of making money, saving money, budgeting money, and how to optimally handle numerous financial scenarios.
"Money is in all aspects of your life so you kind of have to look at it in the round," she said. "Taxes, weddings, day-to-day things, everything. It all involves money."
With that in mind, one of the major components of MoneyMagpie is how readers can make money (or make more money), through various means. The detailed section on making money even breaks down into multiple sub-categories, including how to make quick money, selling your stuff, making money at home or online, and small business ideas.
Birtles said this also includes information on taking out loans, whether through traditional or alternative avenues. She said MoneyMagpie address scenarios for those with good credit and those who may have some past mistakes they are working to overcome.
"The world of finance is a playground if you've got a good credit rating, but if you've got a poor credit rating it can be a prison," she said. "We have readers on both sides. In fact, I'm working on a piece at the moment on how to get in on creative ways to get some money if you can't get a normal loan because there are quite a few."
These types of articles are popular with MoneyMagpie readers, she said, because she has heard from many who can't get a loan from their bank and have to go elsewhere.
Recent articles in MoneyMagpie's section on how to make money include how to sell gold, making money from vintage shoes, making money in paid clinical trials, monetizing your inbox, and making money by renting out garden allotments.
Saving Becomes a Little Bit Easier with MoneyMagpie's Informative Articles
Just as MoneyMagpie's section on how to make money contains a vast amount of information on bringing in some extra cash, its section on how to save money is equally robust.
Subcategories in that section include lifestyle, saving money shopping, finding home bargains, holidays and entertainment, technology and transport, and even competitions, deals, and freebies.
During our phone call, Birtles offered this advice on how U.K. residents may save money by using their credit cards.
"Often people have cards where they could use the credit card and not have to pay any interest for the first up to as many as 27 months, literally zero interest," she said. "That's the sort of thing I would recommend if you're buying some big purchase, and you want to stagger it. It's literally free interest for months."
Birtles said credit card users may also have opportunities to transfer balances on existing cards to their interest-free cards. She said the transfer may be accompanied by a fee, but in the long run, consumers have a chance to pay off their debt quicker and without hundreds or thousands of dollars in interest.
"That's the sort of thing we like to talk about on the website, the generalities of these types of strategies, how to do it, and why to do it," she said.
Birtles also mentioned how getting out of debt is a significant area of focus.
"Also, along with that, we've got a lot of information about benefits, so, tax credits and Social Security-type things," she said. "We also look at general day-to-day spending, insurance, managing your utilities, pensions, and investments. It goes through the whole arc."
If there's a way to save some money, whether it's by paying less or stashing more funds away, MoneyMagpie will likely have an article about it.
Managing Funds is a Crucial Component for Financial Health
"We have a whole big section on managing your money," Birtles said. The money management section includes information on budget planning, credit cards and loans, banking and savings, insurance, investments, mortgages, and much more.
"Personal finance can be challenging for everyone, even entrepreneurs who expertly manage their business finances," according to an article in the budget-planning section. "The trick is to stop thinking about personal finances as such and start thinking about yourself as a business."
Other articles related to money management include, "How to Make Your Money Work Harder Than You Do," and "How to Pay Bills Fairly When You're Living With Others."
With so many different categories and potential topics to address, Birtles said she and the MoneyMagpie team try to be responsive to the types of articles readers want to see. And responding to reader feedback has helped shape the website's direction.
"Sometimes what the reader thinks is quite different than what I have expected. It's been quite eye-opening, really, to find out the difference," she said. "We had a section on how you can save money by being green, and we thought it would be really popular."
Instead, readers tended to be much more interested in the savings portions rather than the portions related to being green, so MoneyMagpie eventually phased out the green category, Birtles said.
She said MoneyMagpie has also been focusing on posting more videos.
"I've taught myself, finally, how to do videos rather than asking other people to do them for me," she said. "So, I'm going to try to do a bit more video. Sometimes it's just easier to have somebody tell you, rather than read the stuff."
Earning Cash Through MoneyMagpie
Birtles said that, in the near future, MoneyMagpie will be increasing the content related to its Magpie Money section, which is the company's rewards platform. She said the platform will also undergo a rebranding effort in which it will take on a new moniker — Magpie Mates.
"At MoneyMagpie, we're all about helping you to make money, save money and get the best out of your financial situation. That's why we decided to start our own rewards program, where you can quickly and easily claim rewards such as Amazon vouchers, free eBooks and other bonuses," according to the website.
Birtles said users will be able to make money directly through the MoneyMagpie website by earning points for clicking on certain things, downloading surveys, or simply writing comments. For every 750 points, users are rewarded with a £5 Amazon voucher.
With this program, MoneyMagpie readers can go from learning how to make money to actually making money on the site.
Advertiser Disclosure
CardRates.com is a free online resource that offers valuable content and comparison services to users. To keep this resource 100% free, we receive compensation for referrals for many of the offers listed on the site. Along with key review factors, this compensation may impact how and where products appear across CardRates.com (including, for example, the order in which they appear). CardRates.com does not include the entire universe of available offers. Editorial opinions expressed on the site are strictly our own and are not provided, endorsed, or approved by advertisers.