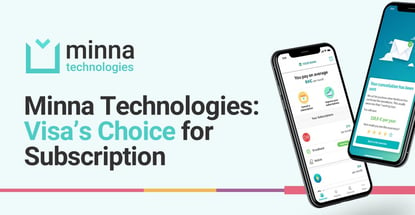 In a Nutshell: From online streaming to groceries, companies and consumers are shifting to subscription-based services. Those subscriptions can pile up and become a hassle for consumers to manage by themselves. Minna Technologies has created a platform for banks to help their customers more easily manage their subscriptions. The platform not only saves financial institutions significant money on the backend, it saves customers money by helping them identify subscriptions they don't use so they can cancel them. Minna Technologies last year partnered with Visa to bring its services to millions of retail banking customers in Europe. Because of its innovative technology and cost-saving platform, we are recognizing Minna Technologies with our Editor's Choice™ Award for Top Subscription Management Platform for Banks.
Back in 2014, Joakim Sjöblom was a university student on a university student budget. One day, he picked up about $50 of groceries at the supermarket. But when he went to pay for the items, his card was declined.
"It was that awkward moment of removing the milk, removing other items," Sjöblom said. "And when I checked on why this happened, I discovered that over the past 48 hours I paid for six different subscriptions through direct debit."

Sjöblom said he didn't realize the funds were going to be withdrawn from his account for all those services at the same time so it left him with insufficient funds.
"Also, I realized that one of those debit charges was for a video streaming service that I hadn't been using for more than six months," he said. "This was even more annoying because I was on a limited budget but paying for things I didn't use."
To add insult to injury, when Sjöblom tried to cancel the subscription, it was a terrible experience, he said. He spent more than an hour on the phone being bounced around to different representatives and being pitched various attempts to retain him as a customer when he simply wanted out.
This embarrassing and frustrating experience was ultimately enlightening, and it led Sjöblom to establish Minna Technologies.
"We founded Minna with a mission to bring power to the modern consumer," according to the company website. "We achieve this by partnering up with leading banks to build a new generation of financial products that make people's lives better."
In just a few short years, Minna Technologies has made impressive headway in the fintech realm. Last year, the company announced a partnership with Visa to bring its model to banks in Europe.
Because of its innovative platform that benefits banks and their customers, we're recognizing Minna Technologies with our Editor's Choice™ Award for Top Subscription Management Platform for Banks.
Partnering with Visa to Manage Subscriptions through European Banks
Sjöblom discussed the Minna Technologies' partnership with one of the most well-known credit card companies in the world.
"Our partnership with Visa is one of the biggest, if not the biggest, milestones for the company," Sjöblom said. "Visa usually joins fintech companies that are Series C, Series D, Series E level, but they participated in our Series A, which is the earliest investment that Visa ever made."
The partnership means that the major credit card company will work with Minna to scale its products to Visa's European retail banking clients. It will allow them to drive more customer value by solving the increasing challenge of managing multiple subscriptions.
"According to research conducted by Minna Technologies, Europeans are getting very frustrated with managing subscriptions services," according to the announcement. "On average, consumers in the region now spend €334 per month on seven different subscription services, and 1 in 3 unknowingly pay for services they no longer use."
At the same time, customers are demanding more intuitive digital banking experiences, which the partnership will help to facilitate. It will also help the credit card company's bank clients to drive new engagements — and revenues — by solving these subscription related challenges.
"We are beyond excited to enter a strategic partnership with Visa to help European banks deliver a best in class customer experience. This partnership makes it possible for us to accelerate our European growth plans, and to take our subscription management platform to the next level by leveraging Visa's cutting edge APIs." — Joakim Sjöblom, CEO, Minna Technologies.
Minna Technologies has also partnered with a number of well-known financial institutions, including ING, Danske Bank, and Swedbank.
Reducing Operational Costs with Subscription Cancellation Services
One of the major benefits to banks that enlist Minna Technologies' services is saving money.
"This gets into the core of why banks are buying this," Sjöblom said. "A lot of fintech solutions are pure call centers and don't hold a business case to provide pie charts to a customer."
But Minna Technologies offers real-world solutions. Sjöblom illustrated this by sharing some numbers from one of the company's UK clients.
"They receive 90,000 phone calls every month from consumers who want to block subscriptions," he said. "Just the cost of answering the phone is more than $6 billion per year — 5 million pounds. So if the customer could self serve in the application and cancel by themselves, it will reduce back office costs by $6 million dollars."
Watch on
Those are impressive numbers for a solution that makes both banks and bank customers happy.
Banks can also avoid costs of chargebacks and stop payment requests.
"Allow your customers to proactively cancel or block subscription payments before they turn into disputes and chargebacks," according to the Minna Technologies website. The solution also helps speed up customer service and boost satisfaction with subscription cancellation as a convenient self-service option.
Of course, compliance is always a consideration for financial institutions and credit card-issuers alike. Minna Technologies clients can feel secure that everything is in compliance.
"When you partner with Minna, you can be assured that compliance is built into every part of our processes," according to the company. "Our proactive approach ensures that all of our solutions meet the latest compliance and regulatory standards in banking."
Improving Retention by Tracking Paid Services
Another attractive feature for Minna Technologies customers is how they can improve customer engagement and retention through the platform's subscription tracking functionality.
"By allowing your customers to track all subscription expenses in one place, they will spend more time logged in to your digital bank, perform more actions, and rate your banking service higher when being asked," according to the company.
The company states that by becoming the go-to place for customers to track subscription expenses, these customers will also end up logging in more frequently. And over time, this will translate to them becoming more loyal to the bank and be less likely to switch institutions in the future.
It's all easy to implement and for institutions to get up and running on the platform.
"We have experience from integrating our Identify solution with several of the largest banks in Europe. We know how to meet all of your bank's integration, security and compliance needs without friction," according to Minna Technologies.
And the fintech is accurate and efficient, giving customers an accurate and complete picture of their expenses. The platform is able to aggregate data from multiple accounts and cards, consolidate multiple sources of payment methods, detect 95% of all subscription services, and detect the end of free trials before they start charging money.
"The subscription economy is one of the largest megatrends in society — transforming personal finance. It makes life easier for consumers, but it also introduces new challenges," according to the company. "We believe that subscription management is the area where banks have the best opportunities to meet new customer needs and add new revenue streams."
Advertiser Disclosure
CardRates.com is a free online resource that offers valuable content and comparison services to users. To keep this resource 100% free, we receive compensation for referrals for many of the offers listed on the site. Along with key review factors, this compensation may impact how and where products appear across CardRates.com (including, for example, the order in which they appear). CardRates.com does not include the entire universe of available offers. Editorial opinions expressed on the site are strictly our own and are not provided, endorsed, or approved by advertisers.