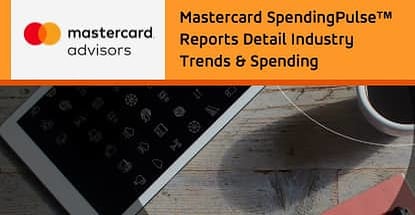 In a Nutshell: Mastercard Advisors is an industry leader in consumer spending data, with a monthly SpendingPulse™ report that compiles data from 13 US sectors and 42 subsectors, as well as spending information for the UK, Canada, Hong Kong, Japan, Australia, South Africa, and Brazil. Mastercard's 2,000 data scientists take the 160 million hourly transactions from the Mastercard Network and add 1.5 million rules and algorithms to create the only macroeconomic indicator of US industry performance based on actual, near real-time retail spending data. SpendingPulse tracks month-over-month and year-over-year changes as well as regional and other relevant industry breakouts, and provides expert analysis of current trends and underlying factors. //
Stock investors are taught to buy the rumor and sell the news. In business, many key operational decisions are made using survey or sales data that is months, or even quarters, old.
Somehow, in this technologically driven society, where a news cycle can last minutes when it used to last days or months, some people still make financial decisions based on information that is either speculative or outdated.
To truly grasp the pulse of the economy or a specific industry, business owners who want to be prepared for what's coming seek data on what's happening now. That information is often obtained from Mastercard Advisors and its monthly SpendingPulse report.
The report, which is compiled by a team of 2,000 data scientists, takes the 160 million hourly transactions from within the Mastercard Network and adds 1.5 million rules and algorithms to report on national US retail sales across all payments types. The findings are based on aggregate sales activity in the Mastercard payments network, coupled with survey-based estimates for certain other payment forms, such as cash and check.
"We release Spending Pulse both on Total Retail Sales for the entire US economy and a separate report that just focuses on the spending in small businesses and services in the U.S. economy," said Sarah Quinlan, SVP of Market Insights at Mastercard Advisors. "Retailers of all sizes can use the reports to level set their business performance in almost a real-time basis and react accordingly."

SpendingPulse provides monthly sales data for the US, the UK, Canada, Hong Kong, Japan, Australia, South Africa, and Brazil and tracks month-over-month and year-over-year changes, as well as regional breakouts, other industry-relevant breakouts, three-year history, and expert analysis of current trends and underlying factors.
Before Quinlan became involved in publishing the reports, she subscribed to them during her more than 30 years as the Founder and CIO of Katen Capital, a global macro hedge fund manager.
"I used the SpendingPulse report because they are so great at giving accurate macroeconomic indicators about the overall economy," she said. "So many economies, especially the US economy, are driven by consumer spending. More than 70% of the Gross Domestic Product (GDP) is consumer spending, so it's absolutely critical to know what the current direction is and if there are any indicators of what sector is leading the way."
The US report includes data and commentary on 13 sectors and 42 subsectors. Subscribers get 10 years of past data that can be filtered into granular bits to better understand current and historical trends in any sector.
Using Data from More than 160M Hourly Transactions
While Mastercard's 160 million hourly transactions provide the foundation for the data used in compiling SpendingPulse reports, algorithms are used to accurately gauge the total dollar value of all transactions taking place in person and online within each tracked country, not just with a Mastercard credit card.
The formula used by the data scientists is so precise that SpendingPulse noted US economic inflation before other publications or media reported on its existence.
"We were able to see transactions holding steady, but the average ticket price going up," Quinlan said. "People weren't buying more, but there was inflation going into the costs."
Quinlan said SpendingPulse subscribers tend to favor the reports over consumer confidence surveys because Mastercard's offering better highlights what the consumer is actually doing. The frequency of the reports also makes for near real-time insight into sector habits and trends.
"Many of the people who do analytics in this space are looking at data that's 3 or 4 months old," she said. "This literally comes out the first Tuesday of each month. When the retail month comes to a close, we immediately have this report out."
Granular Data that Gives Insight into Competitors
The overall national spending data provided on SpendingPulse only scratches the surface of the potential each report has for small and large businesses. Each report can be parsed down into regions of a country, specific sectors, or small businesses versus large businesses, to get a better idea of market trends.
The ability to view different sectors also provides a look at potential competition many business owners once ignored.
"If you are in grocery, for example, you want to see what's going on in restaurants because that's your competitor these days — not another grocery store," Quinlan said. "Knowing how much more spend you're losing to the competition is critical because it lets you know how much demand there is for your sector."
Quinlan noted that tracking the actual spending consumers do is the most accurate way to know what's happening in a given industry. Once armed with these numbers, business owners can read and react to the actual market instead of making decisions that end up having little impact on a company's bottom line because the information used to make them is old.
Building a Better Business Starts with Superior Data
Though Mastercard designed its SpendingPulse reports for the small business owner, large companies and enterprises have adopted the monthly releases to gain insights into sector trends and discover new ways to engage with customers.
Although the main draw of the reports is the estimates of total money spent within the monitored 13 US sectors and 42 subsectors, Quinlan said much more can be gleaned from tracking the reports.
"The post-recession consumer in the United States decided that goods, like a bigger car or a bigger house, would no longer define their wealth," she said. "They decided to make memories because those are permanent and can't be taken from them. The evolution of payments has coincided with the economic trend that's going on, making it so critical for a merchant to keep up."
That experiential economy has transformed the way retailers conduct business — with the addition of multiple methods of payment and experience-based shopping centers that focus on the memory more than the takeaway.
As these retail shifts continue, and new millennial consumers enter the market with needs and wants that are different than those of previous generations, the success and failure of a business will be predicated on the data each has. For years, Mastercard has armed some of the most successful businesses of all sizes with the type of data needed to grow, retain, and engage customer bases. Both SpendingPulse reports, one showing total retail sales for the entire US economy and the other that focuses on spending in small businesses, are invaluable sets of data for any business owner or manager.
Those businesses aren't relying on speculation or aged data to conduct business. Instead, they're tapping into modern methods to learn what the consumer wants and when they actually want it.
Advertiser Disclosure
CardRates.com is a free online resource that offers valuable content and comparison services to users. To keep this resource 100% free, we receive compensation for referrals for many of the offers listed on the site. Along with key review factors, this compensation may impact how and where products appear across CardRates.com (including, for example, the order in which they appear). CardRates.com does not include the entire universe of available offers. Editorial opinions expressed on the site are strictly our own and are not provided, endorsed, or approved by advertisers.