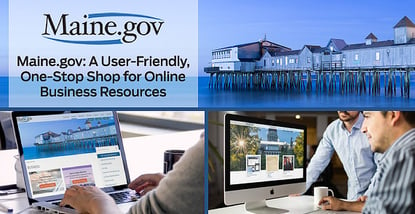 In a Nutshell: Entrepreneurs launching a new business often find state and local governments to be hurdles, but that's not the case everywhere. Through a concerted effort to encourage new businesses to invest in the Maine economy, the state provides a comprehensive business portal on its official website, Maine.gov. The resources online answer virtually any question that prospective business owners may have about setting up shop in Maine. The site directs them to the proper department for each license or incentive available to them. For its one-stop shop for business resources and its commitment to user-friendly design, inter-agency collaboration, and in-depth tools for starting or growing a company, we're recognizing Maine.gov with our Editor's Choice Award™.
From scenic Acadia National Park to the small-town charm of Kennebunkport, Maine has a lot to offer tourists, which is why 38.5 million visitors brought $6 billion into the economy of New England's northernmost state in 2016.
While its reputation as a tourist destination is longstanding, Maine has also made a serious push in recent years to eliminate barriers to new commercial ventures. Under the leadership of Governor Paul LePage, the state has stimulated business growth by cutting bureaucratic red tape and incentivizing more companies to invest and put down roots in the state.
One key strategy has revolved around encouraging the various departments within the state government to communicate with one another and share a priority of promoting business growth. We recently spoke with Doug Ray, Director of Legislative Affairs & Communications at the Maine Department of Economic & Community Development, who shed light on a concerted state government effort to move the economy forward by attracting business investment.
"It's been a more coordinated effort to really respond to the needs of the private sector, and that's really been an effort throughout the state government to make it more business-friendly," Doug said.

This cooperation has manifested itself with a business portal on the state's official website, Maine.gov. The site makes available everything from a comprehensive Business Answers feature to providing resources on taxes, licensing, and incentives through the Department of Economic & Community Development, the idea behind the portal is to allow anyone in virtually any industry to find what they need to know if they're starting a business in Maine.
"We want to partner with the private sector as much as possible," Doug said. "State government can help promote a more competitive business climate so our private sector can do what it does best; create jobs and make Maine more prosperous. That's our goal."
We're recognizing Maine.gov with our Editor's Choice Award™ for its commitment to enable entrepreneurs to grow alongside the state economy with easy access to information and for providing a user-friendly, one-stop shop for business resources.
Governor LePage's Push for Agencies Working Together Promotes Business Growth
Governor LePage deserves much of the credit behind the success of the site's business portal. His idea to create a destination for business owners and entrepreneurs to find the answers to their most pressing business questions was what got the site started.
Some of the state's top companies are Idexx Laboratories, which develops and manufactures agricultural products; supermarket chain Hannaford Brothers Company; and retailer, L.L. Bean, Inc. And the state government is doing its part to make sure they stay in Maine and continue to grow and prosper.
"For businesses that are headquartered here, we can't take it for granted that they're always going to stay here," Doug said. "They answer to a board of directors, and they're going to go where they want. So our constant challenge is making sure that Maine is competitive."
While Maine still has a state tax, it also has a lot going for it in terms of attracting new businesses. For one, its location puts it a short distance from major metropolitan cities, including Boston, New York, and Montreal. It also provides competitive rates on industrial space rentals and plays host to the North American headquarters of Eimskip, an Icelandic shipping container logistics hub. Maine, which is known for its disciplined workforce, was ranked fourth in a poll of the country's happiest states in 2016.
When you combine these factors with a successful state university system and regional tax breaks for certain industries, including biotechnology, manufacturing, information technology, and financial services, among others, Maine becomes an attractive destination for businesses.
Easily Accessible Resources Include Business Answers to Industry-Specific Questions
Entrepreneurs typically possess creativity, talent, and work ethic, but one strength they might not possess is understanding the licenses and permits they need to actually open a business in a particular state or community. For anyone looking to start a new business in Maine, the first stop should be visiting the Business Answers feature available in the business portal on Maine.gov.
"An example could be someone opening a restaurant or anything with food," Doug said. "There are sales taxes, licenses permits, the health department — this feature populates what they would need, and if they have questions on it, we can actually get those answers for them."
It all starts with a brief Q&A in which you're asked to answer general questions about your business, such as whether your restaurant would be located on city water, or if you're planning on serving alcohol or seafood dishes. Once all of your information is entered, you'll land on a page that will outline the types of permits and licenses you'll need to open up shop, complete with the department that handles each one, links to helpful sites, and contact information for who you'll need to talk to about procuring said licenses.
"Some of these questions or Business Answers calls get sent directly to an account executive, who will follow up and meet with the business owner and get them hooked up if they need some sort of state programs," Doug said. "We kind of help them through the process so they don't feel like they're caught in a vacuum of bureaucracy. And we work at getting them answers in a timely manner. We also have a Red Tape Hotline, which is part of the Business Answers."
Helping Cut the Red Tape for Starting or Growing a Business
Every state government system counts on numerous specialized departments exist to help regulate new commerce. Before Maine.gov created a centralized business portal with comprehensive information and answers to frequently asked questions, businesses would have to make numerous phone calls or do independent research to find the right government contact who could help them.
Thanks to the efforts of Governor LePage and his staff, those interested in starting or growing a business in Maine have a single destination for all their questions. Maine.gov is designed so break down the government rules and regulations that are so often hurdles to establishing successful companies. The Maine government has taken business growth a step further by working with those in the private sector to boost the economy.
"It guides our whole policy initiative," Doug said. "Does this make Maine more competitive? If it does, we know that the administration supports it. If it doesn't make Maine more competitive for business, we don't want it."
Maine even has a team of business development experts in charge of specific geographic areas or industries, ensuring that companies in these areas have the best chance of success in the state.
"Tourism is Maine's biggest industry, so we have a Rural Destination Development Specialist within our Office of Tourism who will help business owners," Doug said. "We market the state as a four-season destination. It's not just skiing. It's not just beaches and mountains, but it's all the places in between, too."
Advertiser Disclosure
CardRates.com is a free online resource that offers valuable content and comparison services to users. To keep this resource 100% free, we receive compensation for referrals for many of the offers listed on the site. Along with key review factors, this compensation may impact how and where products appear across CardRates.com (including, for example, the order in which they appear). CardRates.com does not include the entire universe of available offers. Editorial opinions expressed on the site are strictly our own and are not provided, endorsed, or approved by advertisers.