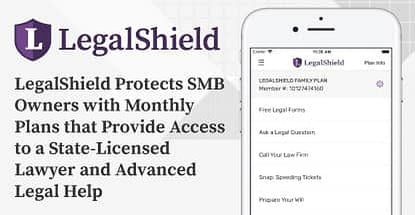 In a Nutshell: Over half a million new small businesses pop up around America each year. While cash flow issues keep many of these businesses from celebrating their first anniversary, many others fail due to legal matters — issues with paperwork or litigation that deplete business cash reserves. Monthly plans through LegalShield give businesses up to 100 employees regular access to lawyers in their state who can counsel them on paperwork and document reviews, debt collection, civil litigation, and other dispute resolution. Plans start at around $38 per month and offer various perks based on the number of employees the business has. Launch by LegalShield is a separate service that provides guided assistance with filing for an LLC, Corporation (S or C) or Sole Proprietorship and includes three months of LegalShield services for a flat fee that starts at $145 plus state filing fees. //
Around 627,000 new small businesses begin operating each year. Some are small side hustles like selling t-shirts at a flea market, and others are impromptu ideas that never make it past the first month of business. The best of the bunch become prime examples of the American dream — a small operation that grows organically over time to become a large entity.
What separates these businesses over the long run isn't always readily apparent. Many small businesses succeed or fail based on cash flow; and the quality of a business' product or service is certainly a large factor in its success.
But preparation, and a little luck, is a big part of what makes or breaks a business. We live in a litigious society where frivolous lawsuits are commonplace. The cost of retaining an attorney to defend against any litigation can deplete cash reserves and put a startup out of business before it has a chance to succeed. Even if a company isn't named in a lawsuit, the legal paperwork needed to start a new venture can be confusing and costly if not completed correctly on the first attempt.
Thousands of small businesses that make it past the initial development stages do so because they have the proper legal counsel. While some may be fortunate enough to have connections to a lawyer, many others supplement their legal needs through an account with LegalShield.
For one monthly fee, businesses up to 100 employees and anywhere in the US can be assigned an attorney in their state to perform contract and document reviews, provide debt collection assistance, and execute letters or phone calls on the business owner's behalf.
"We think of ourselves as acting as general counsel for small businesses," said James Rosseau, LegalShield's Chief Commercial Officer. "They need an attorney from the start of the business all the way through running it, for everything from reviewing of contracts to debt collection."

LegalShield's more than 70,000 business clients have unlimited access to their provider attorney and can call them as often as they need for counsel on any issues they face. The access alone adds value to the plan, but the real savings takes place when it comes time to sign contracts or other documents vital to everyday business.
"You don't know what you don't know," Rosseau said. "While a lot of forms and inquiry questions are designed as well as they can be to help guide you through the process, they aren't always crystal clear. A lawyer can ask you questions and get you past some of those nuances that you may have otherwise misinterpreted."
Law firms are heavily vetted before joining the LegalShield network, with lawyers at partner firms averaging 22 years of experience. LegalShield clients not only have access to that expertise but also get a 25% discount from the provider attorney's standard corporate hourly rate.
Rosseau said a majority of a member's needs are normally addressed without having to utilize the discounted rate benefit.
"We always tell people to find the things they can be proactive about so they don't have to be reactive," he said. "Being reactive always costs you more money."
Debt Collection Help is LegalShield's Most Popular Service
Small business owners turn to LegalShield for a variety of reasons, from contracts and paperwork questions to landlord-tenant disputes and representation when hiring or firing an employee. But Rosseau said the top reason he sees clients joining is for help with debt collection.
"For businesses that are predominantly an accounts payable shop — think of doctors, dentists, lawyers, or chiropractors — as soon as they go out to a collection firm, the clock starts running," he said. "Every 15 or 30 days that lapse, they lose 10 or 15 cents on the dollar. Letters from lawyers tend to motivate people and get great responses."
LegalShield accounts are available in all 50 states and four Canadian provinces, with plans based on the number of employees a business has. The lowest tier, for small businesses with 10 or fewer employees, runs $39 per month in most states, with some variance depending on location. Businesses with 50 or fewer employees average around $89 per month and medium-sized firms with 100 or fewer employees can join plans that average $149 a month.
Each plan includes a predetermined number of calls or letters executed on a client's behalf each year as well as allotted numbers of collection letters and document reviews.
"One of the worst things a small business owner who is faced with lots of legal documents can do is try to do it themselves or just pen the contract without review," Rosseau said. "Never sign or jump into something without knowing what you're getting into. That can make or break a business from the start."
Launch Your Business
The best time to acquire legal counsel for your business isn't when you need it, but rather when you start it. Things happen — mistakes can be made early in the growth cycle that stunt or permanently damage future expansion. That's why Launch by LegalShield exists.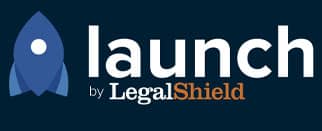 The service takes businesses from their start and guides them through the process of filing to become a Limited Liability Company (LLC), Corporation (S or C), or Sole Proprietorship (DBA). Plans start at $145 plus state filing fees, and include three months of LegalShield membership.
The addition of the LegalShield plan allows business owners to maintain their business seamlessly after Launch helps them start it.
"Legal Ignorance is Not Bliss at All"
Whether you're entering into contracts and partnerships with high-powered corporations or selling t-shirts at a flea market, small businesses of any size and aspiration are best served with ready access to legal counsel in case the unexpected becomes reality.
"We're in a very litigious society," Rosseau said. "A person can take that shirt you're selling at the flea market and say something in the way you prepared the material created a rash. Then, all of the sudden, they're coming after you."
LegalShield clients are connected with a dedicated law firm in their state that provides legal support on a variety of topics for their business. Over 70,000 businesses across the US and four Canadian provinces use the services to review documents, settle disputes, and collect debts.
LegalShield's partnered lawyers average more than 20 years of legal experience and are dedicated to the growth of the small businesses they serve.
"Our empathy is with the small business owner," Rosseau said. "We want to be their champion so they can run their business efficiently. Legal ignorance is not bliss at all."
Advertiser Disclosure
CardRates.com is a free online resource that offers valuable content and comparison services to users. To keep this resource 100% free, we receive compensation for referrals for many of the offers listed on the site. Along with key review factors, this compensation may impact how and where products appear across CardRates.com (including, for example, the order in which they appear). CardRates.com does not include the entire universe of available offers. Editorial opinions expressed on the site are strictly our own and are not provided, endorsed, or approved by advertisers.