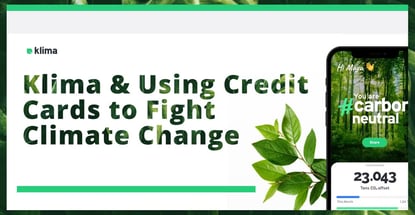 In a Nutshell: Credit cards come in handy for making large purchases, and using them responsibly can help users rack up some great rewards these days. But they can also be used to fight climate change. Klima offers an innovative platform that lets users easily connect a credit card to the company's app to conveniently offset their carbon footprint through a monthly subscription. Klima focuses on short-term carbon offsets as well as helping people understand the importance of reducing their footprints in the long-term. The company lets users choose from a variety of eco-friendly projects to support, including reviving ecosystems, funding tech innovations, and contributing to community initiatives.
Here at CardRates, we love exploring the vast world of credit cards, whether it be taking a deep dive into specific card offerings or chatting with innovators in the industry. And, needless to say, we're big fans of responsible credit card usage.
We also enjoy uncovering novel ways in which cardholders can wield their plastic to their own benefit and to support the greater good.

It's no secret that one of the biggest challenges facing humanity today is climate change. Klima is a company based in Germany that helps to fight climate change by facilitating contributions that offset user's carbon footprint.
This is certainly a noble cause in and of itself. But with Klima's tech-based platform that easily accepts credit cards, the platform also offers rewards enthusiasts a way to build up points while helping the environment.
Responsible cardholders who pay off their balances each month can conveniently offset their carbon footprint using Klima while at the same time racking up rewards on their end. It's a win-win.
We recently spoke with Klima CEO Markus Gilles to learn more about climate change, the company's innovative platform, and the various eco-friendly projects it supports.
"What if you could take climate action every single day — and it was as simple as the tap of a button?" according to the company website. "With Klima, you can."
Fighting the Ongoing Battle Against Climate Change
Gilles discussed the state of climate change and how Klima was built for the average person to help combat it.
"Everybody right now should be aware of what's happening," he said. "Specifically the last two years have shown heat waves and wildfires and extreme weather events of all kinds. We've seen this with about 1-degree global warming that we're at currently compared to pre-industrial levels. And with business as usual we're headed toward three to four degrees (increase)."
One can easily imagine how this translates into even more extreme weather and other detrimental effects, Gilles said.
And, while a number of governments and international organizations have embraced policies to help decrease greenhouse emissions, the effect of those policies has not yet made a measurable impact.
"So, what does that mean for all of us? We need to look for additional resources to add to this collective effort," Gilles said. "A lot of eyes have been on industry and policy changes — all of them incredibly important and big levers that we should focus on. But we believe that individual climate action at scale is also a very big lever that we need to tackle."
He said that about two-thirds of the world population understands that climate change is real and grasps the weight of the situation. This means that billions of people across the globe are ready to roll up their sleeves and get to work to do their part in this ongoing battle.
"If we can integrate that as one of the big aspects of global efforts, then I think we are looking at a holistic puzzle where the pieces are starting to come together," Gilles said. "Then we can really, really tackle this because in the end, climate change is manmade and it can be also be stopped by humanity."
Conveniently Connect a Credit Card to the Klima App
"Everyone changes the climate. But you can change it for the better," according to Klima. "Your actions matter. From your sweater to your sandwich, there's a carbon cost for everything you choose. Offsets help you rebalance the system and fund solutions for a better future."
Gilles said humans are a special species because we can develop such powerful technology but our sense of responsibility takes some time to catch up to those innovations.
"I think that's kind of the struggle of human civilization in general," he said. "We're coming to terms with the fact that there is an end to growth. There is an end to how much we can take from nature without giving back. It's a very important reckoning, and every crisis is an opportunity to change something fundamentally."
Klima supports these powerful words by providing a powerful and convenient platform that allows nearly anybody to join the battle against climate change.
Gilles said users can easily and securely connect a credit card to the Klima app so they can offset each and every month without worry. It begins by downloading the app and calculating your carbon footprint.
"It's easy to measure your climate impact with our natural language chat tool. Just answer a few quick questions to learn how much CO2 you emit each year," according to the company.
Users can then select from several eco-friendly projects that Klima currently supports (more on that below) and see how their funds are being used for good.
"Our real-time tracker shows you the impact of your offsets on the ground. Celebrate every milestone and share your achievements with the world," according to the company. "Offsetting is a smart choice — but we help you go beyond. You can reduce your overall footprint sustainably, with personalized tips, ideas, and inspiration from our Climate Checklist."
Users Can Choose Which Climate Projects Their Funds Are Supporting
Some carbon offset companies simply take user funds and apply them toward carbon offset projects without letting the users actually see how their money is being employed. With Klima, users not only see where their contributions are going but they can actually choose from a number of projects to which the funds can be applied.
"With Klima, you can choose from three of the most crucial solutions for our climate," according to the company. "Let's revive ecosystems, push green innovation, and support communities."
Research shows that, to avert climate catastrophe, humans must work to remove CO2 from the atmosphere, according to Klima.
"Inventors around the world are working on big machines to suck carbon out of the air and capture it underground," according to the company. "Meanwhile, nature already built those machines for us: They're called trees, and they are a crucial part of protecting our climate."
Users can choose to support up to three initiatives designed to reduce carbon in the atmosphere: reviving mangrove coastlines, community reforestation, or planting biodiverse forests.
If combating the fossil fuel industry is closer to a Klima user's heart, the company offers two solar initiatives to support as well.
"Instead of spewing CO2 until we run out of dead dinosaurs to burn, let's go all-in on renewable technology now," according to the company. "That's why solar is so important: it can bring electricity to millions while keeping fossil fuels in the ground."
Finally, for the more community-minded users, Klima supports a social initiative to help provide clean cooking stoves for people in Ghana.
Science Helps to See Into the Future
While Klima was born in Germany, Gilles said the company is currently shifting its focus to include all of Europe, and eventually the world. Ultimately, understanding just how important science is in combatting climate change and other major challenges is extremely important.
He said the COVID-19 pandemic has only strengthened how important it is to listen to science.
"This is the power of science — to help us see into the future. And we can see very clearly into the future right now as it comes to climate change," he said. "And every individual action counts. No government policy alone will help if people don't wear masks and don't practice social distancing. It's going to be the same with climate change. We won't be able to solve this if everybody continues business as usual."
We can either take action now to bring about positive change or wait until it's too late and reactive measures are forced on people out of necessity, Gilles said.
Advertiser Disclosure
CardRates.com is a free online resource that offers valuable content and comparison services to users. To keep this resource 100% free, we receive compensation for referrals for many of the offers listed on the site. Along with key review factors, this compensation may impact how and where products appear across CardRates.com (including, for example, the order in which they appear). CardRates.com does not include the entire universe of available offers. Editorial opinions expressed on the site are strictly our own and are not provided, endorsed, or approved by advertisers.