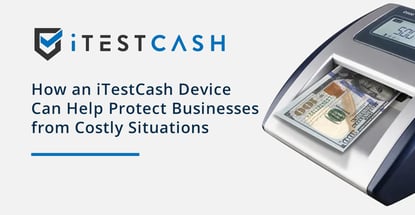 In a Nutshell: iTestCash is a leading online seller of money handling equipment, including counterfeit detector pens, counterfeit detector machines, and bill counters. It is a third-generation family-owned business whose founder invented the counterfeit detector pen. The company offers educational material on detecting counterfeit banknotes and is known for its personalized service and competitive prices.
According to the United States Department of Treasury, $70 million in counterfeit bills are in circulation, or 1 counterfeit note for every 10,000 genuine notes. With so much money floating around, counterfeiting remains a real threat to businesses and individuals.
iTestCash is a leading manufacturer of counterfeit detection and money handling devices. Its customer base includes retailers and grocery stores, venue halls, restaurants, banks, and anywhere else money is exchanged. The company also supports education on how to detect counterfeit currency and coins.
With or without help from detection devices, retailers must guard against counterfeiting because there is no recourse except to take a tax deduction on the lost amount.
"Scrutinize all your bills or use a machine that tells you on the spot if money is fake or not," advised Alex Reichmann, CEO of iTestCash. "I think that's important for any business dealing with cash from the standpoint of taking the money and making sure it's real."
From Counterfeit Detector Pen to All-in-One Counterfeit Detection Resource
iTestCash has roots in Dri Mark, a manufacturer of counterfeit detector pens. Alex Reichmann's grandfather invented this type of device, which has played an important part in protecting companies from money fraud.
"My parents owned Dri Mark, which patented the counterfeit pen in the United States," explained Reichmann. "So back in '07, iTestCash started as one of the first sellers of the counterfeit pen online. And we evolved from that idea to be an all-in-one online counterfeit detector shop that businesses could rely on."
Although the company greatly expanded its product line, iTestCash still markets counterfeit pens, which remain a perennial bestseller. These pens are a low-cost solution for businesses that want to test the bills for authenticity.
The technology is reliable and simple: You mark the bill and look at the color. If it's clear of light amber, the paper is good. A dark brown or black mark indicates counterfeit paper. While this will catch bad paper, it won't detect real bills that have been bleached and reprinted as a higher denomination. This is one reason why businesses often opt for more sophisticated equipment.
Buying from iTestMark provides many advantages that include competitive pricing, fast worldwide shipping, product warranties, and personalized services that large corporate sites cannot match.
iTestCash has a wide range of customers, large and small, including K-Mart, Regency Theaters, embassies, casinos, night clubs, restaurants, and banks.
Quick Ways for Businesses to Recognize Counterfeit Bills
There are many ways to spot a counterfeit bill. If you suspect a bill is a phony, inspect it carefully. Bear in mind that certain series of banknotes have different images and features, depending on the year it was printed.
"The biggest dead giveaway of a lower-quality counterfeit bill is that the paper feels funny,", said Reichmann. "It's happened to me. It helps to first feel a real dollar bill. Then feel the suspect banknote. If it feels extra thick or flimsy, that can be a red flag."
Banknote paper is made from cotton pulp, which gives it a distinctive feel. Under UV light, the paper has a dull sheen.
The paper has a distinctive watermark that you can see when you hold the bill up to the light. Often, the watermark resembles the printed portrait. It's hard for counterfeiters to get the watermarks perfect.
The paper has embedded threads that may exhibit a starburst pattern. If you look at the bill sideways, the threads may weave through the paper. Under strong light, the threads always produce a solid line.
Other aspects of a bill to inspect include:
The portrait: Look for inauthentic pictures or ones that don't stick out against the bill's background. Fake bills often have portraits that look dull and flat, with details that are dark or blemished.
Treasury and Federal Reserve seals: The seals should be distinct, clear, and sharp. If the bill is counterfeit, the seals may appear dull, uneven, or have broken sawtooth points.
Border: The border on a genuine banknote has fine lines that are unbroken and clear. The outer scrollwork and margins may be blurred on bad bills.
Serial numbers: The serial numbers on real bills are evenly spaced and printed in a color matching that on the Treasury seal. Look for non-matching colors on fake bills, as well as disjointed and unevenly spaced numbers.
If the bill turns out to be counterfeit, your options are few.
"There might be some way to write it off as a loss. That's the best-case scenario," said Reichmann. "It's generally recommended to call local law enforcement just in case there's an investigation going on. They might tell you to tip off the Secret Service because sometimes, with counterfeit money, there might be trails that lead to the counterfeiter."
iTestCash Offers a Complete Line of Counterfeit Detection Devices
Excellent quality counterfeit detectors are not very expensive and are available from iTestCash for less than $250, albeit without advanced counting and sorting capabilities. Top multifunction machines can cost up to $2,000.
The detector should spot fake bills, even top-quality fakes, in seconds. Machines help businesses stay one step ahead of the counterfeiters, who are continually improving the quality of their fake currency.
The detectors rely on UV light to spot a missing watermark or security threads. In addition, these devices can include optical density detection, color spectrum analysis, and infrared/magnetic scanning of security marks and magnetic ink.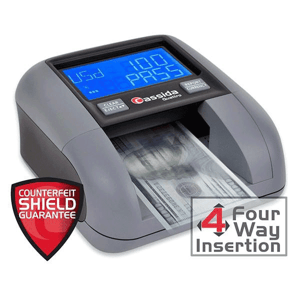 One top-quality detector sold by iTestCash is the Cassida Quattro 4-Way Automatic Counterfeit Detector. The device uses magnetic and infrared detection technology to quickly identify bad bills. The built-in screen indicates whether a bill passes or fails, and how many bills were counted, by denomination. It can work plugged in or on battery power and is a good choice for any business that deals with a lot of cash.
If you accept multiple currencies, you may prefer the Safescan 185-S Multi Direction Counterfeit Bill Detector. It can scan eight different currencies, including banknotes from the United States, Canada, and the European Union. The machine can count the money as it's checking the bills, which can be inserted in any orientation.
Another top machine is the Accubanker D585 Multi-Scanix Counterfeit Bill Detector, which can scan the U.S. dollar, the British pound, and the euro. The machine immediately detects bad bills entered in any direction.
If you want a multifunction counterfeit detector that is also a bill value counter, the top model is the Dual Pocket Mixed Bill Value Counter AB7500, which costs $1,780. It can quickly test and count USD and EUR bills, in four counting options (Count, Sort, Orientation, and Mix). Tests include infrared, UV, magnetic detection, double bill detection, magnetic thread detection, and size verification.
For just under $1,000, the AB7100 model provides infrared, UV, and magnetic detection, but it doesn't have the orientation counting option. iTestCash also sells non-detector machines that count and sort mixed bills and machines that count loose and rolled coins.
iTestCash also sells coin counters and sorters, safes, cash boxes, key cabinets, security cameras, paper shredders, cash registers, ID scanners, printers, copiers, office chairs, and furniture.
"It's always good for businesses to keep aware of counterfeit money", advises Reichmann. "Just to prompt people to look out for it. Also, putting up signs about counterfeiting could discourage it."
Advertiser Disclosure
CardRates.com is a free online resource that offers valuable content and comparison services to users. To keep this resource 100% free, we receive compensation for referrals for many of the offers listed on the site. Along with key review factors, this compensation may impact how and where products appear across CardRates.com (including, for example, the order in which they appear). CardRates.com does not include the entire universe of available offers. Editorial opinions expressed on the site are strictly our own and are not provided, endorsed, or approved by advertisers.