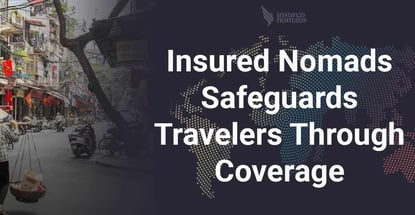 Our experts and industry insiders blog the latest news, studies and current events from inside the credit card industry. Our articles follow strict editorial guidelines.
In a Nutshell: Insurance isn't the first thing on people's minds when planning a trip or in the "work from anywhere" lifestyle. But when calamity strikes, it can save travelers both time and money. Insured Nomads has a robust menu of health and travel insurance products for personal and business travelers, and health insurance for the modern company. Its affordable health insurance options provide coverage in over 190 countries. Insured Nomads' app helps users stay organized while traveling, so the information they need is just a tap away. Insured Nomads also provides the tools necessary for safety, including instant response from medical and security operatives through their app, travel tips, recommendations, mental health therapy and helpful city guides all designed to allow globetrotters to make the most of their freedom. 
The Merriam-Webster dictionary defines the word nomad as "an individual who roams about." It's a very simple definition for a word that evokes feelings of adventure, excitement, and freedom. 
A nomadic lifestyle may appear risky to those who are accustomed to a more conventional way of living. What happens to people living lives rich with travel when life's obstacles send them into a free fall? Where can they find a safety net to catch them?
Insured Nomads answers these questions by providing health and travel insurance options that cover people anywhere in the world they travel. Its options provide peace of mind to globetrotters, helping them travel smarter.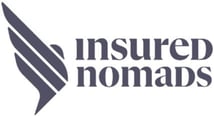 The company's origins are in the cross-border insurance arena, but once it identified the need for health insurance for the modern company, it expanded its offerings. Insured Nomads' founders have lived and worked in over 140 countries themselves and have a deep affinity for those who live this lifestyle of travel.
"Our founders have traveled all over the world," says Chris Nam, Insured Nomads' Chief of Staff. "During their travels, they observed the many differences in culture and geography from one country to the next, but something else caught their eye: health insurance. There are vast differences in health insurance from one country to the next, so they thought 'why don't we create a plan that covers people anywhere they live in the world that works as easy as other things they utilize?'"
Traveling in and of itself is expensive. People's travel budgets can go by the wayside once they're on their trip and enticed to spend more money than they'd planned. It can be tempting to forgo purchasing travel medical insurance and travel-oriented health insurance, and instead allocate those funds for more glamorous items and experiences.
Insured Nomads works to provide affordable options to suit budget-conscious travelers as well as those wanting the highest level of coverage and benefits possible.
"People often don't want to pay extra for something that they can't see or don't have an immediate need for," Nam explains. "But when a problem arises while traveling, and travel insurance or health insurance can rescue you, then you quickly realize it's something you can't afford to skip, especially for the 'work from anywhere lifestyle' that is so prevalent."
Unique Products Meet a Variety of Insurance Needs
People take vacations and travel excursions for countless reasons. Some travel for pleasure. Some travel for business. Some travel out of necessity. And there are travels that combine all three of those motivations, since some have the freedom to live and work anywhere.
Insured Nomads offers a variety of plans and options to accommodate every type of traveler and employee of the modern company.
"We offer different types of insurance, and also tiers within those types of insurance, to best align with the specific needs of our members," explains Nam. "Some people want coverage for everything that's possible to be covered, others just want a specific type of coverage."
Medical emergencies are a popular coverage option Insured Nomads' customers seek. Other types of coverage are for trip cancelation and delay, while some are keenly aware of the need for evacuations due to political events or natural disasters, and this is increasingly popular. United States residents also have the option to add rental car insurance.
Alongside plan options for consumers, Insured Nomads offers group options for businesses and other organizations with travel and health insurance needs.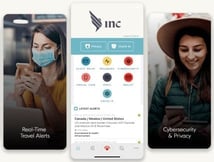 Insured Nomads' app, INC, is an easy way for customers to access their insurance information while on-the-go. The app also provides access to mental health counseling and assessment benefits. Insured Nomads offers its customers one free year of mental health therapy.
The benefits that Insured Nomads offers provide a lifeline to people who've been beset with travel frustrations that are beyond their control. Nam can speak to these benefits from experience.
"Recently I was traveling to South Korea," he says. "My return flight home was delayed and I was stuck at the airport for five hours. But, because of my Insured Nomads insurance plan, I was able to turn a potentially frustrating experience into an amazing time. We give our customers access to any airport lounge in the world. So I passed the time while my flight was delayed at a massage spa and a gaming lounge."
Education and Recommendations for Travel Enthusiasts
Insured Nomads' founders leverage their extensive insurance/insurtech and traveltech experience to provide education resources, tips, and recommendations.
In addition to topics covering insurance and health and safety, its city guides provide informative and entertaining inside looks at cities all around the world. Though the information is available on its website, Insured Nomads provides members with curated information tailored to their upcoming travels.
Topics covered within those communications include recommendations for the best restaurants and cafes in a particular city, to more practical information including the best times to visit popular sites and local internet speeds. The tips are designed for people who are only visiting a city for a few days or those who are looking to stay in a city for weeks or months.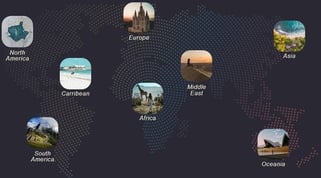 "Part of our founders' vision is that shopping for insurance shouldn't be the same boring experience it was twenty years ago," Nam says. "So, we thought, let's integrate fun and interesting information into our site that allows our customers to learn about not only their upcoming travel destination, but also hopefully open their eyes to new cultures and countries they hadn't considered before."
Insurance provides peace of mind, but its tangible value is most evident when individuals have to put their plan to use and submit a claim. Insured Nomads has put a lot of time and effort into building a claims reimbursement process that is straightforward. This allows travelers to submit their claim and get back to enjoying their trip.
Customers submitting a claim can choose to be reimbursed if they have already paid for service, or have Insured Nomads pay the healthcare provider directly. For added reimbursement convenience, an Insured Nomads Mastercard can be loaded with reimbursement funds within 24-48 hours. Insured Nomads works to provide a personal touch to a process that can often be frustrating.
"We encourage our customers to contact us if they have any questions while submitting a claim," Nam says. "We want to understand your situation and provide customized support." 
Insured Nomads: A Partner All Around the World
Insured Nomads has built its customer base without engaging in formal advertising or promotional efforts. Customers have been attracted to the company via word of mouth and social media platforms.
Insured Nomads' executive team frequently travels the world to speak at events and conferences to educate the public on their mission, products, and services.
Interested parties can enroll in coverage directly on Insured Nomads' website. Travel insurance products have an enrollment process that can be completed in minutes. Health insurance quotes can be turned around in 24 hours. Insured Nomads provides a range of quotes, so its prospective customers can review and select the coverage that best fits their needs.
Looking toward the future, Insured Nomads is developing products and services that deepen the insurance coverage options it offers to travelers. Nam cites an insurance product for personal belongings as one that will be rolled out soon. Insured Nomads counts a number of creators among its customer base. They will be able to insure their laptops, camera equipment, and ring lights with this coverage.
Insured Nomads' variety of products and educational resources convey its passion about providing a wide range of insurance options for travelers. It's also passionate about giving back to the global community and supporting charitable causes it believes in.
A portion of Insured Nomads' profits are donated to Not For Sale, an organization committed to ending human trafficking. Not For Sale operates in countries throughout the world and partners with local experts who support its mission.
Insured Nomads' long-term company goals are not entirely focused on growing its customers base and revenue figures.
"The vision for Insured Nomads is to be a company that makes a lasting impact in the communities it serves," Brett Estep, President & COO explains. "Our focus is on giving to help those vulnerable and exploited in human trafficking/modern day slavery, helping others who are less fortunate to improve their circumstances and thrive. Protecting people goes beyond robust insurance and assistance."