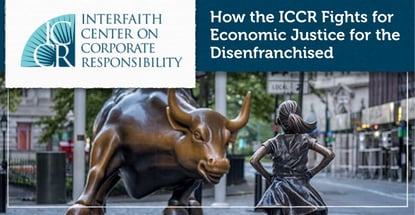 In a Nutshell: Over the last 49 years, the Interfaith Center on Corporate Responsibility (ICCR) has worked alongside banks and financial institutions to promote the reformation of company policies to help poor and disenfranchised Americans. One example is the organization's work with Wells Fargo to shape new policy in the wake of the bank's product sales tactics brought to light in 2016. ICCR has also pressured banking giants JP Morgan Chase and Wells Fargo to stop providing lines of credit to privatized prisons, and to invest more in the communities they serve.
A host of basic statistics can tell a story of economic woe in America — but, as with most things in life, no two stories are the same.
For example, 12.3% of Americans fell below the poverty line in 2017. That's an astoundingly high number, but it doesn't show the true despair experienced by many individuals and communities in poor and disenfranchised areas.
While many of those Americans hovered around the poverty line, set at $24,860 for a family of four, others plunged far below that number — making it almost impossible to live even the most basic life.
And it's those people who often have no voice in the economic and corporate policymaking that dictates their livelihood. Thus, most Americans simply don't see or hear from these people to understand their plight.
But the Interfaith Center on Corporate Responsibility (ICCR) wants to change that by leveling the economic playing field for those who may not be capable of fighting for themselves.
A Compassionate Presence for Those Who Have No Voice
ICCR has revolutionized shareholder advocacy by fighting for environmental, social, and governance issues for the last 49 years. The organization's membership consists of more than 300 global institutional investors with more than $400 billion in managed assets.
"Our commitment, and our whole mission, is in trying to help those who are disenfranchised and poor," said Sister Nora Nash, Director of Corporate Responsibility at ICCR. "We are committed to taking the necessary risks to be a healing and compassionate presence, especially in the lives of women and children or those who have no voice."
Many ICCR members are investors who hold stakes in oil and gas and financial services companies and use shareholder advocacy to open dialogue with the companies they invest in. Under current trade rules, shareholders who hold $2,000 or more in company stock for more than one year can file a shareholder resolution.
Most of the proposals filed deal with governance topics, such as CEO compensation. But shareholders can also request reports and policies and submit proposed changes to those policies to the company's board for a public vote.
Most companies try to keep these policy changes off their ballots and opt instead to reach an amicable solution with the investor — without a public display. These interactions pave the path toward the types of change ICCR works to create.
"Our basic premise in our work with various corporations is to help them realize that we all have human rights," Sister Nora said. "We work with corporations to develop and implement their human rights policies. We strongly believe that corporations wouldn't have as many problems as they have if they had deep human rights policies and followed the business standards for those human rights."
Bridging the Gap Between Wall Street and Main Street
Each year, ICCR members conduct approximately 300 dialogues with more than 200 companies on a wide range of issues. These conversations have very specific goals and often bear fruit in the form of meaningful reforms with long-term impact.
Among these companies are the largest banks and financial institutions in the U.S. Sister Nora said that ICCR members design these talks to help less fortunate consumers improve their circumstances by providing them with more accessible and affordable financial services. But ICCR also wants to push these businesses to create policies that keep others from having to fight for their own voice in the future.
"We've done a good share of work with many financial institutions," Sister Nora said. "We've pressured them, from the human rights perspective to the financial literacy perspective, and have done a tremendous amount of work to help them be able to look at the opportunities they have to help people who are not financially solvent."
Both consumers and financial institutions benefit from the organization's work. By investing in underserved communities where these banks already exist, the residents improve their financial well-being and become customers of the banks.
But, for ICCR, its faith-based work isn't about improving consumerism as much as it is about improving living conditions for all.
"We come from a religious perspective of care of creation, peace, and justice," Sister Nora said. "We reflect our values in how we use our finances and how we both invest in community development and in communities that have been disenfranchised."
Major Initiatives Include Private Prison and Responsible Lending Reform
For the last three years, Sister Nora's job as primary filer has led her to do extensive work and reform with Wells Fargo. Following the financial institution's 2016 product sales issues, ICCR saw it fit to work with the company in hopes of adjusting its credit and lending practices.
"We're doing a lot of work with people who have lost their homes or couldn't get a loan modification, car insurance, or numerous other issues that have evolved over the last 10 years," Sister Nora said. "These issues have put hundreds and hundreds of people under significant financial stress."
ICCR conducts a business standards review for many major corporations around the country every year. These reviews rely on the company's compliance and often reveals the issues that ICCR works to resolve.
"All of the big banks complete the review, and we go back and update them and give feedback or help them make decisions," Sister Nora said. "A major decision we worked on was related to the financing of private prisons."
The rise of prison privatization in America has led to many organizations, including ICCR, to stand up in defense of the people being held in these institutions. Because these prisons are privately run, they often aren't required to function under the same standards or provide similar living conditions as government-run prisons.
ICCR reached out to the largest banks that provided lines of credit to private prisons. Since ICCR's intervention, JP Morgan Chase and Wells Fargo have stopped providing financial aid to these private institutions.
"That's really important because, in these situations, a person is being used as a commodity," Sister Nora said. "And many private prisons are not equipped to help people move on in life."
ICCR worked to help banks gain a clearer picture of reported abuse and mistreatment inside of several private prisons. That opened the door to widespread change in the methods many banks use to decide which types of businesses they extend loans to.
"We're working on the same thing in relation to any financial institution that supports the gun industry," Sister Nora said. "We're also working very hard to help them realize the downside of using their financial opportunities to invest in oil and gas that may be damaging sacred land."
Helping the Unbanked Get Back on Their Feet
As Sister Nora sees it, ICCR's work is never done. After spending years working with financial institutions to bring about policy reform and increase aid to underserved areas, she said she feels there's still much more to do.
"Our job is to make sure that the banks or financial institutions look at those who are unbanked and create a path to help them get back on their feet and be remunerated in cases where there has been a past injustice," she said.

And that work not only focuses on helping communities and disenfranchised consumers — it also focuses on creating a more dynamic workforce within financial institutions by shaping company policies.
"We help financial institutions look at their business standards, which has been two years of big-time work," she said. "We've looked at ethics and the ongoing sense of the importance of having a culture that is ethical and committed to the work of the person on the streets."
To that end, Sister Nora and ICCR continue its mission of helping find ways for investors to put their money in community projects that support growth and development. And, in time, she hopes to return a voice to those people whose economic situation has stripped them of their ability to speak up and be heard.
"The whole purpose is to enable financial institutions to understand their impact," she said. "And, if they have a license to operate in a local community, then that community should be part of their mission and education."
Advertiser Disclosure
CardRates.com is a free online resource that offers valuable content and comparison services to users. To keep this resource 100% free, we receive compensation for referrals for many of the offers listed on the site. Along with key review factors, this compensation may impact how and where products appear across CardRates.com (including, for example, the order in which they appear). CardRates.com does not include the entire universe of available offers. Editorial opinions expressed on the site are strictly our own and are not provided, endorsed, or approved by advertisers.