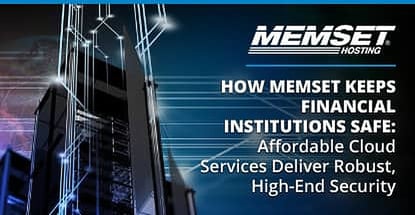 In a Nutshell: With customer data at stake, choosing a web host with a reputation for security is important for any financial institution. Memset is a UK-based host that offers best-in-class security for its customers. Using the latest technology and scalable service plans, Memset keeps financial data and other sensitive information secure in its cloud. The web host offers four main services at competitive rates to meet the needs of nearly any business. Boasting a 98% recommendation rate among current customers, Memset has also been recognized seven times as the UK's best web host by PCPro Magazine. //
Online security is a top priority for financial institutions — it has to be. People place their trust in banks to keep their money and sensitive information safe, and one misstep can have immense financial implications and a public relations nightmare that could have longtime customers taking their business elsewhere.
With cyber crimes on the rise every day, it's essential that your security stay a step ahead of potential thieves. Memset, founded in 2002, is one of the UK's top web hosting companies and aims to keep up with the top trends in cyber security to keep the information stored by its clients — at home and abroad — safe in its cloud.
"We use the latest technology in a highly secure infrastructure, and that security is key to this business," said Chris Burden, Sales and Marketing Director for Memset. "We focus on protecting data — whether that's government or finance or any other of our customers."
With the cyber security market expected to become a $170 billion industry by 2020, there is no shortage of firms that promise to keep your data safe. However, Memset has proven its mettle as a seven-time winner of the "Best Host" award, voted by users at PCPro Magazine.
The company's clients range from UK government agencies to small businesses in America, Africa, and beyond. In all, the company has 305 clients spread across 40 countries.

While Memset offers competitively priced web hosting, the company's main focus is security. Its UK Government Security Accreditations are approved for the country's G-Cloud structure and store a wide range of financial and personal information on a group of servers that are monitored 24/7.
Among the options available for your business through Memset are dedicated servers, cloud storage, Cloud IaaS Infrastructure, and a cloud VPS, offering the latest in security measures for your financial information.
Memset's goal is to make all of its services rapidly scalable, flexible, and resilient, at the lowest possible cost to the consumer. With the current weakness of the British pound, the monthly costs of Memset's security makes it an attractive option for financial companies in the US.
A Secure Cloud — Trusting Sensitive Information to the Latest Technology
In Q3 of 2016, 18 million new malware samples were captured. At the same time, more than 4,000 ransomware attacks took place every day. With the speed and ease that these issues can spread, any financial business is just one wrong click away from its ultimate nightmare.
Memset aims to keep its clients online and safe with a series of safeguards that stop attackers before they can gain access to your customer's sensitive data.
"In the UK, there are a number of accreditations that you can apply for to prove your priority on security," Chris said. "One is about being on certain private networks, so the information is transported around in that private cloud so that it's secure and strictly for business-critical systems and financial systems."
The company has a history of using open-source technology, which puts it in an ideal position to incorporate and develop new technologies. That's led Memset to become Britain's leading supplier of dedicated Cloud VPS.
The VPS, or Virtual Private Server, runs its own copy of an operating system (OS), and customers may have superuser-level access to that operating system instance, so they can install almost any software or application that runs on that OS. That is an important feature with your financial business, as your customer data will not be stored on the same server that hundreds of other businesses also use. Constant monitoring of every VPS maintains the safety and integrity of the cloud service.
"They all come with support services and security, and monitoring for protection," Chris said. "We can also manage the platform if the company doesn't want to and support that structure, or the company can support it through the platform that we've put together. We're all about the underpinning infrastructure."
Web Hosting that Delivers Security & Peace of Mind
Along with its best-in-class VPS offerings, Memset also has secure cloud storage service for a monthly charge. It offers unlimited scalability and a large set of interactive tools for less tech-savvy clients. Through an FTP client or the company's API, you can access your information from anywhere in the world and keep your customers happy no matter where they are.
The host also has a plan for dedicated server space, ideal for businesses that want to keep their customers' information on a private server.
Memset's overall offerings are built to be automated and scalable to businesses of any size, so if your financial offerings are just starting out, or if you already have hundreds of in-house clients, Memset can offer services tailored to your needs.
"We have got very small organizations and very large," Chris said. "The size of the organization doesn't really impact how we deliver our services. We're delivering our technology for the businesses to put their applications on. Our job is to make sure that where the infrastructure is — and the connectivity into it — is secure, particularly with all the cyber activities that are going on in the world today."
Those services are supported by multiple highly resilient data centers, with tight physical and logical security suitable for the private and public sector.
"We've got constant monitoring," Chris said. "We've got various protocols and provisions in place to offer protection for attackers on that side of things."
Benefits of a "Pay-for-What-You-Use" Pricing Model
Many financials require a strong online presence. Payday loan companies or other money-lending businesses have online applications and databases for collecting payments each month. That requires not only having a strong security system in place, but also the scalability to handle traffic that ebbs and flows throughout the month. While the demand for loans may be smaller around paydays, as the weeks stretch out, so could the stress on your servers.
"The resources themselves are designed," Chris said, "so that if a customer has a low throughput of transactions the first three weeks of the month, and then at the fourth week of the month, they've got a peak, as that peak comes up and more traffic comes in, then our resources will grow with that demand. It's more like resources on demand. Its compute on demand, storage on demand, as that requirement grows for the customer."
Memset also has a system in place to cut costs by only charging you for the resources you use, instead of buying a large block of data that goes mostly untouched each month.
"On the infrastructure as a service, you only pay for what you use," Chris said. "So if you have a peak, you pay that full amount. Whereas if you drop off, and your transactions aren't there, then your costs are relevant to what resources you're using. On top of that, the network also caters to that transfer of security between services or infrastructures."
That system, according to many clients, has saved their companies a good deal of money over the long run. That savings, along with the company's dedication to customer interaction, has increased its number of long-term client relationships.
"We're a people organization," Chris said. "We make sure we deliver what we say on the box. So it's about security, it's about the cloud services we offer, and that we offer them right."
Securing Financial Institutions at Home & Abroad
Although Memset is a UK-based company, its reach extends well beyond its home soil. With clients all over the world depending on Memset for their web security, the company sees the number of its international clientele growing.
"We've got a number of overseas customers, but we're not as well-known abroad," Chris said. "But those customers that are abroad are ones that sought out a company that can deliver their infrastructure at a competitive rate. I would say that, as the pound is currently pretty weak, that more and more companies that find us through the web will start using our services."
To date, Memset has depended on those web searches and strong word-of-mouth to extend its client base. The process seems to be working, based on its 98% recommendation rate among current clients.
"It's about security and that they have a voice to talk to," Chris said. "We are happy to go and talk to our customers. It's that people-to-people that gives our customers the trust that we will deliver a good service in what we offer."
It's the same strategy that many take to grow their financial businesses in an organic, cost-effective way. Security and reliability are the two pillars that will hold a financial up for many years. It's those same cornerstones that have built Memset's reputation in the UK. It's a reputation the company plans to take into the future and use it to help international financial businesses grow.
"Our focus is on delivering our core four services," Chris said. "We're looking to develop a road map that looks to put in useful or beneficial add-ons to allow the customer more options. But more importantly, we're focusing on security and how we can make the customer more secure."
Advertiser Disclosure
CardRates.com is a free online resource that offers valuable content and comparison services to users. To keep this resource 100% free, we receive compensation for referrals for many of the offers listed on the site. Along with key review factors, this compensation may impact how and where products appear across CardRates.com (including, for example, the order in which they appear). CardRates.com does not include the entire universe of available offers. Editorial opinions expressed on the site are strictly our own and are not provided, endorsed, or approved by advertisers.