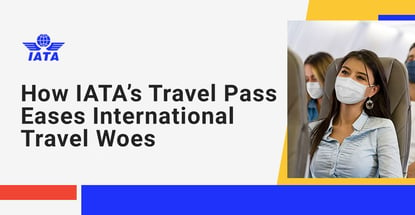 In a Nutshell: While the COVID-19 pandemic landed a huge blow across all parts of the hospitality industry, things are beginning to look up for international travel, according to Perry Flint, Head of Corporate Communications, USA, for International Air Transport Association (IATA). The organization supports the stance that air travel is a very low risk activity when it comes to the transmission of COVID-19 thanks to a variety of factors, including health screenings, seating positions, and air circulation. IATA is currently piloting its Travel Pass app that helps international travelers store and manage their verified certifications for COVID-19 tests or vaccines. The organization also facilitates access to a country-by-country list of COVID-19-related government public health entry requirements for passengers.
The COVID-19 pandemic sent ripples across the globe in countless ways. The modern world had never seen a pandemic like it, and individuals, as well as businesses, watched cautiously as it unfolded before their eyes.
Of course, the most devastating impact of COVID-19 were the lives lost to the disease. But the virus also wreaked economic havoc on industries worldwide.
The hospitality industry was hit particularly hard. Stay-at-home orders combined with general safety concerns caused businesses to close up shop as consumers only ventured out for essential purposes.
Millions of travelers, including many of the credit card rewards enthusiasts in our audience, were forced to cancel or postpone their plans and wait things out.
Now, as the COVID-19 vaccine reaches greater segments of the U.S. population, the travel industry is seeing a light at the end of the tunnel. And folks looking to cash in their credit card rewards on a much-needed vacation — or those looking to build up some card rewards — are searching for flights and planning their next trip.
"I'm sure many of your frequent flyer readers are itching to get out of the U.S. because, obviously, the U.S. market is rapidly coming back," said Perry Flint, Head of Corporate Communications, USA, for the International Air Transport Association (IATA). "We're not back to pre-COVID numbers in the domestic market, but we're headed that way."
Flint said that global international travel is down between 85% and 87% compared to pre-COVID levels. He said the U.S.-international market numbers align pretty closely to these global figures.
"Another way to look at it is, for every 100 passengers who traveled internationally in 2019, we're carrying between 12 and 15 now — just to give you a sense of the scale of the downturn," he said.
The IATA announced in April that a negative passenger demand trend still existed as of February 2021. But Flint said things are looking up for domestic travel, thanks to the vaccine and airlines and travelers gaining a better understanding of travel during the pandemic. However, border restrictions and quarantine requirements mean international travel is still largely locked down.
Flying Internationally While Wearing a Mask Remains Safe, According to IATA
Many people have plenty of valid questions about the health risks associated with international travel while the pandemic remains.
But according to IATA, flying is safe.
"Flying, when wearing a mask, remains one of the safest travel alternatives during COVID-19," according to the organization's website. "Be reassured that the risk of contracting COVID-19, when wearing a mask on board, is very low. There have been millions of flights since the start of the COVID-19 outbreak resulting in a few confirmed cases of transmission in-flight."
A number of factors make air travel safe. Some of these include the passenger's seating position on flights — facing forward rather than toward another person — and seat backs provide a barrier against the spread of COVID-19. Mask mandates are also a very important factor contributing to the low in-flight transmission rates.
Additionally, the chances of an infected person sitting next to you are extremely low, according to IATA, because government health screenings and departure biosafety measures minimize this means of exposure.
But what about the cabin air?
Most people prescribe to a common misconception that that an airplane is a sealed tube with no fresh air.
Flint explains why this is not the case.
"The air is constantly being exchanged. It's typically about 50% outside air, which at 35,000 feet, that's about as pure as you're going to get," he said. "And then 50% is air that's being recycled through HEPA filers which are going to catch any virus. And the air is being exchanged every two to three minutes or 15 to 20 times an hour."
Flint said that's more than one would find in a typical hospital operating room and certainly more than one finds in schools or office buildings.
The Travel Pass Provides All the Information Travelers Need to Know Before a Trip
For more than 70 years, the IATA has developed global commercial standards that serve as the foundation for the air transportation industry. It aims to assist airlines by simplifying processes, reducing costs, improving efficiency, and increasing passenger convenience.
"The International Air Transport Association (IATA) is the trade association for the world's airlines, representing some 290 airlines or 82% of total air traffic," according to the organization. "We support many areas of aviation activity and help formulate industry policy on critical aviation issues.​"
That's why the organization has developed its Travel Pass app.
"The IATA Travel Pass is a mobile application under development allowing travelers to simply and securely store and manage certifications for COVID-19 tests or vaccines," according to the organization.
The app is currently being offered selectively to travelers on international flights offered by airlines that have partnered with IATA to trial the Travel Pass platform.
"The challenge that travelers are going to face and that airlines are going to face is understanding all the different requirements," Flint said. "For example, if you were coming into the U.S. from one of the countries that you're allowed to fly in from, you would still need to show proof of a negative COVID test not more than three days before your departure."
Different countries also have different quarantine protocols, he explained. So for international travelers, it can be challenging to keep up with the different rules and regulations as they travel to other countries.
"The information through the IATA Travel Pass can be shared with border authorities requiring testing or proof of vaccination as a condition of international travel during and after the COVID-19 pandemic," according to the IATA. "A critical aspect is the fact that the information supplied is verified. It is a secure means to manage health requirements, much more efficient than paper processes."
Through the app, IATA also aims to give governments the confidence to reopen borders without having to impose quarantine measures on incoming travelers.
Flint said more than 30 airlines are currently trialing the Travel Pass app for its passengers.
Exploring Digital Health Certificates While Addressing Discrimination and Cost Concerns
If indications are correct, and the pandemic is nearing its end, certain aspects of travel will need to adapt to the post-pandemic world. Even after the pandemic is declared over, COVID-19 will still exist and people will need to continue to take precautions to avoid its spread.
Individuals who receive the COVID-19 vaccine currently get a paper card verifying their vaccination status. Negative COVID test results are often distributed via paper as well.
Flint said this system will not be sustainable in the long run.
"It doesn't work. If you've got over a hundred countries requiring, for example, a negative COVID test and everyone is walking through the airport carrying these pieces of paper, there'll be chaos," he said.
Flint said IATA's solution is its Lab App component within the Travel Pass app, which enables authorized labs and test centers to securely send digital test results or vaccination certificates to the Travel Pass user, which can then be stored on the user's mobile phone and shared with their airline or a government border authority.
Watch on Global standards have not yet been established for a digital vaccination certificate, Flint said. (The WHO is working on it.) But when there is one, IATA's Travel Pass will support it.
Flint also made clear that IATA does not support making vaccines a mandatory requirement for travel.
"We believe there has to be an alternative there because there are going to be people who either: A — for their own health reasons cannot get the vaccine. B — for whatever reasons don't want to get the vaccine. C — don't have access to the vaccine," he explained. "There are entire regions where it can be hard to get the vaccine. To just cut all these people off from international travel to us is very discriminatory."
He said the organization is not opposed to mandatory testing, however. But that plays into the question of accessibility and cost.
"We want it to be affordable," Flint said. "This is particularly an issue in the UK where a test may cost £150. Imagine if you're a family of four, and you're doing a test each way, you've just added £1.200 to your trip."
He said if countries are going to require testing they should also pay for the testing, per World Health Organization standards.
Regardless, credit card rewards travelers will likely be thankful to see that safe and comfortable international travel is becoming a reality once again. And after being grounded for more than a year, plenty of folks are probably itching to cash in some card rewards for a nice vacation.
Advertiser Disclosure
CardRates.com is a free online resource that offers valuable content and comparison services to users. To keep this resource 100% free, we receive compensation for referrals for many of the offers listed on the site. Along with key review factors, this compensation may impact how and where products appear across CardRates.com (including, for example, the order in which they appear). CardRates.com does not include the entire universe of available offers. Editorial opinions expressed on the site are strictly our own and are not provided, endorsed, or approved by advertisers.