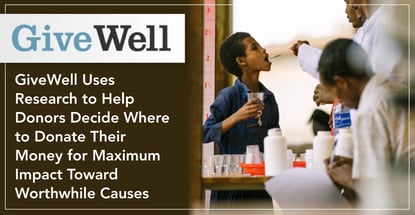 In a Nutshell: There are a lot of charities out there, and donors can have a difficult time knowing which ones are the most impactful and the most cost-effective. GiveWell is a nonprofit that conducts its own in-depth, independent research to help donors direct their funds to the charities best positioned to save or improve lives. The organization tends to focus its efforts in the poorest parts of the world because those are the areas where dollars can go the furthest. GiveWell estimates that it has guided more than $500 million to its recommended charities and helped avert more than 77,000 deaths since 2011.
The rainy season in Burkina Faso means malaria. The mosquito-borne infectious disease thrives in the wet climate and can cause fever, fatigue, vomiting, headaches, and even coma or death.
As with many illnesses, very young children are among the most susceptible to the disease.
That's why in August, representatives from Malaria Consortium were going door-to-door in the African country to deliver its Seasonal Malaria Chemoprevention (SMC) medicine to children under five years of age.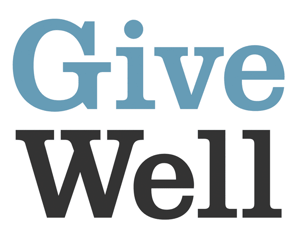 On one of these outings, the representatives were accompanied by Olivia Larsen of GiveWell, a nonprofit that has helped guide donors toward legitimate and impactful charities like Malaria Consortium.
Larsen was on the scene to see firsthand how Malaria Consortium directly benefits people through its work, made possible in part through more than $37 million in donations from GiveWell-directed donors over 18 months. Larsen wrote in a blog post that GiveWell expects those donations will result in 4.8 million children being treated with SMC which will avert more than 16,000 deaths.
This is just one of many examples of how GiveWell helps guide donor funds to support some of the most impactful and cost-effective causes in the world.
"GiveWell started as a group of friends that were working in the finance industry and trying to decide where they should donate to charity," said Catherine Hollander, Senior Research Analyst for GiveWell. "They wanted to give to places that would have a significant impact with their donation money."
As the eight friends began to research charities — looking at considerations such as whether a particular program is effective, whether donations are reaching the beneficiaries, how charities use additional funding — they realized the information was often difficult to come by.
It became clear that researching and uncovering this kind of information was actually a full-time project, and that's when Elie Hassenfeld and Holden Karnofsky left their jobs in finance and launched GiveWell in 2007.
Researching and Identifying Cost-Effective Programs That Do the Most Good
While some attempts have been made to rank the quality of charities, many of those projects do not provide the depth of research, transparency, and independently verified information that GiveWell offers.
"One thing that we learned is that a lot of the information that tells us whether programs are effective is actually not collected by the charities themselves," Hollander said. "It exists in studies conducted by academics who research development economics and global health."
She said these types of studies go a long way toward informing GiveWell's understanding of whether any given program is effective.
"Our starting place is looking at the academic literature that exists for programs, independently of specific charities that are implementing those programs," Hollander said. At this point in the research process, programs refer to the actual implementation of a strategy, such as the Seasonal Malaria Chemoprevention, rather than a charitable organization.
In addition to diving into the research around the effectiveness of particular programs, GiveWell also analyzes how cost-effective the programs are. Hollander said this goes back to GiveWell's roots of trying to make as much impact as possible per dollar donated.
"Between these two factors — looking for programs that have a strong evidence of effectiveness as well as cost-effectiveness — we've come to focus on programs that operate in the poorest parts of the world," she said.
Hollander said once GiveWell identifies a program of interest, then it begins looking for charities that are implementing that program. At that point, the organization begins exploring details about specific charities.
"We want to know how the charity knows that its program is reaching beneficiaries and that it is operating as intended. That involves looking at the charity's monitoring information," Hollander said. "We are also interested in charity's spending plans."
She said GiveWell looks at not just how charities have spent money in the past but how it plans to use funds in the future.
GiveWell often visits the charities they recommend as well, Hollander said, to see firsthand how the organization works.
Raising Awareness about International Issues and Educating Donors on Impact
It's no surprise that people often donate to charities within their own communities because those are the issues they are likely to be the most aware of. But GiveWell's research seeks to expose philanthropic types to causes around the world that can have a significant impact.
"We understand the sentiment that 'charity starts at home,' and we used to agree with it — until we learned just how different U.S. charity is from charity aimed at the poorest people in the world," according to the GiveWell website.
Hollander said one of the challenges that charities are met with in the U.S. is that they are often tackling very complex, but poorly understood issues. For example, when looking at education in the U.S., it's harder to find opportunities where there is a direct and straightforward case for impact in the same way as many overseas programs.
Basically, the problems in the most destitute countries tend to be life-or-death issues, and a small amount of money can do a lot of good.
"In the poorest parts of the world, people suffer from very different problems," according to the GiveWell website. "A child may die of malaria for lack of a $5 bed net, or of diarrhea for lack of a 5-cent packet of nutrients."
GiveWell values transparency in both its research and in the charities it supports, Hollander said. This helps potential donors understand where their money is going and just how much impact they can have with their donations.
"We want to be able to share the full details of our analysis with the donors who use our research," Hollander said. "GiveWell's research product is public — we publish it on our website and share a lot of details about what we recommend and why, and all the research that's gone into it."
She added that the charities GiveWell recommends must also be willing to engage with the organization's transparent research and be comfortable with GiveWell sharing a great deal of information about their work.
Helping to Raise $500 Million Since 2011 and Averting More than 77,000 Deaths Globally
GiveWell's direct impact is illustrated through the stats the nonprofit posts on its website.
"We estimate that GiveWell-directed donations to our recommended charities since 2011 will avert over 77,000 deaths," according to the website.
The organization bases its estimates of the cost-per-death-averted by each of its top charities that implement interventions whose primary impact is averting deaths and its records of money directed to the charities since 2011, according to GiveWell. These charities include the Against Malaria Foundation, the Malaria Consortium's SMC program, and Helen Keller International's vitamin A supplementation program.
The organization also points out that the calculation doesn't include deaths averted through standout charities — such as Development Media International and Living Goods — through incubation grants, or through charities they no longer recommend.
"More than 50,000 donors have trusted GiveWell to direct their donations," according to the website. "Together, they have given over $500 million to the organizations we recommend."
In addition to averting the estimated 77,000-plus deaths, donations have provided cash grants of more than $90 million to the global poor, according to the organization.
"For untracked donations, we estimate that donors gave $12 million to $25 million based on our research that we did not track," according to the website. "This estimate is based on data from top charities on total donations not attributed to a source and the proportion of attributed donations that were attributed to GiveWell."
Because of its in-depth research, transparency, and impact, GiveWell has been lauded by The New York Times, The Boston Globe, The Wall Street Journal, and many influential figures in the worlds of tech and finance.
Updating the List of Top Charities
The current charities GiveWell recommends can always be found on the organization's website, and Hollander said the nonprofit updates its list once a year based on the latest research.
"We are in the process of updating our list of top charities for this year's giving season," she said. "We'll be publishing an update to our list — the ranking of our top charities — by the Tuesday after Thanksgiving at the very latest."
So, if you're wondering how to donate your money in ways that will go directly to helping those in the world who are in the most need, GiveWell can guide you.
Advertiser Disclosure
CardRates.com is a free online resource that offers valuable content and comparison services to users. To keep this resource 100% free, we receive compensation for referrals for many of the offers listed on the site. Along with key review factors, this compensation may impact how and where products appear across CardRates.com (including, for example, the order in which they appear). CardRates.com does not include the entire universe of available offers. Editorial opinions expressed on the site are strictly our own and are not provided, endorsed, or approved by advertisers.