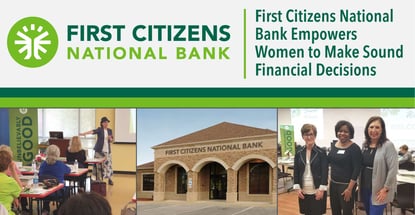 In a Nutshell: Since 1889, Dyersburg, Tennessee-based First Citizens National Bank has maintained a community-by-community focus in helping people build their financial futures in times of both economic success and distress. The bank has weathered change and continued to grow over the generations. In the process, it has dedicated itself to helping women in the markets it serves weather the personal financial impact of life-changing events like retirement, divorce, spousal death, and more. Through its Smart Women Program, First Citizens National Bank provides information and resources to empower women to make confident financial choices — earning the bank our 2019 Editor's Choice™ Award for Community Commitment.
Change is inevitable. And when life-changing events happen to people who are unprepared to deal with the financial implications, the impact can be worse. That picture is even more dire for women who sometimes lack the knowledge and the confidence to make sound financial decisions. Events like retirement, divorce, and spousal death can transform a life of comfort and security into a spiral of struggle.
Armed with their own research and experience on women and financial literacy, Judy Long and some of her female colleagues at Dyersburg, Tennessee-based First Citizens National Bank decided to take action — and the results promise to empower women for a long time to come.
In formal and informal conversations held at the bank, Judy and her colleagues started thinking seriously and specifically about how they could help women better utilize the bank's services — and, more generally, take control of their own financial lives in the face of unexpected change.
"We were talking about all the demographics we had learned," Long said. "Right now, we're looking at the baby boomers — a high transfer of wealth is going to occur in the country. We were thinking about our own likes and the fact that we were also reaching the age of thinking about retirement and how to plan for it."
Long and her colleagues realized that many women in their community weren't prepared to handle financial responsibility on their own when life's circumstances demanded it.
"And so we just decided, You know what? We're a bank. We think it's our responsibility to educate women. We need to start a program with the goal in mind of just helping women breach the financial literacy gap we identified in our conversations and in our own lives," Long said.
The result at FirstCNB is the Smart Women Program, which educates women in Tennessee to have the confidence to make financial decisions on their own behalf.
Maintaining a Community-by-Community Focus Since 1889
Long is President and COO at FirstCNB, which operates 25 standalone locations in 11 Tennessee counties.
With a reputation for "unbelievably good" service stretching back to its origins, FirstCNB works on a community-by-community basis to improve the quality of life and increase prosperity. Its diverse set of products and services for personal and business banking now includes mortgage, investment, and insurance services.
Given the extent of the change occurring over the bank's history since its founding in 1889, it's not surprising that Long and her colleagues decided to create a program to help area women cope with change.

The story of FirstCNB starts with just three employees at a state-chartered community bank known as Citizens Bank. A merger that took place during the Roaring 20s then created FirstCNB.
Out of the struggles of the Great Depression and World War II came a period of steady community improvement and bank expansion in the 1950s and '60s. In those years, FirstCNB introduced innovations like drive-in banking to help the bank keep up with changing times.
Ever since, FirstCNB has continued to refine its customer-centered mission, expanding into more counties and modernizing and diversifying its product line — even through the economic downturn of 2008-09, when many of its competitors were forced to rely on government bailouts to remain in business. On a sound footing through that crisis and beyond, FirstCNB innovates and expands as the financial services market around it changes.
The Smart Women Program Encourages Financial Confidence
In their conversations and research sessions, Long and her team realized that change continues to impact area women. They discovered, for example, that because women live longer than men, they need significantly more financial resources than men to support themselves in retirement. But because of longstanding demographic differences in employment status, most women aren't covered by pensions — forcing them to rely on Social Security as a primary source of income.
"Approximately one in four women don't have sufficient cash to maintain their household for two months if their spouse passes away," Long said.
They also found that women in their area who were younger than retirement age were much more likely to struggle to meet their day-to-day obligations as single heads of the household than men were.
"A total of 80% of single-parent families are headed by mothers," Long said.
And millennial-age women are emerging into these single-parent roles under the burden of the largest student loan debt any cohort has ever faced.
"Their incomes coming out of college are not going to support student loan debt repayments along with trying to live life," Long said.
Stacking the deck against women are sociological factors. "Other resources showed us that about 80% of women won't discuss financial matters with their family or friends because they're intimidated by it," Long said.
"Our research showed us that this type of program was needed and that we were really on track with the goals," she said. "We need to offer this to our mothers, our sisters, our family members, our friends, and neighbors. And we need to help them build confidence in managing their cash flow and investments."
By March 2018, the program was ready to roll out. Women gathered at McIver's Grant Public Library in Dyersburg to support each other and learn about Social Security benefits. A second session in May aimed to help women of all ages protect themselves against identity theft. Both sessions were met with full attendance.
Resource Partnerships & the Promise of Program Expansion
Under the endorsement of the American Library Association, FirstCNB partners with area libraries that serve as venues for the educational sessions. The association has also contributed resources.
"There is so much information available online," Long said. "In our partnership with the libraries, they put together a bookmarker listing websites about Social Security benefits and retirement planning — and just all types of links with educational resources for the Smart Women Program. We've given those bookmarkers out at every one of our sessions."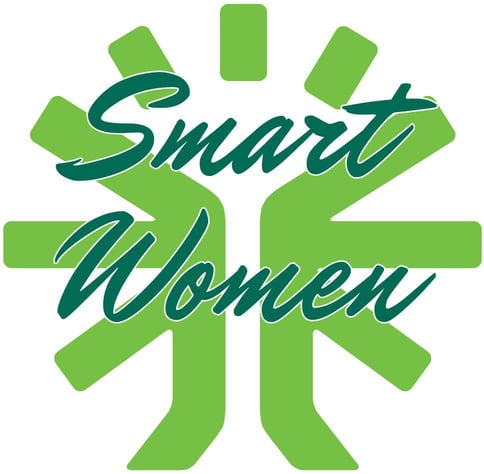 An August 2018 gathering at McIver's Grant covered long-term-care issues. In February 2019, the bank held a session on estate planning at Dyersburg State Community College Student Center.
The program then began to expand out of Dyersburg. In early April, Smart Women Middle Tennessee kicked off with a session on long-term care held at Williamson County Public Library. Plans to start Smart Women chapters in east and west Tennessee are also in the works.
Long said she sees many opportunities ahead in terms of topics covered and the number of sessions held.
"There's a big need for this type of education," she said. "I just hope that, as we offer these sessions, they show how much this bank cares about the women in our communities. We want to provide the resources they need to refocus their financial planning, and their lives, as they go through life-changing events."
"We want to be there when the stressors in their lives are at their highest point. And we want them to come to us to help them to form a plan. We want to be there to do that," Long said.
Advertiser Disclosure
CardRates.com is a free online resource that offers valuable content and comparison services to users. To keep this resource 100% free, we receive compensation for referrals for many of the offers listed on the site. Along with key review factors, this compensation may impact how and where products appear across CardRates.com (including, for example, the order in which they appear). CardRates.com does not include the entire universe of available offers. Editorial opinions expressed on the site are strictly our own and are not provided, endorsed, or approved by advertisers.