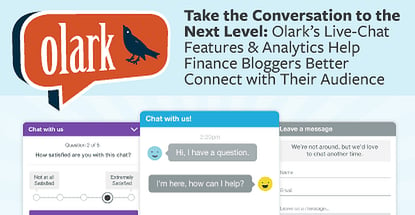 In a Nutshell: The informal and often anecdotal nature of a finance blog helps make it a powerful venue for talking about a stressful and personal subject like finance. However, as writers working on a digital platform, it can be challenging for bloggers to form the all-important human connection with their readers. Live chat software company Olark is helping to change that by providing a simple, effective way to communicate with visitors and answer questions in real time. With a variety of features, such as automated chat rules and topic tags, as well as comprehensive analytics that show you who's chatting when, Olark makes it easy to engage with readers one-on-one and determine what they really want to know. Connect with your audience and help humanize your finance blog with live chat from Olark. //
Once upon a time, whenever someone needed information on a challenging subject or the answer to a question outside of his or her expertise, they generally had one of two options: find a book, or find a professional (who, usually, had written a helpful book). Today, with the magic of the internet, we have a massive array of options for gaining knowledge — simply by hopping online and sending out a search query.
While the digital encyclopedias and informational pages provide the same dry, boring content we all remember so fondly from nights spent with textbooks in the library, the internet also provides something entirely new: the blog. Originally short for "web log," the modern blog is full of personal experiences, anecdotes, and (for the good ones, at least) a healthy dose of well-researched educational information. Yes, in many ways, reading a quality blog is almost like the ideal blend of a good book and a personable professional.
Of course, that "almost" is a hard gap to cover. At the end of the day, it's difficult for anyone on the internet, even a great blogger, to create the same type of human connection and individual experience possible in the offline realm. And when you happen to be a finance blogger, dealing with a subject seen as simultaneously boring and highly stressful, a key part of your success can come from forming that important connection with your readers.
For the founders of Olark, a live chat software company started in 2009, helping businesses create that connection is what it's all about. To date, Olark has helped more than 10,000 SMBs better serve and engage their customers with its real-time online chat platform.
"Olark's primary mission is to make businesses human," explained Karl Pawlewicz, Head of Communications for Olark. "As the world of customer support and sales becomes ever more digitized, we look at chat as a way for businesses to connect with customers in a human way. Chat is immediate, it is personable — it's a way for a company to have as close as possible human online interaction as you can get, short of a video conference."
Olark offers a range of features and customization options, along with a variety of analytics to make the most of the platform. The software also scales with your needs, offering packages ideal for the single blogger as well as a thriving ecommerce site.
"The Olark platform is super simple. We've always wanted this to be a platform that works well for all SMBs," said Karl. "It's all geared at trying to increase the number of conversation touch-points that a business owner has," said Karl, "toward trying to make it more efficient and effective at talking to customers — and helping to close more sales and increase conversion."
Chat with Visitors & Answer Readers' Questions in Real Time
A large part of Olark's success is due to the easy-to-use platform and simple integration, which was designed to be implemented and maintained by any website owner, regardless of his or her level of technical expertise.
"Olark is a platform that non-technical users can implement easily. When you signup for an account, we give you a code that you can copy and paste on your website. And, once that's done, a small chat bubble opens up on your website — and you're up and running." Of course, a super simple cut-and-paste installation only does you so much good if you don't have access to your code — but don't despair. Olark has a simple solution for those whose websites are based on one of the many popular blog-building platforms, too.
"There are a lot of websites that are built on other platforms, such as WordPress, and, in those cases, we offer a widget so that you can simply go into your dashboard and activate the Olark chat tab on your site," said Karl. "We work with different partner platforms and we have a lot of help-desk documentation for those who don't have access to the full HTML code of their site."
That said, just because installation is so streamlined doesn't mean you won't be able to customize your chats. "I really tell people, it can be as simple or as customized as you want it to be," Karl said. "A lot of SMBs just want to put it on their site and let it run, and not do much with it. Then, a lot of other business owners want to dive into it with our API or other customization options. They can change features, like the color and the language in the chat bubble, and set certain automated things at certain times. Depending on your technical comfort level, you can make it as customized as you want it to be."
Not only will you not have to hire a programmer to install Olark, but you won't be chained to your desk around the clock, either. The Olark platform allows you to turn the chat tab into a simple email form after hours to ensure you get to eat, sleep, and keep creating that killer finance content.
"You can set it so that, when you log out of your chat, the bubble becomes something that says, 'Sorry, I'm not here right now but you can email with any questions,'" said Karl. "That way you don't have to always be on. You can still capture leads and get questions and get feedback without actually having to be logged in and dedicated to chat. Because when you're logged in, you're live — and you should be there ready to talk to people."
What's more, you don't need to wait for the reader to ask you a question to engage them with the Olark platform. The targeted chat rules feature allows bloggers to set automated triggers that activate specific chat messages depending on specific criteria. The automated rules are a great way to see which articles are engaging your readers — and which are falling flat.
"I might have made an 1,800-word article on credit scores, and I think, 'Everyone on my site wants to read this,'" described Karl. "So, I go ahead and create an automated rule on my blog that orders my chat bubble to expand a message on this anytime somebody is reading an article for more than a minute. The chat bubble would then pop up with a question like, 'Thanks for reading! What questions can I answer for you?' What you might find is that more chats are happening on an article about cash back rewards than the article about credit scores. This might indicate a.) perhaps you should write more content on cash back rewards, or b.) your article about credit scores could be edited to be more engaging."
Find New Content Topics & Popular Questions Through Custom Analytics
Of course, examining engagement through automated chat rules is the tip of the analytics iceberg that is Olark. You can see who is chatting, how often they're chatting — and about which topics.
"We offer Olark Reports. These include which hours of the day are you busiest, which days of the week. If you have more than one operator, it shows you which operator is busiest. We also have what we call chat ratings, which show you whether or not your customers are liking the experience they're getting. You can also see which topics people are chatting with you about, as your operators can tag every conversation with a topic tag. Then, you can go back and see what topics are coming up most often."
Want to see what your customers and operators are actually saying? Olark offers the ability to capture transcripts of every chat. "You can come back and review customer conversations, and get qualitative data from those interactions, so you can better understand what your customers are saying — or what your operators might be saying to customers. You'll have information to improve the experience you provide." Additionally, pairing topic tags with conversation transcripts can be a powerful tool in deciding what to write about next.
"Going back to your transcripts and your conversations regularly will yield some interesting insights into what your customers are most interested in," said Karl. "For example, if someone in a chat says, 'I don't understand credit scores,' then you can make a pretty safe assumption you can write a blog post about how to understand credit scores and attract a lot of traffic — and, maybe, head off some people at the pass, before they try to chat with you. In that case, you're actually decreasing your chat volume by providing better documentation or better content on your site."
Regardless of your specific motivations for trying chat on your blog, however, Karl recommends you know them before you get started. "First and foremost, you should know what you want to get out of it — before you ever put it on your site — so you can measure that it's actually doing what you want it to do," he explained. "We really advise people who are trying chat for the first time to roll it out as a sort of controlled experiment."
Karl suggests enabling chat on your site for a week or two initially, to get an idea of how many chats you actually receive, and how much time and effort those questions take. While you may find an initial rush of chats from novelty seekers, you may find your actual chat needs to be less than you originally anticipated.
"Are people on your site asking you where the checkout page is located, or are people asking you to walk them through how to go over their credit report? That's a heavy question — you'll probably spend 10 minutes chatting with someone about that," said Karl. "Once you run chat on your site for a week or two, I think you'll get a good sense of, 'Is this working for my business goals? Is this achieving what I wanted to achieve, or is it just not really working? Should I just stick with email?'"
Olark Helps Engage Otherwise Passive Visitors
While it may seem to some to be ancient history, there was a time before the internet (pause for shocked protests). During those dark days, knowledge was gained through the increasingly archaic methods of book-based research and human conversation. Now, with just a few taps on the keyboard — or touchscreen — you can find information on nearly any subject you can imagine.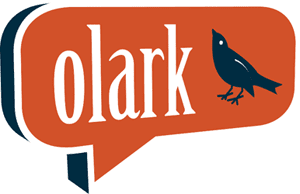 For those who seek the personal connection of an offline interaction, however, the internet can be a cold place indeed — unless you have Olark. Yes, when it comes to the digital world, Olark's real-time, live chats between you and your readers can be the next best thing to an in-person conversation (better, depending on who you ask). And with an array of new add-on integrations coming out this year, Olark is only getting better.
"We recently started supporting an integration with PerformLine to enable regulatory and brand compliance. You can send chat transcripts to your PerformMatch dashboard for QA monitoring and compliance issues," revealed Karl. "We also have an integration with MailChimp that's coming out soon. If you have a mailing list already built and you want to add the person you're chatting with, you can do that with the new MailChimp integration."
Advertiser Disclosure
CardRates.com is a free online resource that offers valuable content and comparison services to users. To keep this resource 100% free, we receive compensation for referrals for many of the offers listed on the site. Along with key review factors, this compensation may impact how and where products appear across CardRates.com (including, for example, the order in which they appear). CardRates.com does not include the entire universe of available offers. Editorial opinions expressed on the site are strictly our own and are not provided, endorsed, or approved by advertisers.