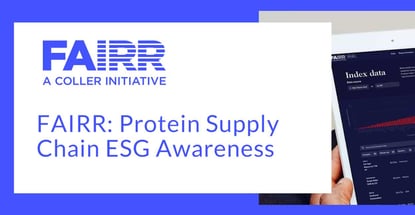 In a Nutshell: When it comes to sustainable and environmentally sound practices, intensive animal production raises numerous red flags, according to experts. The FAIRR Initiative is an investor network dedicated to illuminating these issues to help solve significant problems within the protein production chain. Not only does the initiative aim to bring about better practices, but it seeks to raise awareness and accountability from an investor perspective to protect returns. FAIRR produces an array of research, benchmarking tools, and best practices material. It also engages with companies all along the protein production chain to challenge them to build a more sustainable future and reward companies that prioritize the environment.
People have been avoiding factory-farmed meat for ethical or health reasons for years, but now science is showing how reducing the country's reliance on intensive animal agriculture goes beyond animal rights or heart health.
It could save the planet.
Meat and dairy provide only 18% of calories and 37% of protein while using 83% of farmland and producing 60% of agriculture's greenhouse gas emissions, according to an article published in The Guardian. Additionally, humans and livestock make up a whopping 86% of all land mammals. Much of that consists of intensive, factory-farmed meat producers.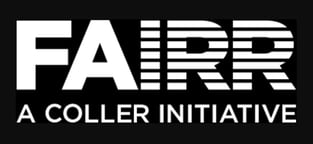 The COVID-19 pandemic has also revealed an array of shortcomings — from ethical and safety standpoints — across numerous aspects of societal infrastructures, including the modern meat industry.
But none of this is news to the FAIRR Initiative, a global network of investors addressing environmental, social, and governance (ESG) issues in protein supply chains. The initiative began in 2015 with a strong focus on the animal agriculture industry.
"Our Founder, Jeremy Coller, felt there was a real disconnect and a real lack of information available in terms of helping investors to fully understand and quantify some of the longer-term risks in the space," said Teni Ekundare, Outreach Manager at FAIRR.
We recently spoke with Ekundare about how FAIRR helps investors identify risks, the initiative's in-depth research, and how it engages companies on animal production issues.
Material ESG Risks from an Investor Perspective
With so many issues to consider when it comes to animal agriculture, factory farming, and protein supply chains, Ekundare explained FAIRR's positions and its role as an investor network.
"When it comes to looking at the agricultural industry, I like to stress that it's not just about animal welfare, but, obviously, this is a very important thing for us," she said. "But we are looking at this from an investor's perspective as well as exploring how we can actually help these industries become more sustainable and really operate."
So, while animal welfare is a factor FAIRR takes into consideration, it's not the only factor. Ekundare said some of the other considerations the initiative looks at includes antibiotic usage, working conditions, and even unionization rules.
"No investor would ignore ESG risks in sectors like coal or cars," according to the company. "Yet in one of the world's largest sectors — food — investors are often blind to material environmental and social issues shaping the industry, particularly in relation to animal protein production."
FAIRR helps investors exercise their influence as responsible stewards of capital while safeguarding the long-term value of their investment portfolios.
"Our mission is to build a global network of investors who regard the issues linked to intensive animal production and seek to minimize the risks within the broader food system," according to the organization website.
FAIRR works to illuminate ESG blind spots for investors, and, in turn, protect their returns and build a more sustainable food system.
Ekundare also addressed the COVID-19 pandemic and how it has brought some of the issues to the forefront that have long been important to FAIRR.
"People have so much more awareness of the link between the animal agriculture industry and zoonotic disease," she said. "It's terrible that this is happening. It's encouraging to see that it's raising awareness. There's more pressure being put on these companies to actually change."
How FAIRR's Research Helps to Identify and Prioritize Important Factors for Smart Decisions
Publishing research and other informational material is one key approach the FAIRR Initiative takes in raising awareness about protein supply chain ESG risks. This includes research conducted by FAIRR as well as analysis, benchmarking tools, and best practice materials.
"We have a flagship index of 60 companies that we look at," Ekundare said. "In coming up with those companies we talked to over 50 issue experts, and we've talked to a whole raft of investors in this industry."
These discussions sought to identify the companies for the initiative's index but also to discover where the disconnects exist between the information the initiative believes is critically important for investors and the general knowledge that exists in the public, she explained.
Using these discussions and its index as a jumping-off point, FAIRR makes available a wide range of resources.
"The Coller FAIRR Climate Risk Tool is the first of its kind, enabling investors to assess the potential downside risks and upside opportunities of 40 of the world's largest animal protein producers in a 2-degree global warming scenario," according to the website.
The initiative frequently publishes reports on a wide range of pertinent issues for its members as well.
"Our research helps the capital markets understand the material ESG issues linked to livestock production and aquaculture, and assesses new investment opportunities where they arise," according to FAIRR.
FAIRR also makes available its innovative and unique Coller FAIRR Protein Producer Index, the world's first comprehensive assessment of the largest global animal protein companies on critical environmental, social and governance issues, according to the organization.
Collaborative Investor Engagement with Companies on Key Issues in Intensive Animal Production
Ekundare said that FAIRR not only helps educate investors, it also engages companies to encourage positive change.
"It's a case of us trying to work all along the production chain and the value chain when it comes to animal agriculture," she said. "From the farm to food, basically, and trying to encourage and stimulate more sustainable operating practices."
This includes looking at food processors and manufacturers as well as consumer-facing companies and consumers.
"We will engage with the retailers or the restaurant chains as well and ask, 'What are you doing along your supply chain to try and encourage more sustainable practices? What are you doing when it comes to the emissions of your suppliers? What is your supplier policy when it comes to water usage?'" Ekundare said.
FAIRR facilitates these collaborative investor engagements with companies via joint letters and briefings, according to the company website.
"Our engagements are supported by investor coalitions with trillions of dollars of assets under management and encourage companies to improve their management practices in order to protect returns," according to FAIRR.
Ekundare highlighted how FAIRR has recently engaged with some of the largest global food retailers on issues surrounding sustainable proteins.
"We engaged with the companies in terms of how they are actually addressing the potential industry disruption for the meat processors when it comes to selling protein," she said. "How are the likes of Amazon, Whole Foods, Kroger, or Costco trying to encourage consumers to switch to more sustainable meat protein sources?"
Sustainable proteins, meat sourcing, antibiotics usage, and protection of the Amazon rainforest soy moratorium are among FAIRR's current engagement priorities.
The FAIRR Initiative's research and engagement efforts cover important ground that's often overlooked in the world of investing. And it just might help us build the infrastructure for a more sustainable future as well.
Advertiser Disclosure
CardRates.com is a free online resource that offers valuable content and comparison services to users. To keep this resource 100% free, we receive compensation for referrals for many of the offers listed on the site. Along with key review factors, this compensation may impact how and where products appear across CardRates.com (including, for example, the order in which they appear). CardRates.com does not include the entire universe of available offers. Editorial opinions expressed on the site are strictly our own and are not provided, endorsed, or approved by advertisers.