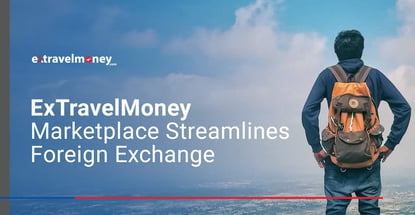 Our experts and industry insiders blog the latest news, studies and current events from inside the credit card industry. Our articles follow strict editorial guidelines.
In a Nutshell: Banks and money changers often compete for business in India's robust foreign exchange market. ExTravelMoney is an online portal that allows consumers to cut through the clutter and find the best deals. Customers quickly register and choose exclusive wholesale rates from more than 25 top forex providers, with additional savings available through convenient travel cards. Low booking fees, door delivery, and seamless customer service make ExTravelMoney a mainstream choice for consumers from India living and studying abroad.
Banks and licensed money changers are India's traditional sources of foreign currency exchange services. Millions living and studying abroad work with family members back home to convert rupees into other currencies and send money via wire transfer to foreign bank accounts or directly to colleges and universities as tuition payments.
The global currency market drives exchange rates and forex service branches add processing fees. Traditionally, finding the best prices required contacting providers individually — a process customers would have to undertake regularly to stay current.
Then, there's the complexity that the Indian government adds. Providers must check passports, photo IDs, government documents, and airline flight tickets to verify their intended travel times.

ExTravelMoney is India's largest online platform for streamlining the forex process. It partners with more than 25 leading providers, so customers can quickly compare rates by location, make an informed choice, and book orders online. It also provides an expert customer service team that manages the required documents.
The platform offers better rates than those offered by individual banks and money changers. Providers traditionally charge a high percentage in addition to the exchange rate and add a high transfer fee. ExTravelMoney's exchange rate margin is lower, so it undercuts the processing fees individual providers charge.
ExTravelMoney uses location services to help customers find forex pickup offices nearby and can even deliver funds to their door. Customers can save more money when they choose a travel card option.
"There's a lot of red tape with respect to money transfers from India," said Subhash Sivamani, Marketing Manager at ExTravelMoney. "Our team sorts out the issues and makes the process easier."
Save Through a Convenient Online Marketplace
The ExTravelMoney currency exchange experience begins with a quick online registration. Thomas Cook and Unimoni are among the partner exchange houses on the platform.
These providers compete in the marketplace for business they obtain from ExTravelMoney. They have agreed to offer wholesales rates that are not available directly to customers who work with them.
More than 6,500 pickup locations and door delivery services help customers fit the forex process into their busy lives. But when they choose to load their funds on forex travel cards, they gain additional savings and convenience.
Forex cards offer better exchange rates that are locked in and protected from fluctuation. International locations and ATMs accept forex cards as conventional debit or credit cards. Users can carry multiple currencies simultaneously, and transferring funds back to an Indian bank account requires only a quick branch visit.

Customers save on money transfers too. Efficient wire transfers occur via the SWIFT electronic messaging network and are available for account access within three days.
ExTravelMoney Chief Marketing Officer Nisanth Isaac said extra margins on money transfer fees may increase the total cost of doing business with individual exchange houses by as much as 4%.
"Most people are not aware of the charges. They just go to the bank," he said. "That's where we come in. We're educating customers on how the system works and how they can bargain and get a better rate."
ExTravelMoney also offers protections to assure transactions are processed at the rates customers expect. Prices are locked for an entire day to mitigate dramatic fluctuations in exchange rates. Customers can also pay a refundable rate lock deposit to guarantee rates for up to three days.
Transfer Funds on a Secure and Transparent Platform
India is a modernizing nation. But it still struggles with bureaucratic traditions that entangle currency exchange and money transfer in a web of regulations. ExTravelMoney adds value for customers by helping them manage the system's complexities.
Customers who need to make a money transfer while they are abroad will need to present an Indian passport, a valid visa, a confirmed airline flight ticket showing travel within 60 days, and a card that proves tax status, among other documentation.
Documents are verified at the bank or money changing branch providing the transfer service. Customers must also sign documents indicating they have not exceeded government-stipulated transfer limits.
"You usually have to visit a particular branch to gather the details and then go back home to gather the appropriate documents," Sivamani said. "The bankers often find flaws that can make the process very long and drawn out."
Watch on
Parents with students studying abroad are chief users of ExTravelMoney services, and the platform maintains a specialized team to address service issues for those customers. Consultants are available via phone, email, and WhatsApp. Isaac said ExTravelMoney's special status helps transactions process smoothly.
"Bankers sometimes take days to process these transactions," he said. "Because we have a centralized relationship with the banks, they quickly process the business we route to them."
ExTravelMoney also protects transactions and customer information and communicates costs. All financial partners — including the platform — are official government registrants that meet regulation compliance and are trustworthy. They also update exchange rates every two minutes.
ExTravelMoney keeps customer information secure on the platform and only shares data with partners relevant to the transactions. It never sells data to third parties for marketing purposes.
A Full-Service Currency Exchange Provider
ExTravelMoney also serves parents and students with direct tuition fee payments. After customers complete online booking and identification verification, funds are disbursed directly to colleges and universities abroad via a digital transfer and settlement system.
The ExTravelMoney team chooses the transfer system that executes the quickest transaction, and institutions receive payment within two working days.
Regulations for processing student payments may be stricter than those for nonstudent transactions. Student payments require verification of university account details and documentation of the payment amount.
And the process can be further delayed when banks handle the transactions. ExTravelMoney goes the extra mile to streamline the task and get funds moving to their destination. That helps parents save an additional 0.5% on tuition and maintenance money transfers for their students.
"We make sure payments reach schools on time," Isaac said.
ExTravelMoney is an advocate for continual simplification of India's currency exchange and money transfer system, arguing in public forums in favor of moving the process entirely online.
"If the rules change, we can make the process easier for our customers," Sivamani said.
ExTravelMoney also acts on customer feedback to add value and improve its service experience. It has excellent ratings on the Trustpilot review platform, attesting to its commitment to effectively serve India's traveling population.
That includes adding efficiencies to the existing system and responding to customer feedback regarding new product offerings. For example, ExTravelMoney now partners with Thomas Cook to offer a travel card with built-in currency exchange features.
"We aim to ensure that every Indian who travels or studies abroad easily finds the most favorable solution for moving funds to their destination," Isaac said.