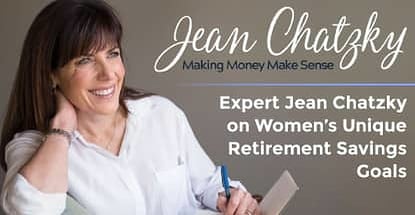 In a Nutshell: Over the course of the last century, the role of women in the global economy has steadily grown, with women today holding 30% of the total private wealth. With that growing wealth, however, comes growing responsibilities — including the responsibility women have to themselves to create their own financial security. We talked to financial expert Jean Chatzky about how women can adapt to longer lives, a pay gap more akin to a chasm, and caring for their families so they can take greater control of their own financial security and reach their unique retirement savings goals for brighter financial futures. //
The history of women in the workforce is a long and tumultuous one, stretching back thousands of years to the vendors and hawkers of ancient markets. Despite those millennia of working side-by-side with men, however, the vast majority of the world's wealth has always rested in men's hands.
Finally, however, it seems that times may be a-changin' — at least, to a degree. New laws and greater educational opportunities over the last century have helped women take an increasingly more prominent role in the workforce — and claim an increasingly larger portion of the global wealth.
Today, women hold roughly 30% of the total private wealth, a figure expected to increase to 32% by 2020. And that number is only going to grow over the decades to come.
While not at lightning speed, the role of women in the global economy is undeniably growing, which unlocks a lot of opportunities — but poses a few challenges, as well. Perhaps chief among those challenges is the need for women to take control — many for the first time — over their own financial futures.
"What I've found in my research is that women tend to have an underlying need for financial security," said Jean Chatzky, financial expert and best-selling author of AgeProof: Living Longer Without Running Out of Money or Breaking a Hip.
"When you ask women what we want from our money, security is paramount. It's not about the gains, necessarily, and it's not about the wins — it's about security and control. And that represents itself in a lot of different ways for different women."
But although many modern women now have access to the same financial education resources as male workers, resources developed for men may hold less value to women, whose unique financial needs and goals often require a different approach.
Longer Lives & A Yawning Pay Gap Mean Women Need More Aggressive Savings
Of course, procedurally, building a financial portfolio as a woman is not inherently different than building one as a man. There are no his and hers stocks or bonds, and the basic methods for investing are the same no matter your gender. No, the real difference lies in the numbers.
"It's not that there are particular stocks that women need to buy or particular mutual funds in which they should invest," said Chatzky. "It's that women live longer than men — approximately seven years longer, on average. It's that we tend to earn less — the pay gap is still way too large for most women. And, it's that we're the ones more likely to dip in and out of the workforce to care for children or aging parents."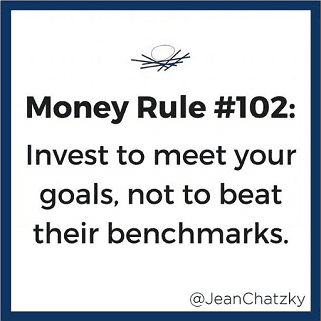 As a result, women not only need to save more money overall to accommodate longer lifespans, but they also need to do so while earning significantly less money than their male counterparts.
"What that argues for is more aggressive savings and an investing strategy that takes into account your longer time frame," said Chatzky. "The general guideline that I give is to make sure you are saving at least 15% of whatever you're earning, all along the way."
While maintaining a 15% savings rate is more difficult when your time in the workforce is sporadic, you can adapt your savings to meet your employment levels by saving a little less during years you aren't working, and saving more aggressively during years you are steadily earning.
And don't forget to take charge of your portfolio to ensure the savings you are putting away is actually working for you — not just the other way around. But that doesn't mean cherry-picking stocks and hoping for big returns when your favorite designer launches an IPO.
"For me, it's not about picking winning stocks," said Chatzky. "Instead, it's all about asset allocation — and the research backs that up. It's your mix of investments that matter most, not the individual investments in that mix."
The Path to Financial Security Includes Taking Risks at the Right Time
So, what should that mix look like? Chatzky says the same investment approach used by many male investors — to take on a higher risk level when you're young and taper it as you age — holds true for female investors, as well. However, she warns against eliminating the risk entirely when you retire.
"We've all been told to take the most risk with your money when you're young, and to ratchet that risk down as you get older," she said. "But, even in retirement, you need money in the stock market, not only to give you growth but also to account for costs like inflation and taxes."
Chatzky also recommends taking additional steps to protect your income after retirement.
"Once you're in retirement, you may also want to think about protecting your income by purchasing some sort of an income solution that will cover your fixed costs, like a simple, immediate annuity."
But, where is the line? At what point does taking investment risks stop being a good idea? As Chatzky explains, there is no point in an investor's life when he or she should shift from a riskier portfolio to one that eliminates that risk. Instead, she describes the process as a curve.
"When you think about a 20-year-old who has all the time in the world to weather the ups and downs of the market — if they had 90% of their money in stocks, it would be fine," she said. "But, as you age, it should taper off, and it should taper off all through your financial life."
And that doesn't apply solely to your investments for retirement, but to any more individual, short-term investments, such as paying for your children's education or purchasing property. The closer you get to your goal, the less risk you should take on.
Using the Right Tools Can Help Keep Savings on Track
Although they may have come later to the game, all signs indicate that women actually tend to be better investors than men, with female investors out-earning males for most of the last decade. But that investing acumen can only take you so far; you also need to save.
"For a lot of people, the hurdle is not investing — the real hurdle is saving in the first place," said Chatzky. "And the very best way to save is automatically."
Luckily, today's digital world is chock-full of tools to help consumers save, including a gluttony of mobile apps with something for nearly any budget and savings style. Some of Chatzky's favorites? She recommends Digit and Acorns as great ways to save without a lot of active work, as both apps do your saving for you behind the scenes.
When it comes to investing, Chatzky says, if you're lucky enough to have a retirement plan at work, then your best bet is likely to use the tools offered by your plan's provider to get on the right track.
Even if you're investing on your own, however, most investment platforms offer their own internal tools for tracking and optimizing your investments. And, you guessed it, there's even an app for that, including Chatzky's recommended Stash app that helps you start investing with just $5.
Closing the Wealth Gap, One Investment at a Time
Over the last 100 years, women's roles and responsibilities have grown at a remarkable rate — but there's still a long way to go. And along that journey, there are both opportunities and challenges.

As women gain a greater foothold in the global economy — and amass a larger portion of the global wealth — they'll need to learn to take charge of their own financial futures to build the financial security they need for healthy, happy lives.
But they don't have to do it alone. An abundance of resources are out there to help savers of all sexes learn to make the most of their money.  For example, you can check out Jean Chatzky's website, HerMoney podcast, and best-selling books for more wisdom on saving, investing, and preparing for retirement. Chatzky has also recently acquired the popular women's guide to money and business, DailyWorth.com, with the goal of continuing to grow the site's community of financially savvy women.
Advertiser Disclosure
CardRates.com is a free online resource that offers valuable content and comparison services to users. To keep this resource 100% free, we receive compensation for referrals for many of the offers listed on the site. Along with key review factors, this compensation may impact how and where products appear across CardRates.com (including, for example, the order in which they appear). CardRates.com does not include the entire universe of available offers. Editorial opinions expressed on the site are strictly our own and are not provided, endorsed, or approved by advertisers.