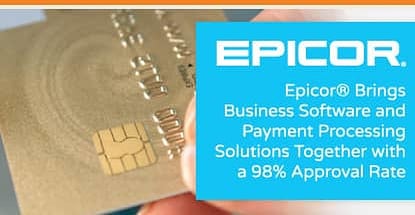 In a Nutshell: Credit card processing is an essential piece for many businesses and their software needs go beyond simply accepting payments. Epicor provides specialized business software solutions and high-security payment processing services as a one-stop shop for leaders in a range of different industries. Covering specific sectors within retail, manufacturing, and distribution, Epicor's software is designed to help business owners manage tasks of day-to-day operations. The company's combination of software and hardware technology make it a future-ready option for businesses of all sizes, from SMBs to global enterprises. //
Any business owner knows the feeling the settles in the pit of their stomach when a credit card processor goes down or another piece of essential software is on the fritz. You can close your eyes and see the rest of your day float away as you juggle between customer service and tech support for each malfunction. It's akin to the feeling you get when you see the invoice that shows just how much you're paying for those processing and software services.
Epicor is a business solutions company that takes all of those potential hassles and delivers a one-stop service that will resolve all of these on one phone call. A solutions software company at heart, Epicor offers its Payment Exchange processing service at interchange-plus pricing that extends potential savings to its US-based customers. A majority of Epicor Payment Exchange clients fall in the retail sector, with a current emphasis on hardware, lumber, and lawn/garden.
"The savings comes from a few different areas," said Shay Smith, Senior Manager for Epicor Payments. "We strive to share lower processing costs with our customers. We're a little unique in the processing industry in that this is not our core business. We're in the software business."

The company's list of software offerings is expansive, from inventory monitoring to packing and shipping, and other programs to increase productivity and decrease downtime. New customers enter the program with a typical setup process that, according to Shay, offers a 98% approval rate.
Epicor offers discounts on software support costs for any business that uses its Payment Exchange service. With a staff of 14 customer service representatives in two support centers who can help with any platform issue with one call, eliminating the need to be shuttled from department to department to fix problems.
Payment Exchange — Business Solutions Based on Simplicity, Transparency, and Service
More than five years ago, Epicor began its Payment Exchange processing program upon what Shay describes as the company's three guiding principals.
"We want to simplify integrated credit card processing, provide fair and transparent pricing, and deliver a one-stop service that our customers depend upon," she said.
Payment Exchange is just one facet of Epicor's offerings, but it's a big one for any SMB currently paying large fees to their current processor. Payment Exchange handles the authorization, settlement, and reporting of credit and debit transactions. The service includes a virtual terminal that allows the owner to charge (or refund) a card from any web-connected browser in the world.
The browser-based dashboard allows the business owner to view all recent transactions immediately, before the monthly statements are published. The software is PCI compliant, meaning that it has passed the Payment Card Industry Data Security Standard for storing, processing, and transmitting cardholder data.
"Our sensitive customer data, like name, credit card numbers and expiration dates, don't really come under the [Epicor Eagle POS software system] anymore," says Virgil Cox of Cox Hardware in Houston. "It stays out on the cloud where the authorization is happening. So really, there is no data to be taken because it is never there. From a PCI standpoint, that is great. Epicor provides its PCI compliance certificate, and I don't have to pay for that. It's part of the deal, which is a huge benefit."
Another benefit that Virgil hailed was the ease of use of the company's software as well as the Interchange-plus pricing that charges a flat rate, plus a small processing fee, for transparent charges.
"What we do with our pricing is really Interchange-plus," Shay said. "So we're passing on the association pricing to customers, and we're basically charging them a small percentage on their credit card processing and authorization fees. It's very easy for a customer to tell what we're charging and what they're being billed by the association."
For Virgil's business, the pricing strategy took a lot of the guesswork out of his monthly statements.
Getting Started — Solving Two Problems with One Call
Since Epicor's aim is to provide a one-stop shop for business owners of any size, the company has focused on making the chain of command for any software or hardware issues as small as possible.
"Epicor is very unique in that we have one phone number for our credit card processing customers to call that gives them service for both their credit card processing and their software processing," Shay said. "So they're talking to the same person."
To set up payment processing, an Epicor tech specialist logs on remotely and securely to the client's ERP system. They assist the client with entering their credentials and the setup is complete.
"We also help our customers by offering lower software support costs and lower licensing costs if they chose to process with us," Shay said. "We're giving them savings in a few different areas that other companies within the credit card processing space generally cannot do and generally do not do."
Security and Compliance — Putting SMB Owners at Ease
Every business owner knows an important aspect of maintaining a customer base is securing all sensitive information — that includes credit card, banking, or other personal notes necessary in a typical transaction. Epicor has taken these concerns to heart with its efforts to make the company's processing software one of the safest in the industry.
"Epicor has a large level-1 PCI compliant gateway that we've built in the last five years," Shay said. "Our customers use that process with Epicor Payment Exchange. The gateway offers connections to several other major processors in the industry."
Epicor offers a Hosted ERP solution that removes the system from the customer's physical location. Using a Hosted solution simplifies PCI compliance. This is possible because Epicor's hosted solution involves storing encrypted customer information on the company's secure cloud structure, and not within the customer database. That eliminates and potential security issues on local machines and delegates that job of security to Epicor's systems.
That job never ends, as PCI compliance has become a moving target over the last several years. As new threats and security issues arise, the standards to which card processors are held also change. Epicor Eagle N Series software was built to be "future ready" with the growing demands of business owners and compliance issuers.
"What's unique about our gateway is that we offer our customers security services, like tokenization and point-to-point encryption, that are unique to Epicor," Shay said.
Tokenization is an added process that creates a random token number that replaces the card number and is used for each transaction. It's considered to be one of the strongest security measures in the industry, as the randomized token is never repeated.
More Than 40 Years of Experience Goes Into Epicor's Business Solutions
Epicor's vast offerings within the retail and industrial business management sector make it an attractive partner to many small- and large-sized businesses. While payment processing is but a small part of the company's profits, it takes security and reliability seriously.
The company continues to inform its current and future endeavors by its three founding principles: simplify integrative credit card processing, provide fair and transparent pricing, and create a one-stop service for its customers.
As the company's offerings expand, Shay says its focus on bringing in a diverse client base will also increase.
"We want to focus on the cloud more in the future," she said. "We're looking to expand Payment Exchange to our business solution customers. We also plan to move further into the lumber, automotive, and manufacturing segments."
As the offerings increase, the savings passed onto customers also improve. The company's solutions allow business owners to wear fewer hats during the day-to-day operations and focus more on the things that mean most to them, like creating an improved customer experience.
Advertiser Disclosure
CardRates.com is a free online resource that offers valuable content and comparison services to users. To keep this resource 100% free, we receive compensation for referrals for many of the offers listed on the site. Along with key review factors, this compensation may impact how and where products appear across CardRates.com (including, for example, the order in which they appear). CardRates.com does not include the entire universe of available offers. Editorial opinions expressed on the site are strictly our own and are not provided, endorsed, or approved by advertisers.