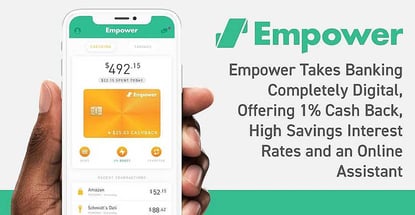 In a Nutshell: The grand days of the brick-and-mortar banking institution are going by the wayside with the rise of online banking and digital services. And Empower is front and center in this digital shift. The new company is an all-digital bank that can give customers certain advantages not always available at traditional banks, including 1% cash back on checking accounts and higher interest rates on savings accounts. Empower's digital assistant monitors your funds 24/7 and offers financial tips and solutions. The bank also understands the importance of security and has built its own secure infrastructure from the ground up. //
Bank structures used to be grand institutions — all shiny marble floors, towering pillars, and high ceilings evoking the utmost sense of sturdiness and security. Very official tellers sat behind very official windows handling your money with a friendly but serious sense of duty.
A trip to the bank was an experience.
Such grandiosity was no accident. Banks wanted its customers to feel confident in knowing that they were storing their money in a very secure and responsible place.
Over the years, with the rise of ATM services and, more recently, online banking options, the need to actually go into a bank has diminished. Likewise, newer banks aren't built with the same magnificence as they once were, and customers often see having to visit a bank as a hassle rather than an adventure.
Empower CEO and co-founder Warren Hogarth observed that the need for physical bank branches was diminishing with the rise of technology. He also believed some traditional bank lending practices — like requiring an established credit history — was becoming outdated as well.
"I'm an immigrant and when I came to this country, I didn't get a credit card or credit early on because I didn't need it," he said. "To me, people would lend to me in the future because I'd been responsible and hadn't needed credit, not the fact that I had to go and build a credit history by borrowing money."
These observations eventually led to the launch of Empower, a completely online bank that offers customers certain benefits, such as higher interest rates on savings accounts and a digital assistant, that aren't always readily available through brick-and-mortar institutions.
With No Physical Infrastructure, Empower Brings Efficiencies and Bigger Returns to Customers
Prior to co-founding Empower, Hogarth was a partner at Sequoia Capital, where he saw companies like Square and Stripe start from scratch and become important service providers in their industries.
"It was great to see these wonderful companies get built that provided a much better experience for consumers, small businesses, or developers," Hogarth said. "And I had just been blown away in my own personal experience when it came to banking — like every bank had missed the mark."
He took his venture capital experiences and started Empower, then sought feedback about people's banking experiences from across the country. He said the company found that people said they felt their banking experience lacked personal service, and that they were often being taken advantage of.
"We thought there was an opportunity to build a completely new kind of banking platform," Hogarth said. "We wanted to build a new experience for consumers that was led by great design and by building our AI-powered assistant."
Hogarth said Empower was able to rip out most of the costs associated with traditional banking and pass on a lot more perks to the consumer by starting from scratch and building its own software from the ground up.
He said those perks include 1% cash back on the first $1,000 customers spend using their Empower debit card each month. And there is no monthly fee, account minimum, overdraft fee, or insufficient fund fee associated with the checking account. Empower also has a network of more than 25,000 ATMs that are free to use. Savings account holders will also earn 1.85% APY with no monthly fee or account minimum required.
For Hogarth, the convenience is also key.
"We don't have any branches or physical infrastructure whatsoever," he said. "We are able to do all of the things like identity verification, fraud detection instantly through our software. So that just massively simplifies it. We don't have any of this legacy infrastructure."
Hogarth said another advantage of Empower is that customers can be up and running almost instantly. He said a customer can sign up while they are sitting in a coffee shop and three minutes later, they can pay at the register using their new Empower account.
Empower's Digital Assistant Gives 24/7 Financial Support, Identifies Problems, and Offers Solutions
"One of the advantages of the digital assistant software is it can actually be better than a human at a number of things," Hogarth said.
The assistant actually monitors customer accounts on a 24/7 basis, he said. Not only does it look for fraud or other suspicious activity, but the digital assistant is always looking for ways to help customers improve their finances and make better decisions.
Customers can connect any of their online financial accounts to Empower and see balances, transactions, due dates, and monthly payments anytime in the mobile app. The app and assistant also include budgeting features that include alerts, trackers, and reports.
Hogarth said the Empower assistant uses these data points, among others, to help improve the financial lives of its customers by offering tips and boosting financial literacy.
He said not only will the assistant notify you if you forgot to pay a bill or if your credit card utilization went up, it can even help with proactive financial decisions.
"We can train it, for example, to look at how much you're paying for insurance versus your peers in a similar place," Hogarth said. "It can work out whether you're getting a good deal, if there are better rates out there, and your chances of getting the better rate."
The digital assistant can also identify other trends that can be beneficial for the customer, like if you are likely to overdraw in the near future. Or, if you typically have excess funds in your account, the assistant might recommend investing the extra cash or paying down other credit cards debts.
"There's just so much we can do with this software that's far better than if we had a human looking at it," Hogarth said.
Customers Can Sleep Easy Knowing Security is a Top Priority
With a number of high-profile data breaches in recent years exposing private customer information, security is a significant concern for many when it comes to storing sensitive information online.
Hogarth said Empower considers this and maintaining a high level of security for customers a critical factor for the company.
"One of the advantages of our approach is that we got to start building this two years ago with a clean slate," he said. "You can think of it like building your own house from scratch. You have the ability to engineer the security features in every respect."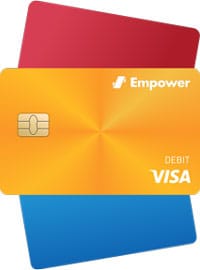 He said traditional banks are at a disadvantage in this way, not only because of numerous mergers and acquisitions that take place over the years but also because traditional banks smash various pieces of infrastructure together. It can be hard to know where cracks might be in some security code or program a person wrote in the past.
"We were able to start from scratch with this as a No. 1 priority," Hogarth said. "We have 256-bit encryption from the information that gets passed back and forth from the app and the servers, to the multitouch verification and security that happens over the phone."
Empower also brings in outside auditors to evaluate the company's security protocols, and even hires people to try to penetrate its systems, all in the name of security.
Hogarth said all customer assets are FDIC insured up to $250,000 and the Empower debit card is protected by the Visa Zero Liability Policy. He said customers can feel very secure knowing their money is insured and protected.
Creating New Loan Products for Responsible Borrowers with Limited Credit History
In today's world, a trip to the bank is often viewed as a slightly annoying bullet point on the to-do list, rather than the weighty and important bank visits of yore.
Meanwhile, companies like Empower are striving to completely eliminate the need for physical banking locations. For the all-digital company, a trip to the bank is as easy as picking up your smartphone.
Hogarth said Empower is focused heavily on expanding its digital services. In the near future, the company will reveal new lending options that break away from some of the traditional considerations from lenders, like requiring loan applicants to have an established credit history. He said it will also reward millennials for their side hustle businesses, which are often seen as a negative factor by traditional banks.
"We're building a really amazing new loan product where we don't penalize you for that," he said. "We actually reward you for being financially responsible. We see it as a great thing that people have side hustle income. And you don't have to have had debt or credit in the past just to be able to access credit."
Advertiser Disclosure
CardRates.com is a free online resource that offers valuable content and comparison services to users. To keep this resource 100% free, we receive compensation for referrals for many of the offers listed on the site. Along with key review factors, this compensation may impact how and where products appear across CardRates.com (including, for example, the order in which they appear). CardRates.com does not include the entire universe of available offers. Editorial opinions expressed on the site are strictly our own and are not provided, endorsed, or approved by advertisers.